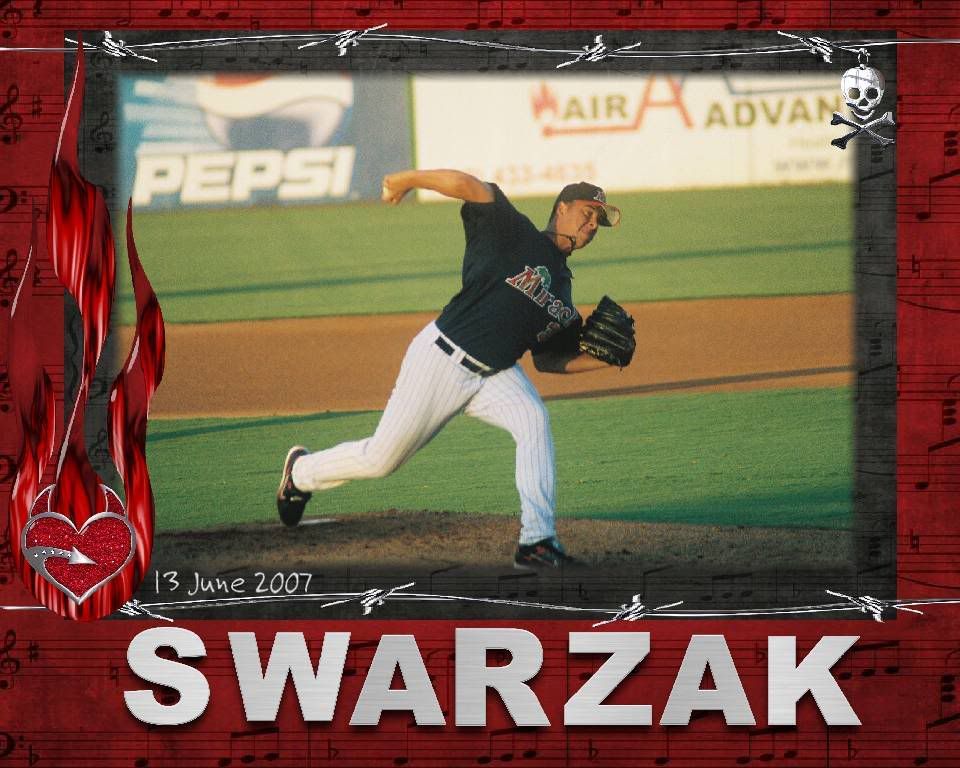 Portland 3 at New Britain 4
W: A. Gabino (4-4, 3.16); L: M. James (2-3, 4.33); SV: B. Julianel (19)
HR: None.
The New Britain Rock Cats squeaked by the Portland Seadogs 4-3 with a late inning rally at New Britain Stadium.
Danny Valencia
and
Erik Lis
took back-to-back singles in the bottom of the 4th which turned into a pair of runs when
David Winfree
tripled them.
Anthony Swarzak
worked five good innings but found some trouble in the sixth. He'd get the first two outs but allowed a single to
Sandy Madera
and a double to
John Otness
that put one on the board for the Dogs.
Jorge Jimenez
then tripled to bring in Otness.
Iggy Suarez
singled to plate Jimenez before
Ryan Mullins
was brought in to get the last out. Swarzak's final line was 3 runs, earned, on 8 hits and 2 walks while striking out 3 in 5.2 innings.
Lis doubled in the bottom of the 7th to start out the rally. Following a strike outs to Winfree and
Felix Molina
,
Toby Gardenhire
singled out to left to drive in Lis. He'd advance on a fielding error, but a pitching change, with
Michael James
replacing
Kris Johnson
on the mound, left him stranded as James got Drew
Butera
to strike out to end the inning.
Dustin Martin
singled off James in the bottom of the 8th and moved to second on
Matt Moses
' sac-bunt.
Brock Peterson
then doubled him in for the game winning run.
Ben Julianel
worked the 9th inning, striking out one for this 19th save of the season.
Valencia and Lis were both 2-for-4 in the contest, Valencia with a run and Lis with a double and a pair of runs.
Martin and Peterson were both 1-for-4, Martin with a run, Peterson with a double and a run scored. Winfree, Molina and Gardenhire all finished up 1-for-3, Winfree with a triple and a pair of RBIs, Molina with a double, and Gardenhire with a run scored.
The two teams rematch Saturday night for a pair, playing a previously rained out game. First pitch is set for 5:35 PM.
Zach Ward
(2-5, 3.45) will take the start in the first game against Portland's
Kyle Jackson
(5-1, 4.84). Game two starts approximately 1/2 hour after the conclusion of game 1.
Box
Log
Rock Cats/OSC
Sea Dogs
NB Herald
Courant
Press Herald
---
Rochester 1 at Durham 2
W: M. Talbot (8-7, 4.64); L: J. DePaula (1-4, 5.80); SV: S. Dohmann (10)
HR: ROC: R. Ruiz (13).
Julio Depaula
gave up 2 runs on 4 hits and 4 walks in 3.2 innings while striking out three, taking the loss for the largely offense less Rochester Red Wings.
Mitch Talbot
scattered 5 hits over 6.2 innings, allowing only one Red Wing home run, to
Randy Ruiz
who tied the Red Wings franchise record with a 20 game hitting streak.
It was the only run for the Ruiz, but it was the only one that counted, coming in the 7th inning with one out and no one on.
Jon Weber
doubled for Durham in the bottom of the 1st, then came home on
Dan Johnson
's ground out. Depaula walked
Nathan Haynes
and
Andy Cannizaro
in the 4th, and got
Mike DiFelice
out on strikes before
Mariano Gomez
came into replace DePaula. Gomez gave up a single to
Fernando Perez
that scored
Nathan Haynes
for the game winning run.
Omir Santos
of Norfolk had a 21 game streak going earlier this season, so Ruiz will try to match that as the Wings take on the Bulls again Saturday night for a 7:05 PM game.
Jeff Niemann
(6-3, 3.82) will take the start for Durham against Rochester's
Danny Graves
(3-3, 5.06).
Box
Log
Red Wings
Bulls
RD&C
N&O