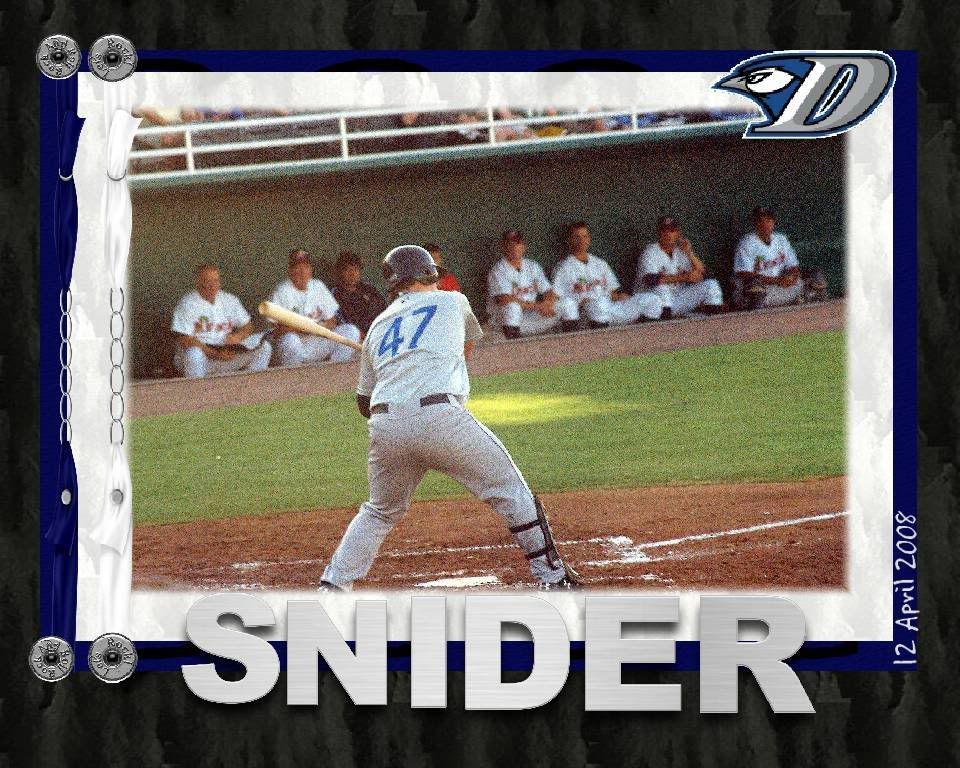 New Hampshire 12 at New Britain 4
W: R. Ray (6-4, 3.19); L: Y. Pino (4-5, 5.04)
HR: NHM: D. Smith (10), A. Pinckney (7). NBR: D. Winfree (14).
It's official. The New Britain Rock are now cellar dwellers with a 46-68 record, 23.5 games behind the division leading Trenton Thunder. Not even two of three against the B-Mets could save them.
Before you ask, they have 26 games left to play in the season. They're not mathematically eliminated, but not even a Miracle or two could save them now.
Monday night's game didn't turn ugly until late, but
Yohan Pino
's outing on the mound - 5 runs on three hits and 6 walks while fanning 4 in 3.1 innings - is certainly not something you'd like to write home about.
New Hampshire started out with
Ryan Klosterman
singling, then stealing 2nd. A throwing error by catcher
Drew Butera
, who tried to stop him, allowed Klosterman to advance to 3rd.
Chris Gutierrez
drew a walk before Klosterman scored on a wild pitch by Pino.
Travis Snider
also drew a walk, although Pino did get
J.P. Arencibia
to fly out.
Andrew Pinckney
then put this 7th home run of the season over the right field wall to added 3 more to the total.
David Smith
and former Miracle
Kyle Phillips
both walked before
Jack Bulter
went down on strikes and
Jonathan Diaz
ground out to bring the Rock Cats up to bat.
New Britain didn't actually make use of their bats until the bottom of the 3rd however, when
Brock Peterson
doubled, then moved to 3rd on a wild pitch by the Fisher's
Rob Ray
.
Erik Lis
drew a walk, and
David Winfree
blasted his 14th home run of the season over the right field wall, to make the score a repsectable 4-3 in favor of the Fishers.
Phillips would walk in the top of the 4th and Buttler doubled out to left to move him to 3rd. Diaz would walk as well before Klosterman's sac fly to right scored Phillips, to make it 5-3 New Hampshire.
Armando Gabino
replaced Pino at that point and things quieted down until the top of the 7th.
With one out on the board, Snider walked and Arencibia singled to put a pair of runners on base. Pinckney would fly out before Smith put his 10th Fisher Cat home run over the left field wall, driving in 3 to add to the total.
Steve Tolleson
singled in the bottom half of the inning and one out later, moved to 3rd when
Brock Peterson
reached on a throwing error by Snider. Lis would single in Tolleson, but Peterson would be taking out at the plate for the 3rd out.
Frank Mata
took over in the top of the 8th and issued walks to Butler and Diaz. A sac-bunt by Klosterman moved the pair, and Gutierrez then doubled them in as the Fisher Cats pulled out to a 10-4 lead.
Pinckney walked in the top of the ninth and Smith doubled him to 3rd. Phillips' single plated Pinckney and Butler walked to load the bags. Diaz would go down on strikes before Klosterman would be hit by a pitch, forcing in Smith for the final run.
Lis finished up 3-for-3 for the Rock Cats with a run and a run scored. Peterson, 1-for-4, chipped in with a double and a run. Tolleson, Valencia, Mostes and Butera were all 1-for-4 as well, all with singles. Tolleson had a walk and a run to go with his hit single, while the other three would go down as one hit wonders.
Winfree was the best 1-for-4 player at the plate by far, with a run and 3 RBIs, courtesy of the home run.
Game two is Tuesday night at New Britain Stadium.
Jeff Manship
(1-5, 4.32) will take the start for the Rock Cats against the Fisher's
Marty McLeary
(0-0,0.00) who is making his AA debut.
Box
Log
Rock Cats/OSC
Fisher Cats/OSC
Courant
Union Leader
Roger's Minor League Report
Blog