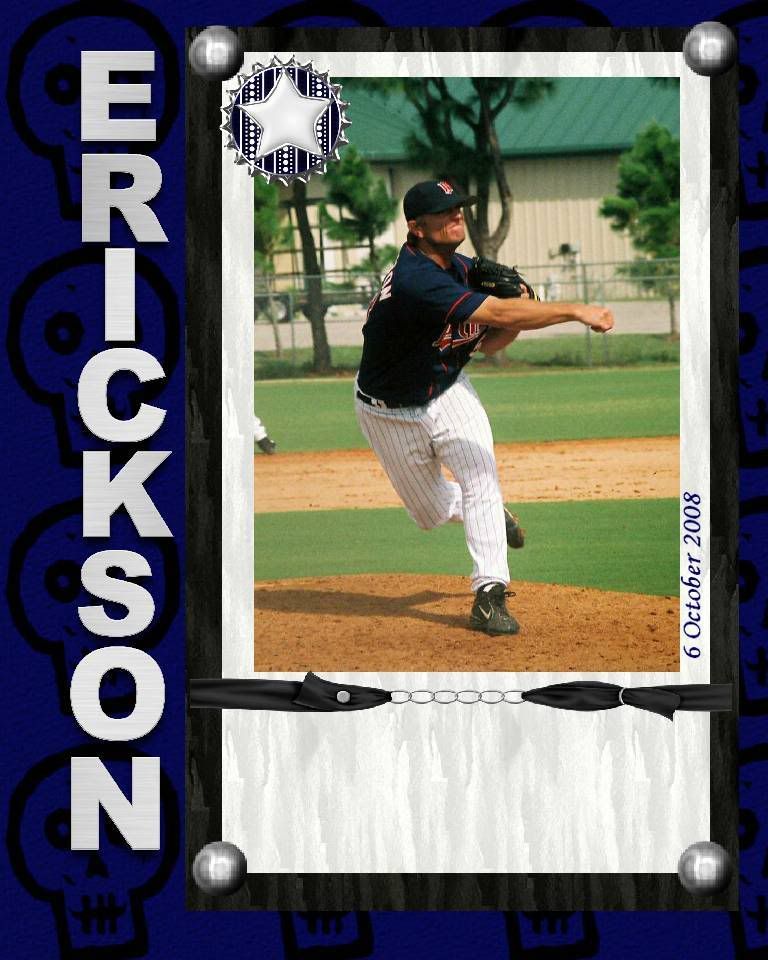 Clearwater 4 at Fort Myers 5
W: C. Devries (8-8, 2.97); L: D. Naylor (1-6, 6.95); SV: A. Slama (22)
HR: None.
Despite being jipped out of a run in the bottom of the 7th inning, the Fort Myers Miracle took the rubber match, 5-4, to win the series, 2 games to one.
Cole Devries
was his usual efficient self, limiting the Threshers to just two runs while scattering seven hits and a walk over six inning. Devries was also kind enough to fan 9, working hard for the "Strike out
Lou Gehrig
's Disease" campaign as the ALS Association was at the game tonight.
The Miracle had opened up a fairly comfortable three run lead before Clearwater got on the board.
Yancarlos Ortiz
singled and stole 2nd, and
Brandon Roberts
took a walk to lead off the top of the 3rd inning. A
Steve Singleton
ground out advanced the runners, allowing
Wilson Ramos
to sacrifice in Ortiz.
Edward Ovalle
's line drive to right plated Roberts and Ovalle moved to second on the throw.
Whit Robbins
would draw a walk off Thresher's starter
Drew Naylor
, a native of Queensland, Australia. However,
Juan Portes
would go down on strikes, spoiling the Miracle's fun for the moment.
Danny Berg
, the Miracle's own Aussie, singled to start off the bottom of the fourth.
Danny Santiesteban
's line drive moved him to second, and Ortiz's ground bunt loaded up the bags.
Brandon Roberts
ground into a double play that allowed Berg to score. Singleton would ground out, stranding Santiestesban at 3rd.
After getting
John Urick
out on strikes, Devries would walk
Tuffy Gosewisch
.
Fidel Hernandez
singled to move Gosewisch to 2nd. Devries then took
Jesus Villegas Andino
before allowing a line drive to
Gary Cates
that plated Gosewisch.
Quinton Berry
followed that up with a line drive out to center that plated Hernandez. In both cases, the plays were to Roberts, who still has some defensive issues out in center.
Rob Watson
would, thankfully, go down on strikes before the Threshers tie it up.
Ramos doubled in the bottom of the fifth before Ovalle was plunked with a pitch. Robbins flew out to center and Portes flew out to right, moving Ramos to 3rd. Berg singled out to right to drive in Ovalle and Santiesteban singled out drive to score Ovalle. Ortiz would ground out to end the inning.
Jose Lugo
took over for Devries in the top of the 7th. While Lugo has been lights out of late, it was the bad
Jose Lugo
that came out of the bullpen this time, as he he allowed a single to Hernandez. Andino ground into a force out that took Hernandez out at second and Lugo would get Cates to ground out. Berry singled to drive in Andino however. Lugo then walked Watson and allowed a single to Taylor that plated Berry.
Jeff Smith
trotted up the steps of the dugout right about then and out to the mound, calling
Blair Erickson
out of the bullpen to replace the struggling Lugo. Erickson would take Milner out on strikes to end the inning.
Alexander Conception
replaced Naylor for the Threshers in the bottom half of the stanza. With one out on board,
Whit Robbins
took a walk and
Juan Portes
hit a ground rule double. Robbins came home on the play but was only allowed 3rd base. Now maybe I am miss remembering, but if must have been a group hallucination because none of us remember Robbins going back to 3rd. Berg hit into a double play and Portes tried to come home, being taken out the plate, but the scorer says Robbins was out at home and none of us remember it that way. Ed even when to check on it. But that's just the way we saw it, and we want our run!
In any case.
Anthony Slama
made things interesting in the ninth, walking
Kevin Mahar
and Berry, but he would take Watson out on strikes, and then
Michael Taylor
as well, to close out the game and give the Miracle the win, phantom run not withstanding.
Berg was 3-for-4 for the Miracle with a run and a run scored. Roberts and Ortiz were both 2-for-4 with a run, Roberts with a walk as well. Santiesteban was also 2-for-4, with a RBI instead of a run. Ramos and Ovalle were both 1-for-3 at the plate with a run and a run scored, Ramos with a double, Ovalle with a single. Portes finished up 1-for-4 with a double.
The Miracle pitching staff posted a total of 15 strike outs. (Kudos guys, that was really well done!)
Sarasota comes into town for a (hopefully) sunny Sunday at the Bill.
Alex Burnett
(7-4, 3.89) will throw the first pitch for the Miracle at 1:05 PM, while the Reds will send
Rafael Gonzalez
(4-8, 6.93) to the hill.
Box
Log
Miracle
Threshers
News Press
NDN
Inside the Threshers
Blog
JeffCrupper.com
Blog
Michael Cuddyer
is being sent down this week to begin a rehab stint. The Twins have stated they wanted him to play six or seven game in Florida. While it's likely he'll play several games with the GCL Twins, it it possible that he'll play a rehab stint with the Miracle when they return home Monday, August 11th to face Sarasota.
Pat Neshak
is also expected in shortly to begin his rehab assignment.
Brian Dinkelman
was activated from New Britain's D.L. to replace
Luke Hughes
on the Rock Cats roster. The moves at the major league level should not affect the Miracle at this time.
Playoff tickets are currently on sale. The Miracle host game two and if necessary, game three of the West Division Series on September 3rd and 4th. Ticket prices are the same as for a regular season game: $7 for a box seat, $5 for reserved seats. Season ticket holders have until Sept. 2 to reserve "their" regular season seat for the playoffs.
Ed Pelegrino
brought by
Ed Reed
, the sports editor of the News-Press, by to meet me. Pelegrino's got some silly notion of selling me off to the News-Press next year as the "fan" blogger. I told him (Pelegrino) this won't work as I'm way too controversial for the News-Press to touch. Just ask Carl, from Bonita.
Seen in the stands: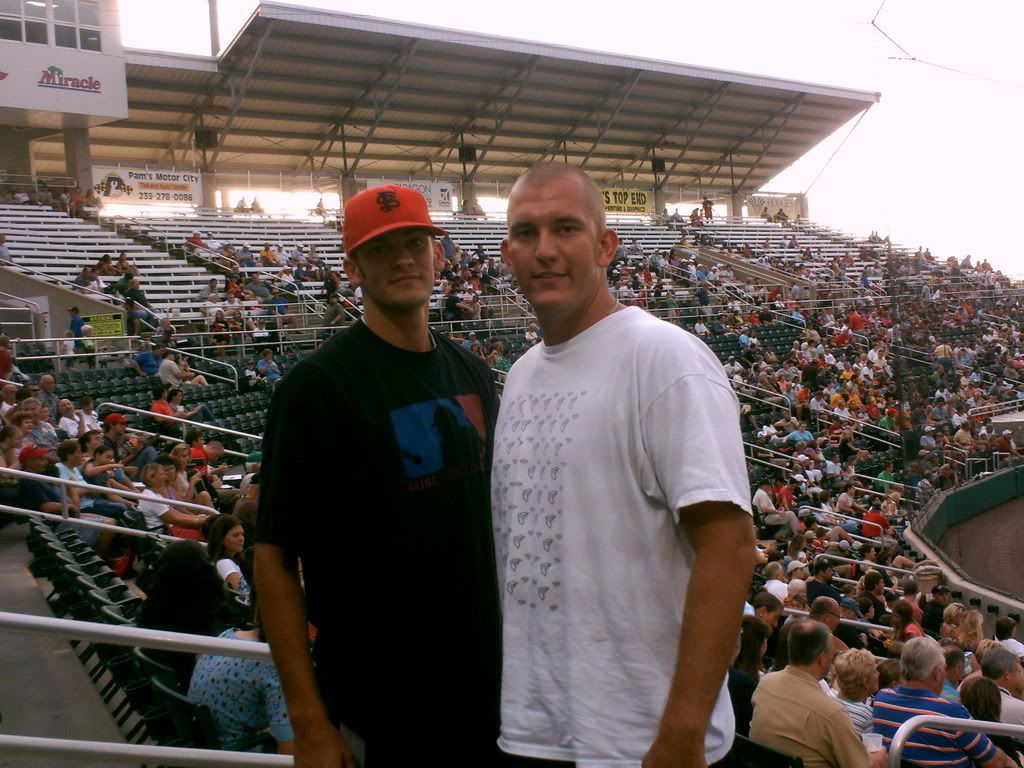 Miracle pitcher Tyler Robertson (right) and his little brother, who will be pitching for Fresno State this year.
Tyler was cleared to start playing catch for this coming week, and reports that he is expected to start throwing again the following week.