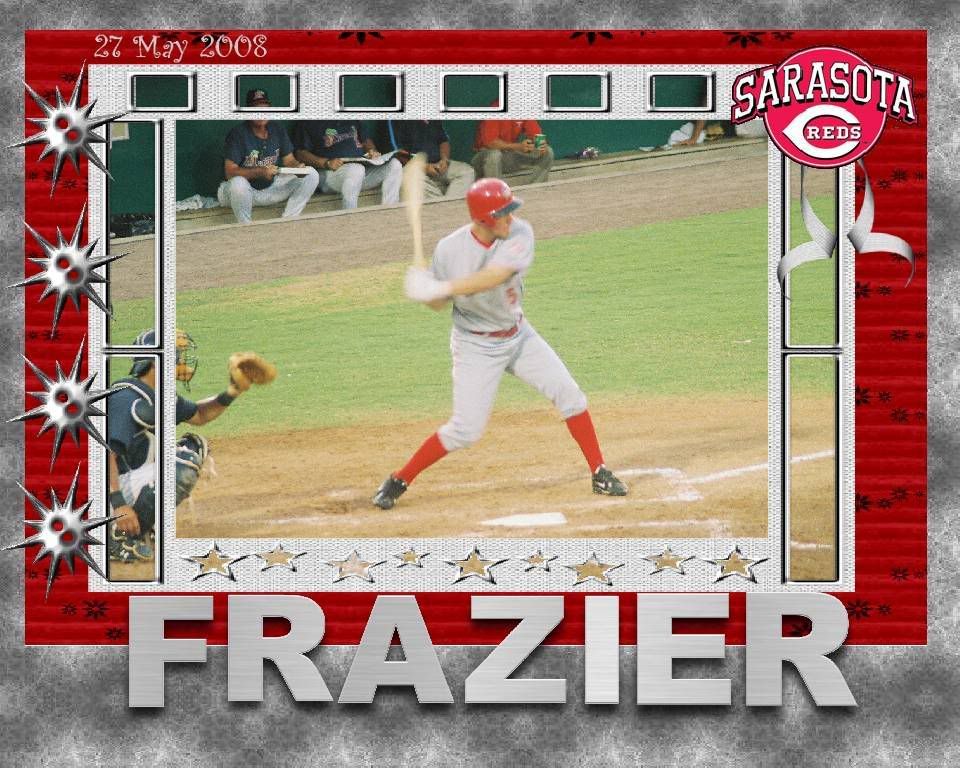 Sarasota 3 at Fort Myers 0
W: R. Gonzalez (5-8, 6.42); L: A. Burnett (7-5, 3.74); SV: L. Ondrusek (1)
HR: None.
Sarasota played a 15 inning game last night, defeating Lakeland 3-2. Today, the Fort Myers Miracle looked more like the team that played 15 innings, as they allowed themselves to be shut out by a strong Sarasota Reds pitching staff.
Alex Burnett
worked a solid seven innings for the home town team, allowing only 1 run, earned on six hits while striking out 3.
Todd Frazier
would take a double off Burnett in the top of the 4th inning. One out later, he'd be plated by
Carson Kainer
's line drive single to right.
Eli Tintor
would try to make the play at the plate, rather than go for the cut off man, an error in judgment, but it nearly paid off. Unfortunately, close only counts in horseshoes, hand grenades and nuclear weapons.
By the fourth inning, I had discovered the drink rail and party deck, a lovely innovation here at the Bill where there were big shady umbrellas to hide under. So I had a great view of Eli making that throw.
I also a wonderful view of him overrunning
Juan Francisco
's triple out to center as he collided with the wall and
Danny Santiesteban
was left to run down the ball on the grass. This lead to a two runs in the top of the 8th.
Chris Heisey
had singled his way onto base and scored on Francisco's hit. Francisco would come home on Frazier's sacrifice to center.
Jose Mijares
would be on the mound at the time, and aside from that little fiasco, pitched quite well indeed.
The Miracle were sluggish at the plate however.
Steve Singleton
would go 2-for-4.
Danny Berg
was 1-for-4 with a double, Tintor was 1-for-3 and
Garrett Olson
was 1-for-2. Tintor had the only walk for the team, although Olson and Woodard would both be hit by pitches.
Berg's double for the Miracle came in the bottom of the 2nd and Tintor would single him to 3rd.
Danny Lehmann
would reach on on a fielder's choice that took Berg out at home.
Danny Santiesteban
's ground out put Tint on 3rd and Lehmann on 2nd, at which point Olson would get plunked by a pitch to load the bags. Roberts would ground out however to end the inning.
Singleton's grounder in the 3rd, a force attempt that got Woodard on base, and a walk to Tintor loaded the bags in the 3rd as well, but Lehmann would go down on strikes to end the inning.
The Miracle will look for a measure of revenge Monday as
Deolis Guerra
(10-6, 4.89) will head up to the mound on Cheaper by the Gallon night against Sarasota's
Scott Carroll
(6-4, 3.30). First pitch is due out a 7:05. As the price of gas has gone down recently, so too has the price of beer, a box seat ticket and selected food items through out the stadium been reduced.
Box
Log
Miracle
News Press
Breeze
Breeze: Photo
NDN
I had been trying to sound out
Matt Fox
to find out what the major difference was between Low-A and High-A, but he wasn't particularly useful about it. He said the batters are a little better, but that's about it. "I'm giving up more runs, but I'm also striking out more," he said, which in his mind equates to him being about the same in both leagues. I am curious in part because
Spencer Steedley
has been struggling so at this level, and in part because I'm trying to judge the potential of the players in the rotation in Beloit in making the jump to Fort Myers next season.