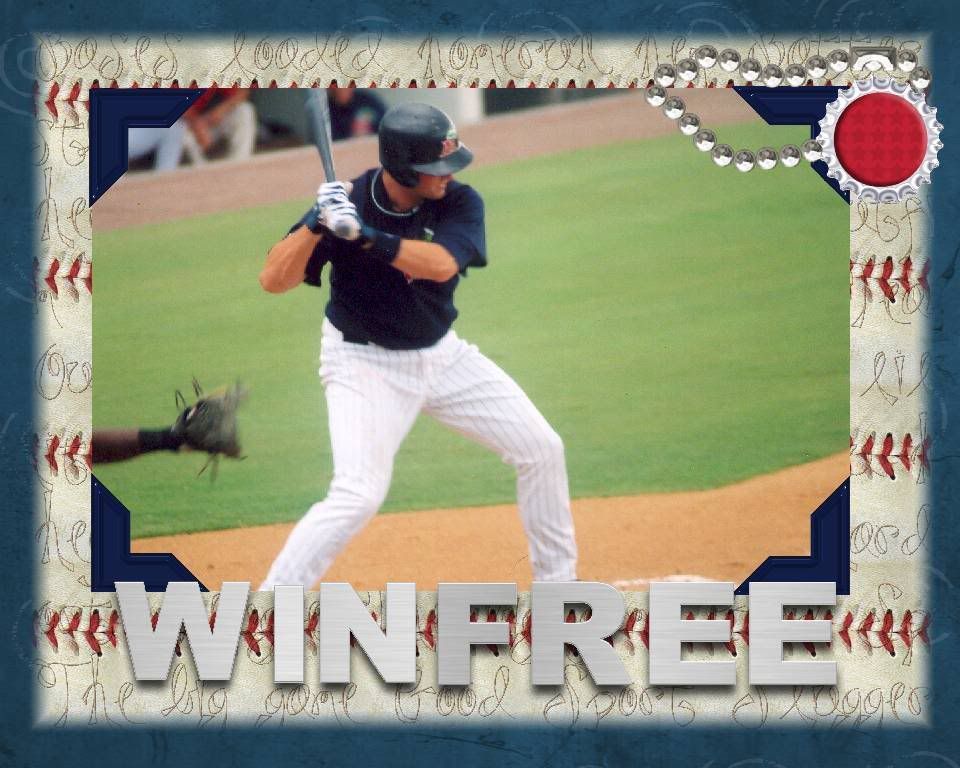 New Britain 4 at Binghamton 17
W: E. Brown (3-5, 6.83); L: J. Rainville (5-6, 7.58)
HR: NBR: D. Winfree (11), B. Peterson (6). BIN: M. Carp 2 (9), E. Garcia 2 (2), R. Arroyo (1).
Oh, unhappy day!
Jay Rainville
got pummeled by the Binghamton Mets, allowing 11 earned runs on 10 hits (2 home runs) and 2 walks in 1.2 innings.
Jason Miller
and
Jay Sawatski
faired only slightly better in the New Britain Rock Cats worst blow out of the season.
After a turn around that saw Rainville turning in win after win, the young hurler got off to a very rough start with
Eric Reed
singling and
Nick Evans
doubling in the bottom of the 1st.
Dan Murphy
sacrificed in Reed for the first of many B-Mets runs.
Caleb Stewart
doubled to bring in Evans. Following a pop out to
Mike Carp
,
Josh Peterson
doubled in Stewart.
Jose Coronado
would take a walk, and
Emmanuel Garcia
went yard over the right field wall to bring in Peterson and Coronado.
Rafael Arroyo
lined out to finish the inning. If Mr. Rainville felt relieved at that point, it ws because he had no idea what was coming.
David Winfree
went yard over the center field fence in the top of the 2nd to put the Rock Cats on the board. It was his 11th home run of the season.
Reed started off the 2nd with a walk then stole 2nd. He'd try to steal 3rd, but got caught by catcher
Drew Butera
. Evans, Murphy, and Stewart all singled to load the bags so that Carp put hit a grand slam over the right field wall. Peterson would fly out to left before Coronado doubled.
Jason Miller
came in from the bullpen at that point. The Sarasota, Florida, native promptly gave up back-to-back home runs to Garcia and Arroyo, then hit Reed by a pitch, probably out of frustration. Evans and Murphy both doubled before Stewart ground out to end a very brutal inning.
(Dear Mr. Manship, are you sure you want to get promoted into the middle of that mess?)
Dustin Martin
took a walk in the top of the 3rd and
Brock Peterson
homered him in, but the Cats had a lot of cat-ching up to do.
The B-Mets would give them a bit of break though.
Toby Gardenhire
singled out to left. Following a fly out by Butera,
Steve Tolleson
doubled that put Gardenhire at 3rd. He'd be plated by
Dustin Martin
's ground out.
Jay Sawatski
would replace
Jason Miller
in the bottom of the 5th. Since they hadn't scored off him yet, Stewart took a walk and Carp went yard to bring him in. Happily the B-Mets decided to give it a rest after that.
Unhappily, the Rock Cats would get Winfree to 3rd base in the top of the 6th and strand him there. They'd find little offense over the remainder of the game.
Winfree finished up 2-for-4 with a run and a run scored. Trevor Plouffe was also 2-for-4 with a pair of doubles. Peterson was 1-for-4, with a run and 2 runs scored on the yarder, but he also struck out 3 times. Tolleson had a pair of strike outs to go with his fifth inning double.
Thoroughly whipped, the Pussy Cats got on the bus, tails tucked, and headed for home, where they will host the Altoona Curve for a three-game series starting Tuesday.
(Monday they'll be playing poker to see which one of their unlucky lot gets to pitch, since it appears that anyone who gets on the mound up there is going to get lit up.)
Box
Log
B-Mets
Rock Cats
Courant
Rochester 4 at Lehigh Valley 5
W: M. Childers (3-2, 3.38); L: B. Korecky (3-2, 3.26)
HR: ROC: R. Ruiz (7).
Randy Ruiz
seventh home run of the season was not enough for the Rochester Red Wings to overcome the Lehigh Valley Iron Pigs Sunday afternoon.
The Red Wings put 14 hits on the board to Lehigh's 10, but it's the runs that count, not the hits.
Ruiz opened up the top of the 4th by going yard. Following a pair of outs,
Sergio Santos
singled and moved to 2nd on a wild pitch by Lehigh starter
Travis Blackley
.
Chris Basak
would take a walk before
Tommy Watkins
' fly ball to right plated Santos.
Kevin Mulvey
worked four relatively quiet innings before the Iron Pigs got started in the bottom of the 5th. With one out on the board,
Jon Knott
walked.
John Suomi
poped out before Knott stole second.
Brennan King
then singled out to left to score Knott.
In the bottom of the 6th,
Mike Rouse
singled and
Brandon Watson
doubled.
Rich Thompson
brought the pair in with a single to center field.
Mike Cervanak
flew out before back-to-back singles to
Andy Tracy
and Knott signaled the end of Mulvey's tenure on the mound.
Ricky Barnett
would come into get
John Suomi
to hit into a double play to end the inning.
With
Jason Anderson
on the mound for the Iron Pigs, Ruiz doubled with two outs on the board.
Robert Swindle
would replace Anderson, and
Brian Buscher
greeted him with a line drive single that scored Ruiz.
Jose Morales
and Santos hit back-to-back singles that scored Buscher before
Chris Basak
poped out to end the inning with the game tied.
Tim Lahey
worked 1.1 innings for the Wings, allowing 1 hit and 2 walks while striking out 1 to take the game into the ninth.
Bobby Korecky
would come in to get the final two outs in the bottom of regulation gametime. Thompson would greet him with a single in the bottom of the 10th.
Mike Cervenak
ground into a force out which took out Thompson, but Tracy would double out to right to plate Cervanak, ending the game.
Darnell McDonald
was 3-for-6 in the game. Watkins, Ruiz, Busher and Santos were all 2-for-5, Ruiz with a double, a pair of runs and a run scored on the yarder, Buscher and Santos each with a run and a RBI and Watkins with a run scored. Basak was 2-for-4 with a double.
The Red Wings offense has hit at least one home run in 11 straight games. Rochester left 17 runners on base for the second straight game. The Twins triple-A affiliate fell to a 4-14 in games played on Saturday and Sunday.
The two teams rematch Monday with
Brian Duensing
(2-5, 3.96) taking on
Les Walrond
(1-4, 3.09) in a battle of the lefties with a 7:05 start.
Box
Log
Iron Pigs
Red Wings
D&C
Morning Call