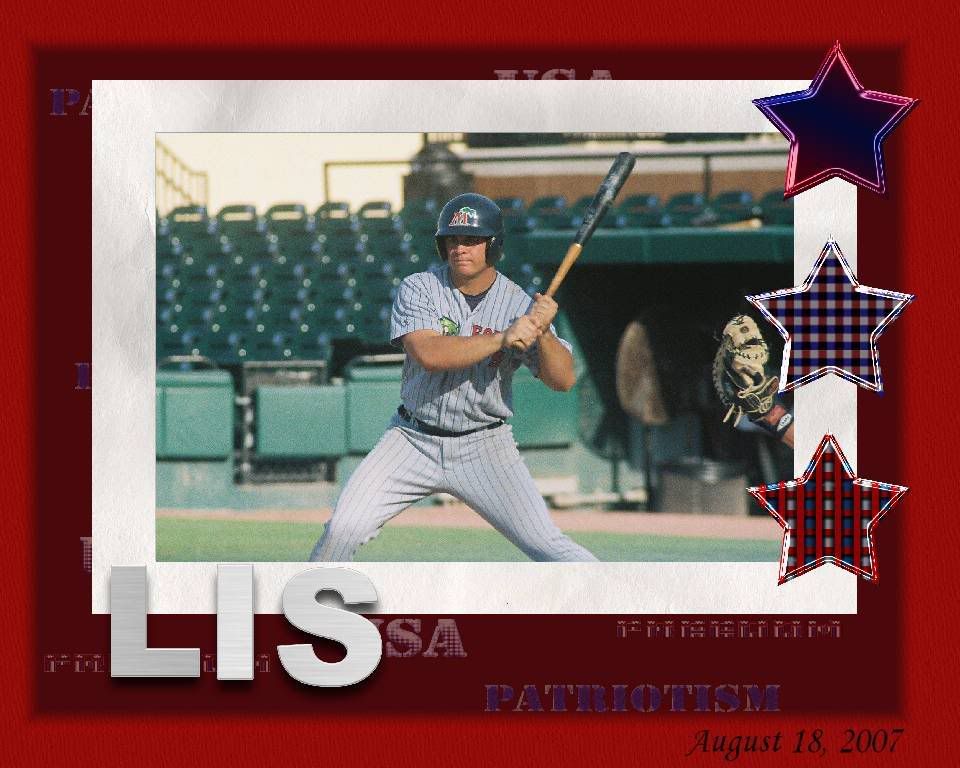 Altoona 1 at New Britain 5
W: R. Mullins (6-4, 3.23); L: J. Hill (4-7, 4.20)
HR: None.
Perhaps the worst is over?
Ryan Mullins
held the Altoona Curve to just 5 hits and 2 walks over eight innings Thursday night, to lead the New Britain Rock Cats to a 5-1 win over the Pittsburgh farm team.
New Britain would take an early lead off former Rock Cat pitcher
Josh Hill
when
Steve Tolleson
doubled his way onto base. A passed ball by
Miguel Perez
got him to 3rd.
Dustin Martin
would ground out and
Brock Peterson
would strike out before
Erik Lis
singled to bring him home.
Back-to-back doubles by Peterson and Lis in the bottom of the 4th lead to another run. Following a line out to
David Winfree
,
Matt Moses
walked.
Trevor Plouffe
's ground out advanced the pair of runners before
Felix Molina
doubled them in.
In the bottom of the fifth, Peterson would take a walk and be doubled in by Lis to give the Cats a nice 5-0 lead.
Altoona would break the goose eggs in the next inning, when
Shelby Ford
walked, and following a fly out to
Melvin Dorta
, was plated by
Jason Bowers
sixth double of the season.
Former Miracle
Frank Mata
closed the game, his first with the Rock Cats this season.
Lis would finish up 3-for-4 at the plate with a run and 3 RBIs. Tolleson was 1-for-1 with a walk and a double, and Peterson was 1 for 3 with a walk a pair of runs and a double. Molina was 1-for-3 with a double and 2 RBIs.
The Binghamton Mets open up a 3-game series against the Rock Cats at New Britain Stadium Friday with the first pitch set for 6:35 PM.
Box
Log
Rock Cats/OSC
Curve
Altoona Mirror
Courant
Durham 4 at Rochester 9
W: D. Graves (3-1, 3.89); L: M. Talbot (6-4, 3.89)
HR: ROC: C. Basak (5), R. Jorgensen (3).
While the Durham Bulls matched the Rochester Red Wings hit for hit, it was Rochester who got the timely hits, downing the Bulls 9-4.
Danny Graves
allowed 3 runs on 8 hits while fanning 3 over 5.1 innings. Two guys who are always released in nearly every blogger's GM fantasy -
Ryan Jorgensen
and
Chris Basak
- both went yard for the wings.
Garrett Jones
singled, moved to 2nd on a
Randy Ruiz
ground out and came home on a
Sergio Santos
single in the bottom of the second to open the scoring.
Basak opened up the bottom of the 4th with a single shot home run - his 5th of the season - over the left field wall.
Darnell McDonald
followed that up with a single and a steal - this 10th of the season. Jones would smack a line drive to right to plate him, then advanced to 3rd on a throwing error by right fielder
Jon Weber
. Jones would score on
Randy Ruiz
ground out.
Graves actually got a couple of turn at the plate, singling in the bottom of the 5th.
Tommy Watkins
would hit into a force out however. Following a steal, Watkins 4th of the year, Basak would double to drive in Watkins. He'd be plated on a pair of errors, fielding and throwing by
Reid Brignac
.
Ruiz and
Jason Pridie
would both single their way onto base in the bottom of the 6th before Jorgensen put this third yard ball of the year over the left field fence.
Basak, Jones and Pridie all finished up 2-for-4 at the plate, Basak with a pair of runs and a pair of runs scored, Jones with a pair of runs and a single RBI, and Pridie with a run and a RBI. Both of Basak's hits were for extra bases.
A series of injuries and player moves forced the pitchers to bat in the game as there were no other batters available to designed hitter duty. They didn't do too bad, going a collective 2-for-4 at the plate.
The two teams rematch tonight with
Kevin Mulvey
(3-7, 4.05 ERA) going against former Wing
Jeremy Cummings
(5-1, 2.17). First pitch is set for 7:05 PM at Frontier Field.
Box
Log
Red Wings
Bulls
R-News
RD&C
Extra Bases
Extra Bases
Blog
Extra Bases
Blog
Catcher
Jose Morales
was placed on the disabled list with a sprained left ankle. It's the same ankle Morales seriously injured in his Major League debut last September. Morales is batting .315 with four home runs and 15 RBI in 54 games for the Red Wings.
Outfielder
Denard Span
was activated from the disabled list. Span has been on the disabled list since May 22 with a broken left middle finger. Span is batting .327 with three home runs, nine RBI and a team-high 14 stolen bases in 27 games for Rochester. Span was originally listed in the starting lineup Thursday, then pulled from the lineup before the game.
The Red Wings will activate infielder
Alejandro Machado
from the disabled list Friday. Machado has been on the disabled list since Opening Day recovering from right shoulder surgery; Machado missed the entire 2007 season.
Catcher
Jeff Christy
will be promoted from Double-A New Britain Friday. Christy was batting .216 with four RBI in 23 games for the Rock Cats this season. Former first round pick
Trevor Plouffe
will be one of three new players joining the Wings for Friday night's home game.
As previously reported
Juan Rincon
was outrighted to AAA Rochester and has 72 hours to accept or decline the assignment. Third baseman
Brian Buscher
was recalled to Minnesota and will be available to the Twins for Friday's game at Milwaukee.