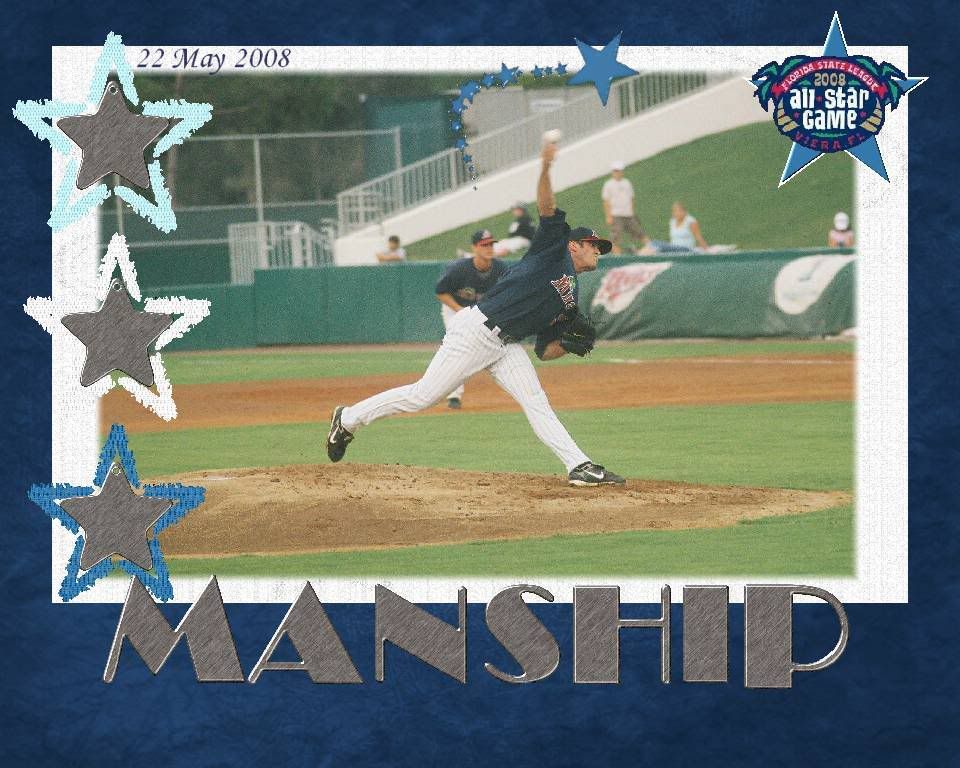 Fort Myers 0 at Brevard County 5
W: J. Butler (2-7, 5.31); L: J. Manship (7-3, 2.86)
HR: None.
Evidently the Brevard County Manatees had no intention of letting the Fort Myers Miracle clinch a division title in their stadium. Or perhaps
Jeff Smith
forgot to mention they needed to put some offense together to win games.
Jeff Manship
allowed 3 runs - earned - on six hits while striking out 3 over six innings of work; a quality start, but still not one of his better performances. (Sorry Manny, but we raise the standard for you.)
The Miracle had the bases loaded in the first, but
Eli Tintor
struck out to end the inning.
Brevard opened up the scoring in the bottom of the 4th when
Jimmy Mojica
singled then stole 2nd.
Taylor Green
's ground out moved him to 3rd, and he'd be plated by a
Charlie Fermaint
line drive to center.
In the bottom of the sixth, singles to Mojica, Cain and Green loaded the bases. Mojica scored on Fermaint's ground out, and a
Stephen Chapman
sac fly brought in Cain.
Danny Santiesteban
would get on base with singles in the top of the second and the top of the 7th, but would get picked off at first on both occasions.
Matt Fox
replaced Manship in the bottom of the 7th. After getting
Kenny Holmberg
out on strikes,
Anderson De La Rosa
and
Yohannis Perez
hit back to back singles. Mojica sacrificed in De La Rosa and Cain tripled to drive in Perez.
The bottom of the 8th would see
Blair Erickson
replace Fox on the mound. He'd allow a double to Chapman, but was able to leave the runner stranded.
The Miracle found a pair of singles in the top of the 9th, but it was all they could muster with the bottom of the order going down meekly.
Fort Myers heads home to host the Vero Beach Devil Rays for a four-game series starting on Monday.
Deolis Guerra
(6-2, 4.89) will get the start on the mound for the Miracle. Much as I like Señor Guerra as an individual, I am still not overwhelmed by his pitching abilities. Perhaps he will offer the Miracle fans a pleasant surprise after last Wednesday's performance.
Box
Log
Miracle
Manatees
Breeze
NDN
The Palm Beach Cardinals secured their playoff berth on Saturday despite dropping a 7-5 decision to the Tampa Yankees. The blanking of the Brevard County Manatees on Saturday by the Fort Myers Miracle put the Manatees 8 games behind Palm Beach with 8 left to play. The first half of the FSL season ends June 18, 2008. (
MiLB
)
(They should really send a thank you note to Mr. Devries for pitching such a fine game on Saturday, don't you think?)
Summer reading
"Books & Bats" for children 12 and under will be sponsored by the Miracle Baseball team and Dunkin' Donuts. Get a bookmark from any Lee or Collier County public library, the Lee County Sports Complex or any Dunkin' Donuts and read four books over the summer. Fill out your bookmark and return to a Dunkin' Donuts to receive two tickets to a Miracle game on June 26, July 23 or August. 13. Information: (239) 768-4219
I thought you liked to let them have fun?
The Twins prefer to wait until the FSL All-Star Game to promote a few Miracle players, but they will be forced to do it earlier this year.
"We'll move them now if we can clinch the first half," said
Jim Rantz
, Twins director of minor leagues. "We have a couple guys who have earned promotions. You have to challenge them. Plus, I have some injuries [at New Britain] that I'm dealing with." (
Strib
)
Beloit 3 at Kane County 4
W: S. Mitchinson (5-2, 1.60); L: D. Bromberg (4-4, 4.65); SV: C. Kerfoot (2)
HR: None.
The Kane County Cougars took four runs off
David Bromberg
in the fifth inning and hung on to defeat the Beloit Snappers, 4-2 at Elfstrom Stadium.
The Snappers got on the board first.
Chris Parmelee
would be plunked with a pitch. He'd then steal 2nd base. A sac-bunt by
Jair Fernandez
got him to 3rd. Following a walk to
Steve Singleton
,
Joe Benson
hit into a ground out that scored Parmelee.
Bromberg worked 7 innings, allowing 5 hits and a pair of walks while striking out 5.
Larry Cobb
started out the bottom of the 5th by hitting a fly ball single off Bromberg.
Corey Brown
would ground into a force out, which took Cobb out.
Dusty Napoleon
singled to move Brown to 2nd and
Daniel Hamblin
took a free pass off Bromberg to load the bags.
Justin Frash
then walked to force in a run.
Shane Keough
's line drive to right brought in Napoleon and Hamblin.
Adam Klein
would sacrifice in Frash for the fourth run before Bromberg got
Matt Ray
out on strikes.
Cougar starter
Scott Mitchinson
must have been on a foul mood, as he would hit
Ben Revere
with a pitch to start off the top of the sixth. Revere paid him back by stealing 2nd, and advanced to 3rd on a throwing error by Napoleon.
Chris Cates
would single to drive in Revere cutting the Cougars lead in half.
Mark Dolenc
would single a line drive to center and Revere doubled to plate him in the top of the 8th. That would do it for Mitchinson as the Aussie hurler was taken from the mound in favor of
Justin Friend
. Despite a sac-bunt and walk, the Snappers would leave Revere stranded at 3rd and the tying run unscored.
Matt Williams
pitched a perfect 8th inning for Beloit, striking out 2.
Cates was 2-for-3 in the contest.
Steve Singleton
picked up a double in the top of the 5th but could do nothing with it.
The Snappers return to Pohlman Field to host a four-game series starting on Monday against the Cedar Rapid Kernels.
Mike Tarsi
(3-7, 5.62) will throw out the first pitch for Beloit at 7:00 PM central time.
Box
Log
Snappers
Cougars/OSC
The Twins re-drafted
Johnny Bromberg
in the 49th round on Friday, he is the brother of
David Bromberg
and was previously drafted in the 32nd Round in 2007. He turned down an offer last year to pitched for Pierce College in Los Angeles.