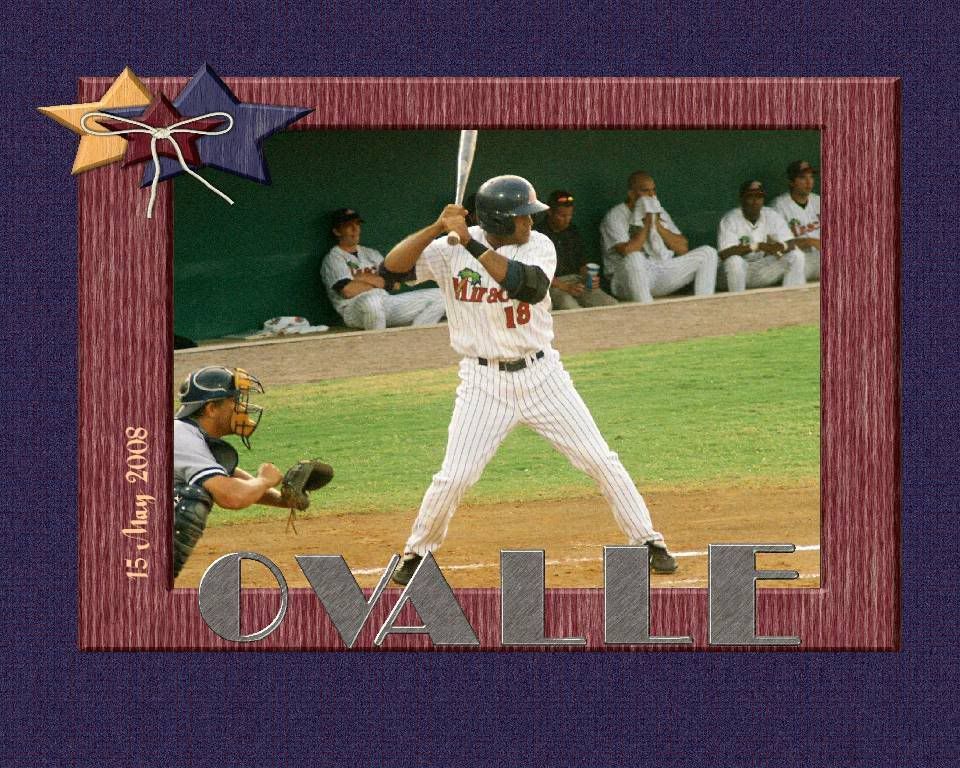 Vero Beach 4 at Fort Myers 6
W: D. Guerra (7-2, 4.83); L: B. Mann (3-6, 3.73); SV: A. Slama (11)
HR: VER: G. Groce (2). FTM: E. Ovalle (5), E. Tintor (2).
Edward Ovalle
's grand slam home run in the 5th led to the Fort Myers Miracle clinching the West Division first half championship, and a playoff berth, on what turned out to be a beautiful night for baseball at Hammond Stadium.
Late afternoon thundershowers led to a somewhat soggy stadium, but the best field crew in the Florida State League turned out a perfectly groomed diamond despite the foul weather.
Deolis Guerra
tossed out the first pitch right on time and went on to work 6.1 innings, allowing 3 runs on 9 hits and one walk while striking out 2 for a quality start.
The Miracle opened the scoring in the bottom of the second when
Whit Robbins
doubled, the moved to 3rd on a
Wilson Ramos
single.
Juan Portes
would sacrifice Robbins in.
Vero Beach did not wait to answer back however, as
Desmond Jennings
singled with out one on the board.
John Matulia
would fly out, but
Ceasar Suarez
took a triple on a line drive when
Eli Tintor
slipped on the wet grass while trying to make a diving catch in the outfield. Jennings would score to tie up the game.
In the top of the fourth,
Nevin Ashley
singled and
Garrett Groce
put one over the left field fence to put the D-Rays on top.
Prior to the game, I'd congratulated Tintor on his first home run of the season and told him I expected at least 15 more of those out of him before the end of August. He figured the bottom of the fifth was a good time to start, as he clocked one over the center field wall to put the Miracle down by one.
Danny Santiesteban
would draw a walk and
Yancarlos Ortiz
moved him to second on a sac bunt. Ortiz would be given first though when pitcher
Brandon Mann
miss-threw the ball. Santiesteban took 3rd on the same play. Dinkelman then drew a walk to load the bags and you just KNEW what was coming. Ovalle's ball sailed well over the Beef Jerky sign in left to bring in four runs and give the Miracle a nice 6-3 lead.
Frank Mata
would replace Guerra in the seventh. He'd give up a double to Matulia in the top of the 8th. After getting Suarez out on strikes,
T.J.Hall
would walk.
Matt Fields
' fly ball single to left brought in Matulia and a little bit of coaxing brought
Jeff Smith
out of the dugout and
Anthony Slama
out of the bullpen. Slama would take Ashely and Groce out on strikes to end the inning.
Juan Portes
hit a nice double in the bottom of the 8th, but with 2 outs on the board, went no where with it. Slama would start the top of the 9th by taking Vero Beach short stop
Neil Walton
out on strikes.
Joey Collander
would single out to right, but Slama took Jennings out swinging. Callender would steal 2nd, but Matulia hit a nice little grounder to Robbins. Once Robbins foot hit the bag, the team came spilling out of the dugout to celebrate their victory.
No one had a multi-hit night, but that was okay.
Wilson Ramos
was the one hit wonder for the evening.
Jim Rantz
and
Joel Lepal
watched the proceedings from the stands. What tomorrow may bring, well...we'll see tomorrow, but for tonight, the Miracle are celebrating their championship.
Alex Burnett
(5-2, 3.34) will take on lefty
Mike Wlodarczyk
(0-0, 0.00) for Vero Beach as the two teams rematch on a two-for-Tuesday. First pitch is schedule for 7:05 PM.
Box
Log
Miracle
MiLB
News Press
NDN
NDN - Portes
NDN - Portes II
Breeze
TC Palm
Tyler Robertson
will miss his start on Wednesday but says he will make his next scheduled start after the All-star break "which will be here."
"Against Sarasota," I nod as I collect my hot dog.
"No Dunedin," he says as we fight over condiments.
"Sarasota's in next. I just did all the photos so I could get autographs."
"Oh. I've never faced Sarasota before. That will be fun."
I think those are the same kids he faced like 16 times in GCL. I wonder if he'll face Smitty.
Meanwhile,
Cole Devries
has the pleasure of taking on the D-Rays top prospect
David Price
on Thursday. "I look forward to it," Devries said. I have no doubt Mr. Devries will kick his behind despite the fact that Price is 2-0 with a 2.26 ERA and has only allowing 3 earned runs in the 23 1/3 innings of his professional career.
Vero Beach will also be bringing a bus load of fans to the game. Much fun is planned for beer night.