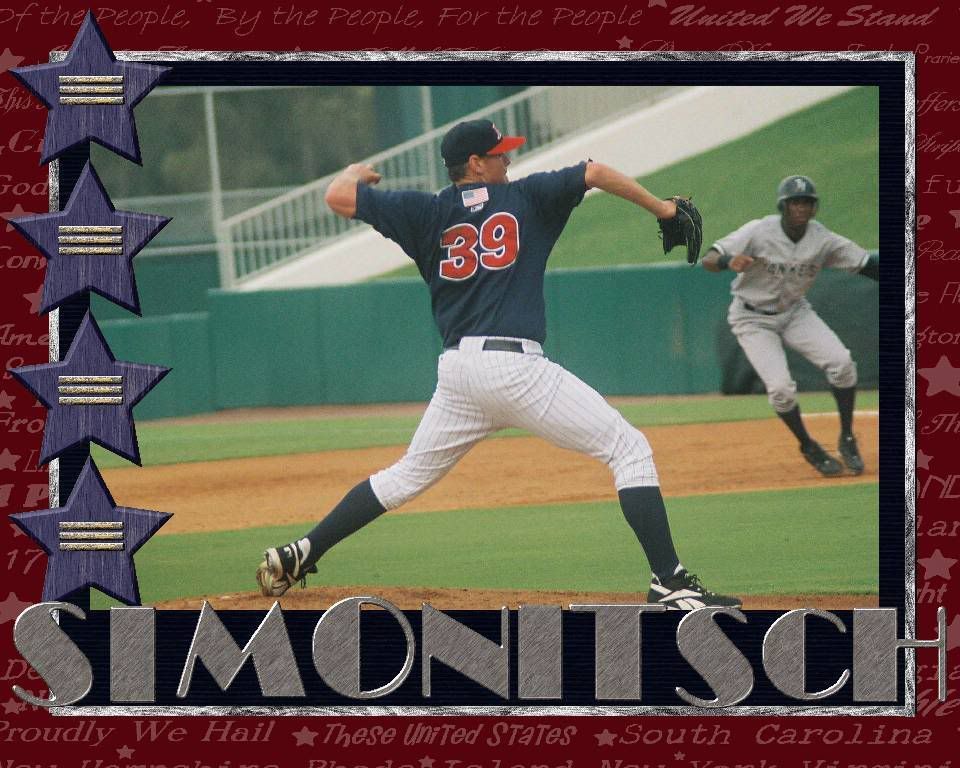 New Britain Rock Cats Press Release
New Britain, CT
– The New Britain Rock Cats announced this afternoon that LHP
Errol Simonitsch
, a 25-year-old Glendale, CA native who spent portions of three different seasons playing in New Britain, has been released by the Rock Cats' parent organization, the Minnesota Twins.
The New Britain fan and clubhouse favorite had his career set back by a shoulder injury that was discovered near the conclusion of the Twins' 2007 Spring Training. The 6'4"/230-pound southpaw was Minnesota's 6th Round selection in the 2003 Draft out of Gonzaga University.
Simonitsch made his first appearance in New Britain in 2005 when, following his June 22nd promotion from Ft. Myers in the Florida State League, he went 6-5 in his Eastern League debut season. Combined with his 8 victories at Fort Myers, his 14 total wins that year was the most of any pitcher in the entire Minnesota minor league system. He returned to the Hardware City in 2006 and led the club with 26 starts and 148.2 total innings worked. As the staff workhorse, he compiled an 8-14 record and his 22 decisions were the team high.
After starting the 2007 Season on New Britain's Disabled List, Simonitsch was returned to Extended Spring Training in Florida to continue his rehabilitation. He eventually was assigned to the Gulf Coast League Twins and then Ft. Myers where he finished strong, posting a combined 5-0 record and 3.72 ERA in 10 games.
After rejoining the Rock Cats on May 12th of this year, Simonitsch made six starts and compiled a 1-4 record with a 9.96 ERA. He allowed 49 hits and 12 walks while striking out 17 in 28 innings. His sole New Britain victory this year came last week in Altoona, PA; his final defeat came just last night at home when, against the same Altoona team, he surrendered 12 hits and seven Runs over five-plus innings of work.
---
In related news,
Luke Hughes
was placed on the disabled list and RHP
Yohan Pino
was reactivated.
The 23-year-old Hughes was placed on the Disabled List (6/9) with a strained left groin; the 24-year-old Pino is returning to active status (6/10) after having been disabled on May 16 with a strained right shoulder.
Hughes has been New Britain's top offensive player since Opening Day/2008. He goes to the DL as one of the Eastern League's top hitters; he holds a .335 BA while also being either in sole possession or tied for the League lead in a range of offensive categories from Home Runs (13) to Slugging Percentage (.618) to Runs Scored (41). Hughes appeared in 47 total games for the 2008 Rock Cats and collected 64 Hits.
---
·
Matt Tolbert
had the cast on his left hand removed and he's now donning a splint on his surgically repaired left thumb. Twins field manager
Ron Gardenhire
said Wednesday that a best-case scenario would have Tolbert back playing Aug. 1.
· Shortstop
Adam Everett
's stress reaction in his right shoulder has not calmed down as quickly as the club hoped. Everett likely will not begin a throwing program until after the team returns from its current road trip.
· Gardenhire said Wednesday that he still expects his team to reduce its pitching staff from 13 to 12 following Thursday's game in Cleveland.