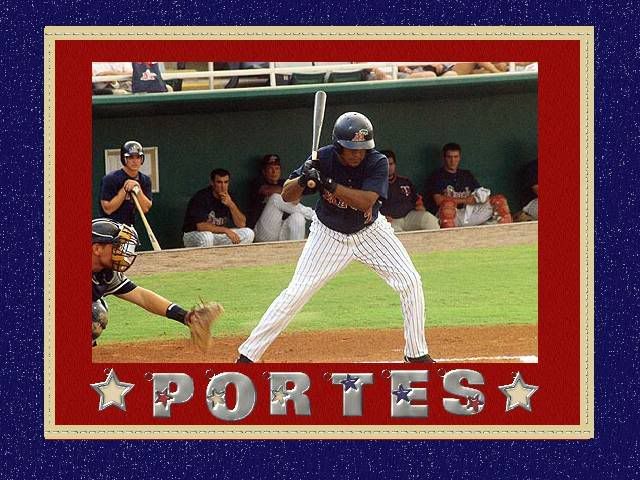 Vero Beach 2 at Fort Myers 6
W: B. Erickson (1-0, 2.16); L: B. Baker (4-3, 2.52)
HR: FTM: J. Portes (5).
Prior to the game
Danny Valencia
wanted me to go ask
Jim Rantz
what flight he was booked on. So I dutifully did this.
"What did you tell him?"
"I was gonna tell them that he's penciled into New Britain's line up tomorrow but due the rising cost of gasoline, you're not longer paying for travel expenses, so he better start hitch hiking."
"No. Tell him he's booked on the bus to Jupiter."
"You mean Spacecoast."
"Where ever."
So there you go Danny, you're booked on the bus to where ever.
For the second straight night we had a really good game despite the fact that the B- team was on the field.
Rocky Palacios
was our first baseman. It was kind of scary.
But the boys got it done for manager
Jeff Smith
as
Juan Portes
hit a walk off grand slam home run in the bottom of the ninth to lead the Fort Myers Miracle to a 6-2 win over the Vero Beach Devil Rays.
The Devil Rays got on to the board first with
Ryan Royster
tripling a fly ball out to center.
Nevin Ashley
singled to bring in Royster for a one run Rays lead.
Wilson Ramos
doubled out to center in the bottom of the inning, but got no further than 3rd on an
Eli Tintor
single.
Desmond Jennings
double off starter
Alex Burnett
in the top of the 3rd. He moved to 3rd on a sac bunt by
John Matuilia
, and came home on
Ceasar Suarez
's ground out, to the put the Rays up by two.
Rays starter
Michael Wlodarczyk
limited the Miracle to just 2 hits, and struck out 2 over 4 innings. He'd be replaced by
Matt Walker
for the bottom of the 5th inning.
With 2 outs on the board,
Danny Santiesteban
singled his way onto base.
Allan de San Miguel
then tripled out to right to plate Santiesteban, cutting the Rays lead in half.
Yangervis Solarte
took a walk, and
Edward Ovalle
would single to drive in Dirty to the tying run.
Burnett worked 5 innings, allowing 2 runs on six hits while striking out 2. He'd give way to
Jose Lugo
, who struck out 4 over 2 perfect innings.
Blair Erickson
then made his way to the mound, striking out all three batters he faced in the 8th. He's allow a single to
T.J. Hall
in the ninth, but the Rays could go no where with it.
Brian Baker
would take over from Walker in the 8th, using 2 ground outs and a fly out to retire the side.
Smith would try to get something going in the bottom of the inning by using
Brian Dinkelman
as a pinch hitter. Dink would get brushed by a the first pitch he faced and was awarded first base, despite the arguments of the D-Rays. De San Miguel moved him on a sac-bunt.
Whit Robbins
would be brought in to pinch hit for Solarte, and would be intentionally walked.
Edward Ovalle
- trying for the fence - quickly found himself down 2 strikes and was guarding the plate when he was drilled by Baker. With the bases full, Portes then put a ball over the left field wall. You knew that ball was going yard the minute it left the end of the stick.
The pile up and group hug at the plate was really a nice touch as the Miracle celebrated their second Grand Slam victory in as many days.
The Miracle were held to only 7 hits in the game, as were the Rays, and there were not multi-hit contestants on either team.
Tomorrow is a bull pen start, more or less as
Matt Fox
(2-1, 4.68) makes his first start of the Year for the Miracle. He will take on Ray's lefty
Ryan Morse
(2-2, 3.16).
Box
Log
Miracle
News Press
Breeze
Breeze - Valencia
Photo Gallery
NDN
TC Palm
·
Deolis Guerra
was granted personal leave and flew home to Venezuela.
Jeff Manship
said he thought Deolis' Grandmother was seriously ill.
Mike Allen
was reassigned to the Elizabethton team.
· Someone (Josh maybe) had asked about
Ben Petsch
's release and the Jim's answer was that is was an numbers thing. "He was a good kid, we just had no where to put him."
· I asked about
Paul Kelly
and Jim said while he was getting closer he wasn't ready yet. "He has to be able to play three or four games in a row before we can do something with him, and he hasn't done that yet." I mentioned the brace and he said he'd be playing with it on. It's form fitted and designed for use in playing sports.
· When I informed Manship of the answer to Danny's question, he said "So we're playing the All-star game?"
"It appears so," I said. "He wants you to have fun."
"The Midwest League was fun. That stadium this game is at though is awful."
"No it's not, it a cute little..."
"The Locker Room," Cole Devries cuts in.
"The air conditioning wasn't working in the Locker Room," Manny explains. "You just sat there and sweated."
"Oh Jeff," I say. "I can't wait until you go up so you can learn Double-A whining. You're going to be so good at it."
"We are a whinny lot, aren't we?" says Devries, who I really hadn't noticed being too verbal with his complaints. He was also proving that real men CAN wear pink and get away with it, something the GCL boys don't believe.
· Tomorrow is the card set give away. The FSL top prospect set is also available in the gift shop. Manship and Ramos are the two top prospects in the set.
"They don't think I'm a top prospect," Valencia says.
"I think you're a top prospect," I tell him. But then, I say that to all the boys.
If you need to order either set, e-mail Justin at jstecz@miraclebaseball.com. Sets are $7.00 each.
· Someone had asked about the Yahoo feed for the website, thinking they'd booted me off the network. Yahoo is upgrading the platform of their 360 service to make it more integrated, by which I take it to mean they want to be more like myspace.com. And of course, Yahoo can't do anything without breaking the whole system first. So that's the deal, I'm not the only one whose blog feed is effected.