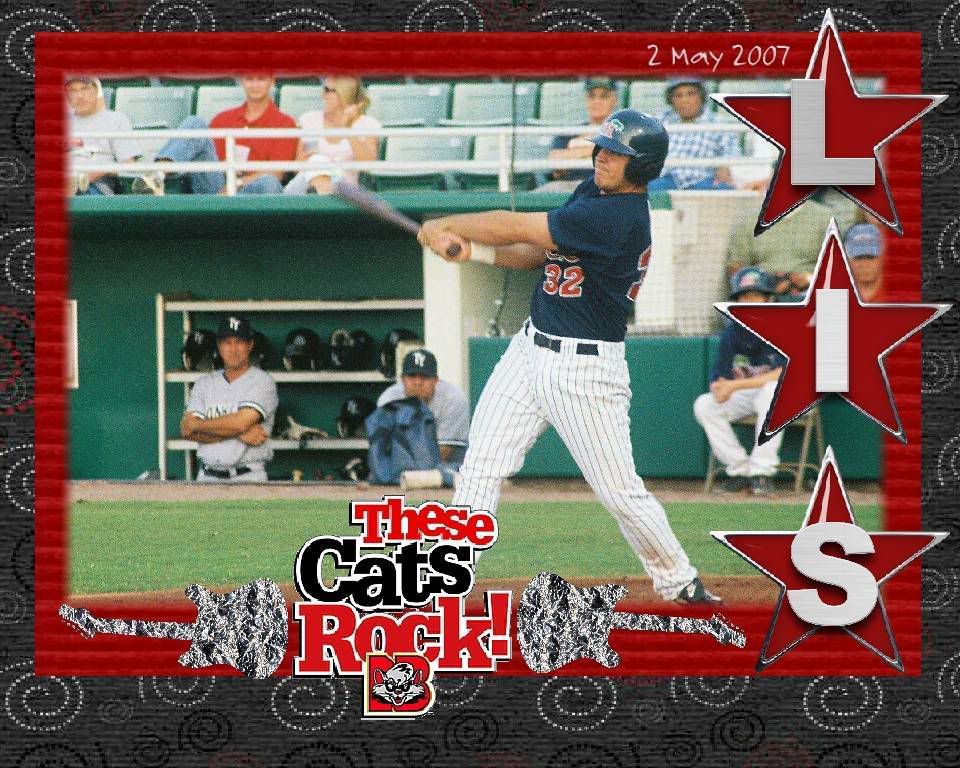 Altoona 5 at New Britain 6
W: K. Aselton (3-1, 3.98); L: Y. Herrera (3-7, 3.59); SV: B. Julianel (12)
HR: ALT: J. Pacheco (7). NBR: D. Martin (3).
The New Britain Rock Cats staved off a ninth inning rally by the Altoona Curve to hang on to win, 6-5 at New Britain Stadium.
It would be a bull pen start for the Cats, with
Kyle Aselton
on the mound, working through 5 innings, he'd give up 2 runs, earned on six hits and pair of walks.
Melvin Dorta
doubled in the first inning with one out.
Brad Corley
would single out to center which was enough to get Dorta home, putting the Curve on the board.
New Britain answered back in the bottom of the 2nd inning, with
Erik Lis
hitting a lead off double. Following a pair of outs,
Trevor Plouffe
would double him in to tie up the game.
Steve Tolleson
would double in the bottom of the third, and
Dustin Martin
would reach on a fielding error by Corley.
Brock Peterson
's ground out served to plate Tolleson, and sent Martin to 3rd. Lis would walk before
David Winfree
hit a single to left to drive in Martin.
Corley would double for Altoona in the top of the 4th, After a pair of outs that saw Corley move to 3rd, Aselton would unleash a wild pitch that brought Corley home, making it 3-2 Cats.
Martin hit his 3rd home run of the season in the bottom of the 5th, taking it over the right field fence.
The teams would exchange runs in the 7th inning, with
Jason Miller
on the mound for New Britain.
Shelby Ford
would double, then be tripled in by Dorta. Tolleson would double for the Cats, then be driven in by Martin's follow up double.
With
Evan Meek
on the Altoona Mound, Lis would single in the bottom of the 8th.
David Winfree
would be called out on strikes before a
Matt Moses
single moved Lis to 3rd. Plouffe would single to drive in Lis for the final New Britain Run.
Ben Julianel
would walk
Luis Cruz
in the top of the 9th, but he would be taken on a force out by
Pedro Powell
.
Jonel Pacheco
then came off the bench to pinch hit, going yard over the left field wall. Ford would single, but Julianel would get Dorta to pop out and Jason Bowers to strike out to end the inning.
Lis was 2-for-3 with a walk and a double. Tolleson, Martin, Winfree and Plouffe were all 2-for-4, Tolleson with a pair of runs and a pair of doubles. Martin also had a pair of runs a double, and home run, with 2 RBIs. Winfree had one RBI and Plouffe had a double and two runs scored. Matt Moses was the one hit wonder for the evening.
Altoona will send right-hander
Josh Hill
(4-6, 3.94) to the mound on Thursday for the rubber match, where he will face left-hander
Ryan Mullins
(5-4, 3.48).
Box
Log
Rock Cats
Curve
Altoona Mirror
Courant
NB Herald
Lip Service
Blog
Durham 9 at Rochester 7
W: J. Niemann (3-2, 4.46); L: T. Lahey (3-5, 5.87); SV: S. Dohmann (3)
HR: DUR: J. Guzman (13), C. Richard 2 (10), J. Weber (6). ROC: R. Ruiz (9), R. Jorgensen (2).
A six run fifth inning would do in the Rochester Red Wings who could not catch up to the Durham Bulls, falling 9-7 at Frontier Field.
Sergio Santos
was 3-for-4 for the Wings, all doubles, for 2 runs and 1 run scored.
Jason Pridie
finished up 2-for-5 with a run.
Tommy Watkins
tripled for the Wings in the seventh, hustling to get to third on a close play.
Darnell McDonald
,
Garrett Jones
, and
Jose Morales
all singled for the Wings.
Ryan Jorgenson
and
Randy Ruiz
each had one hit, but it went yard, as they each drove in two runs. Ruiz has been scorching the ball the last nine games batting .378 (14-for-37) with one double, six home runs, 13 RBI and five multi-hit games during this nine-game stretch. He has hit safely in 12 of his last 13 games.
Julio DePaula
worked only 2.2 innings for the Wings, giving up 2 runs, earned, on 4 hits and a pair of walks while striking out 2.
Rickey Barnett
allowed one run on one hit and 3 walks in 1 inning, and
Tim Lahey
absorbed the loss after giving up 6 runs, all earned, on 4 hits and 2 walks while striking out 1. Three different Bulls went yard on him.
Box

Log
Red Wings
Bulls
R-News
RD&C
Extra Bases
Blog
OF
Denard Span
(DL, broken finger) threw in the outfield and took some swings in the indoor batting tunnel Wednesday afternoon.
Watkins and
Chris Basak
were guest instructors for a clinic earlier in the day, with guests from the School of the Holy Childhood enjoying time with the Wings.