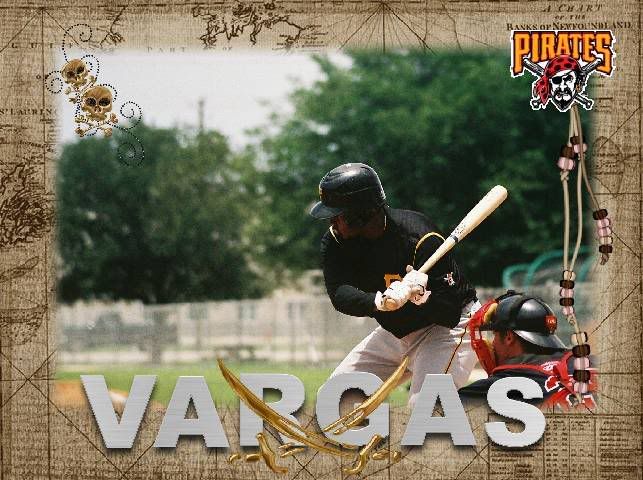 GCL Twins 2 at GCL Pirates 4
W: C. Aure (3-2, 5.11); L: J. Mijares (1-1, 1.00); SV: M. Foust (2)
HR: PIR: J. Cunningham (2).
The GCL Pirates came out the winners after a 7 inning pitcher's duel, using a 3 run seventh inning to take the lead and hang on for the win.
Brandon Holden
took the starts for the Pirates, working four inning and limiting the GCL Twins to only 3 hits while striking out 2.
Alex Curry
would have the mound for the Twins.
Jack Cunningham
would take his second home run of the season off Curry in the bottom of the first, going over the center field fence. It would be the only run Curry would allow, and one of only two hits he'd give up over six innings while fanning 4.
Still it put the Pirates on the board. The Twins were unable to crack reliever
Serguey Linares
either, who worked the next two innings allowing only one hit while striking out one.
Christopher Aure
replaced Linares in the top of the 7th, and walked
Anderson Hidalgo
. Hidalgo would be replaced by the speedier
Juan Sanchez
as a pinch runner, and a wild pitch would see Sanchez to 3nd.
Jakub Hajtmar
singled to plate Sanchez, and would then steal 2nd.
Brandon Roberts
walked and
Danny Ortiz
followed that up with a single, but Hajtmar would be taken out at home on the throw ending the inning.
Jose Mijares
replaced Curry on the mound and
Herbert Lara
replaced
Brandon Roberts
, who was playing on a AA rehab assignment, in the line up. Cunningham doubled off Mija and moved to 3rd
Alex Vargas
ground bunt single.
Miguel Mendez
then reached on a fielder's choice, but a throwing error by Mija allowed Cunningham to score and Vargas to advance to 3rd.
Victor Sanches
and
Andury Acevedo
would both go down on ground outs before
Edwin Roman
single to drive in Vargas and Mendez, helped in part by a throwing error by Ortiz in left field.
Tyler Ladendorf
took a walk to lead off the top of the 8th, and following a pair of outs that moved Ladendorf to second,
Danny Rohlfing
doubled Ladendorf in. Sanchez and Hajtmar both walked to load up the bags, at which time the Pirates called for a pitching change.
Matthew Foust
replaced Aure and would get
Jon Goncalves
to ground into a force out, stranding the men.
Ladendorf would walk in the top of the ninth with two outs on the board and
Mike Gonazales
would double, but
Hyeong-rok Choi
would ground out to end the inning, and the contest.
Gonzales wwas 2-for-4 with a double, while Choi was 2-for-5. Rohlfing had a double and a RBI, Hajtmar a single and a run scored. Roberts went 1-for-2 with a walk, and Ortiz was the one hit wonder of the game.
The GCL Twins were to take on the GCL Orioles at the Lee County Sportsplex on All-star Tuesday for a 10:00 AM game, but that contest has been RAINED OUT! Despite the two game losing streak, the Twins are 14-7 in first place in the South Division, two games ahead of the GCL Red Sox.
Box
Log
---
DSL Diamondback/Reds 1 at DSL Twins 11
W: P. Guerra (4-1, 2.49); L: R. Almonte (0-3, 8.25)
HR: DSL DIR: H. Rodriguez (1).
The DSL Twins used an offensive first inning outburst against the DSL Diamondbacks/Reds to put them in a hole from which they would never recover. The Twins would crank out 11 runs on 12 hits over the course of the contest.
Pedro Guerra
(no relation to Deolis) took the start for the DSL Twins. He'd allow a home run to
Henry Rodrigues
coming out of the gate, a fly ball over the right field fence. That would be all the Dia-Reds would get out of him though, as he went on to work seven innings, allowing only 2 more hits and a walk while striking out seven.
Ramon Almonte
did not fair so well for the Dia-Reds.
Danny Santana
took a walk, then stole second.
Jhonatan Arias
advanced Santana to 3rd on a ground out, and a fielding error by
Adonys Canelo
at short allowed Santana to score and
Jean Carlos Mercedes
to reach.
Oswaldo Arcia
doubled to plate Mercedes, but he'd be taken out at second.
Manuel Soliman
and
Jairo Rodriguez
took back-to-back walks and another walk to
Yorby Martinez
loaded up the bags.
Juan Blanco
singled in Soliman and Rodriguez before
Carlos Tineo
came in to replace Almonte.
Wilfy Gil
singled out to left to bring in Martinez and Blanco. He'd then steal second and Santana would take a walk before Arias flew out to end the inning.
Despite a number of walks by Tineo in the second inning - 3 plus a wild pitch - the Twins would be kept off the board.
Marcos Molina
replaced Tineo on the mound to get Blanco to fly out to end the inning with the bases loaded.
Santana walked with one out on the board in the bottom of the 3rd, then stole 2nd. Following a ground out to Arias, Mercedes reached on a fielding error that also scored Santana. A wild pitch by Molina moved Mercedes to 2nd and Arcia would double him in. Soliman then traded places with Arcia, with his 5th double of the season. A single by Rodriguez would plate Soliman, making it 10-1 Twins.
Blanco doubled to lead off the bottom of the 4th then moved to 3rd on Gil's line drive single. Santana then singled to load the bags. One out later, Mercedes ground into a force out that plated Blanco for the Twins final run.
Rodriguez finished up 2-for-2 with 3 walks, a run and a run batted in. Blanco was 3-for-5 with a pair of runs and a pair of runs scored. Arcia and Gil were 2-for-5, Arcia with a pair of doubles, a pair of RBIs and a run, and Gil with a pair of runs scored. Santana and Soliman were both 1-for-3 with 3 runs each, Santana with 3 walks and Soliman with a double, a walk and a RBI.
The Twins visit the DSL Cubs on Tuesday for a 10:30 AM Dominican time game.
Box
Log