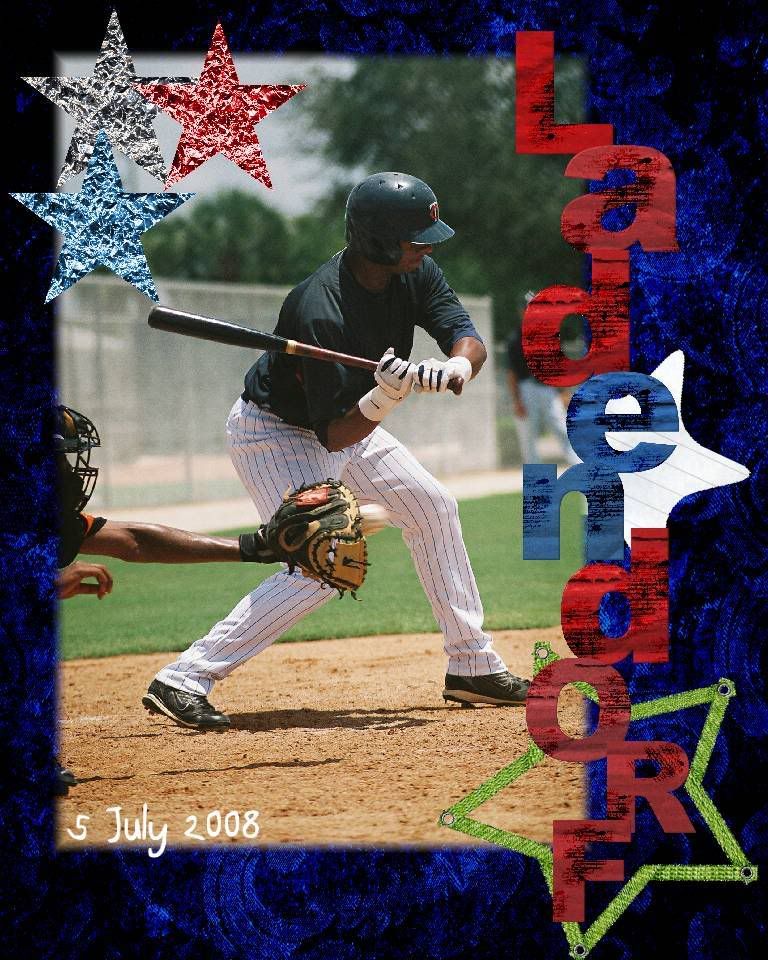 GCL Twins 3 at GCL Red Sox 1
W: J. Mijares (2-1, 0.82); L: M. Jimenez (0-1, 0.00); SV: K. Mota (5)
HR: None.
Tyler Ladendorf
went 2-for-4 with a run Thursday a the GCL Twins topped the GCL Red Sox, 3-1 at the City of Palms Complex. The Twins second round pick in the 2008 first year player draft has been struggling at the plate, and it was good to see the Illinois native his game going.
Ladendorf hit a line drive off Red Sox start
Wang-Yi Lin
.
Mike Gonzales
would reach on a fielding error by
Roberto Feliz
out in left, which allowed Ladendorf time to slip over the plate for the first run of the game. Gonzales would find himself at 2nd and then move to 3rd on a wild pitch by
Wang-Yi Lin
.
Andres Diaz
walked, but
Reggie Williams
ground into a double play that took Gonazales out at home. Diaz would end up at 3rd, but Lin got
Josmil Pinto
out on strikes to strand the runner.
The bottom of the 3rd saw
Christan Vazquez
take a walk of
Angelo Sanchez
.
Kenneth Roque
also picked up a free pass and
Wilfrend Pichardo
would be taken out on a sac bunt that advanced the runners.
Andrew Frezza
singled to plate Vazquez, tying up the game, before
Michael Almanzar
ground into a double play to end the inning.
Sanchez would work five innings for the Twins and aside from the one run allowed only 3 hits and 3 walks while fanning five before giving way to
Jose Mijares
.
Lin would work 4 allowing 3 hits and 1 walks while striking out 4 before giving way to
Michael Lennox
.
Manuel Jimenez
would get the nod for the seventh inning.
Jimenez got Diaz to pop out before allowing a walk to Williams. Pinto then singled, and a passed ball by Vazquez moved Williams to 3rd and Pinto to 2nd. Following a ground out to
Herbert Lara
, a fielding error by Red Sox shortstop
Joantoni Garcia
allowed
Brandon Roberts
to reach and Williams to score. It would prove to be the game winning run, and Mijares would pick up his second win.
With
Anatanaer Batista
on the mound for the top of the 9th, Pinto would take a walk with one out on the board.
Juan Sanchez
then replaced Pinto as a pinch runner, but Lara would ground into a force out that took Sanchez out at 2nd.
Jon Goncalves
then singled out to left moving Lara to 3rd.
Javier Brown
would reach on a fielding error by Garcia. Lara would score on the play, but Goncalves would be caught at 3rd, trying to take an extra base.
Kelvin Mota
would pick up his 5th save of the season for the GCL Twins, working the 8th and 9th innings, and allowing only 1 run while striking out one.
Goncalves,
Javier Brown
,
Aaron Hicks
and Pinto all had singles. Pinto had a walk as well while the other three share in the one hit wonder of the game title.
The Twins rest on Friday and host the GCL Pirates at home on Friday for a 10 AM contest.
Box
Log
Herald Tribune
Dugout Central
Blog
---
DSL Twins 6 at DSL Rockies 2
W: C. Ciurcina (2-2, 5.14); L: V. Mayo (1-3, 5.96)
HR: None.
The DSL Twins pounded the DSL Rockies for six hits in the first half of the game, then blanked them from the fifth inning on to pick up a big win on the road.
Jhonatan Arias
singled and was doubled in by
Jean Carlos Mercedes
in the top of the 2nd to put the Twins on the board. The Rockies answered back however, with
Smit Valera
reaching on a force out then stealing 2nd.
Engels Castillo
singled him in, helped in part by a throwing error charged to
Yorby Martinez
.
Wilfy Gil
singled then stole 2nd.
Kelvin De Jesus
would try to catch him, but over threw the base allowing Gil to advance to 3rd. After a fly out by
Juan Blanco
,
Danny Santana
reached on a fielding error by
Miguel Perez
, and Gil scored on the play putting the Twins on top again.
Lesther Galvin
opened up the top of the fourth with a walk then stole 2nd. After Arias went down on strikes, Mercedes would get plunked with a pitch. Martinez then doubled out to center to score the two runners prompting a pitching change with
Scarly Morillo
replacing Rockies' starter
Vianney Mayo
. Scarly Would walk
Xavier Gonzalez
, but to
Wilfy Gil
out on strikes to retire the Twins.
Cesar Ciurcina
would walk
John Rogers
in the bottom of the fourth, and the Rockies right fielder would then steal 2nd. Two outs later,
Engels Castillo
would single, but Rogers would be taken out at the plate to save the run, ending the inning.
Juan Blanco
reached on a fielding error by
Jose Soto
in the top of the 5th, then moved to second on a wild pitch from Morillo.
Danny Santana
reach on a throwing error which saw Blanco to 3rd. Another wild pitch by Morillo moved Santana to 2nd and
Jairo Rodriguez
drew a walk to load the bags.
Jefri Hernandez
came in to replace Morillo and got Galvan and Arias to hit into ground outs, but Blanco and Santana still scored on the plays. Hernadez would then get Mercedes out on strikes to retire the Twins offense.
In the bottom half of the stanza,
Moises Charles
singled with one out on the board.
Robert De La Cruz
doubled him in one out later to the final Rockies tally.
Gil and Santana were both 2-for-5 with a run each, Santana also had a RBI. Mercedes (1-for-3) and Martinez (1-for-4) each and a double, Mercedes with a run and a RBI, Martinez with a pair of runs scored.
The DSL Twins are back home on Friday against the DSL Diamondbacks for a 10:30 AM Dominican time contest.
Box
Log