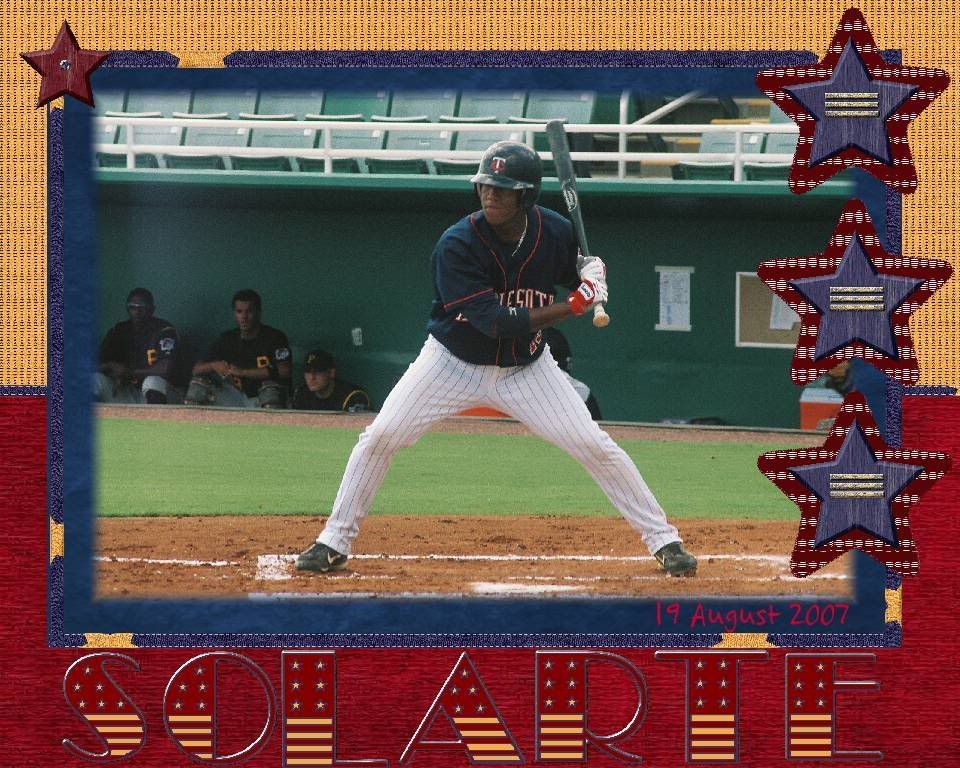 Fort Myers 10 at Daytona 4
W: D. Guerra (10-4, 4.42); L: R. Hill (0-1, 10.38)
HR: FTM: Y. Solarte (3). DAY: J. Adduci (2).
An eight-run fifth inning lead to the
Deolis Guerra
's 10th win of 2008 as the Fort Myers Miracle overcame the Daytona Cubs 10-4.
The big Venezuelan got off to a bad start with
Tony Thomas
leading off the bottom of the 1st with a single, and
James Adduci
then taking him yard to put a pair of runs on the board. Adduci's 2nd of the season end over the right center field fence.
Ty Wright
followed that up with a double, then moved to 3rd on
Steve Clevenger
's single. Guerra would then plunk
Marquez Smith
with a pitch.
Robinson Chirinos
singled to plate Wright, but Guerra finally got
Ryan Harvey
out on strikes and induced
Jonathan Mota
to hit into a double play to end the inning.
Wilson Ramos
took a walk in the top of the 2nd, the moved to 2nd on a passed ball. After
Eli Tintor
and
Steve Singleton
went down on strikes,
Garrett Olson
singled to bring in the Miracle's catcher.
Ramos would single in the top of the 4th and move to 3rd on
Eli Tintor
's double. Singleton's line drive plated Ramos to cut the Daytona lead to just one run.
In the top of the 5th,
Yangervis Solarte
and
Danny Santiesteban
hit back-to-back singles.
Juan Portes
' sac-fly would plate Solarte before
Danny Berg
and
Edward Ovalle
both took free passes off
Rich Hill
.
Micheal Phelps
was called out to the mound to replace the rehabbing major leaguer, and got Ramos to pop out. Tintor walked to force in Santiesteban before Singleton's triple cleared off the bags.
Garrett Olson
got plunked with a pitch to get on base and Solate hit his 3rd home run of the season over the right field wall to drive in 3 more. Santiesteban would single for his 2nd at bat in the fifth, and Portes popped out to retire the Miracle.
Clevenger and Smith hit back-to-back doubles off Guerra to take one run back, but that pretty much finished it for the Daytona offense.
Guerra left the game having allowed 4 runs on 8 hits while striking out one over 5 innings.
Jose Lugo
worked a pair of innings, walking one and striking out 3.
Blair Erickson
worked a hitless eighth and
Spencer Steeley
the ninth to finish off the contest.
Ramos and Santiesteban were 2-for-4, Ramos with a walk and a pair of runs, with just one run. Singleton and Solarte were both 2-for-5, Sing with one run and 4 RBIs and Solarte with a pair of runs and 3 RBIs. Ovalle and Tintor were both 1-for-4 with a run each, Tint with a RBI as well.
The teams play a pair of 7-inning games tomorrow as a double header to make up for the rained out contest on Thursday.
Marco Carrillo
(6-6, 3.17) will throw the first pitch for the Cubbies at 6:05 PM, the Miracle will counter with
Ozzie Sosa
(1-0, 3.06), the second game, which will start a half hour after the conclusion of the first will feature the Cub's
Billy Muldowney
(4-2, 3.24) against the Miracle's
Matt Fox
(5-4, 3.72).
Box
Log
Miracle
Cubs
Breeze
NDN
News Press
Tampa Bay running back
Earnest Graham
, a Cape Coral-Mariner High School graduate, will take batting practice and sign autographs before the Fort Myers Miracle's game at Hammond Stadium on Sunday.
The Fort Myers native is making an appearance at Hammond Stadium, on behalf of his non-profit organization Earnest Giving.
Earnest Giving, Inc.
is a non-profit 501c3 Charitable Organization launched in 2007 with a commitment to assisting young people achieve their goals and grow into productive adults. (
NDN
)