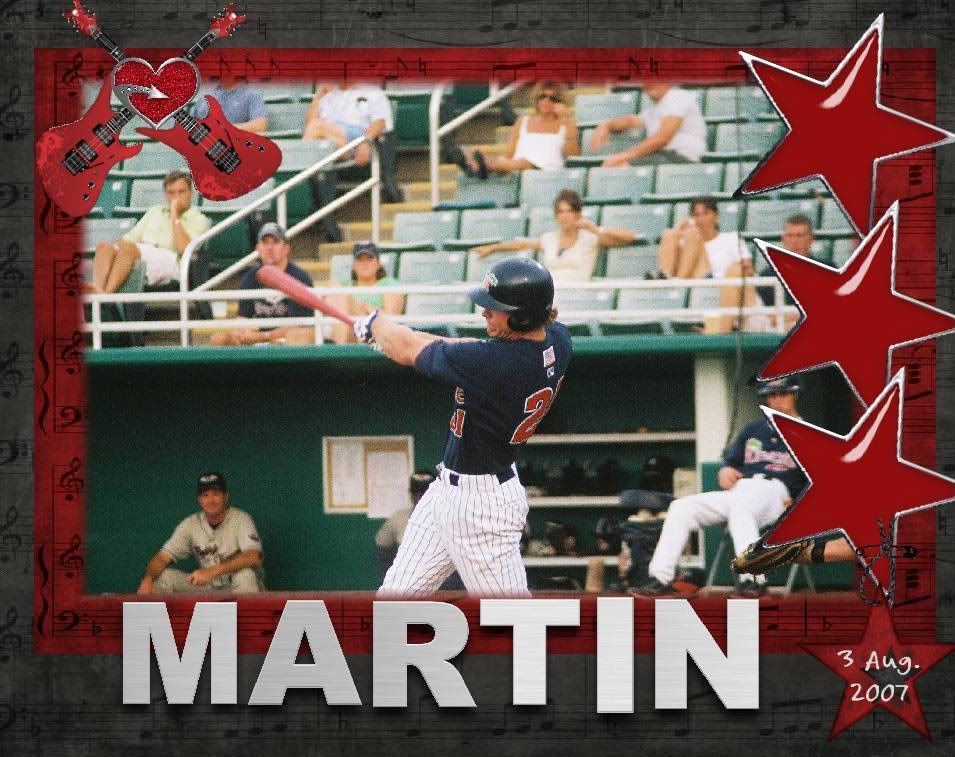 New Britain 15 at New Hampshire 3
W: J. Rainville (7-7, 6.27); L: J. Machi (0-4, 6.03)
HR: NBR: D. Butera (5). NHM: B. Jeroloman (5).
The New Britain Rock Cats must have rested well during the All-Star break, as they came back to work ready to go, destroying the New Hampshire Fisher Cats 15-3 at Merchantsauto.com Stadium.
New Hampshire's
Brett Cecil
worked 3 innings, with
Dustin Martin
taking a double off of him in the top of the 3rd. A wild pitch moved Martin so 3rd, and
David Winfree
singled to plated him. After
Erik Lis
went down on strikes, Winfree moved to 3nd on a passed ball, and
Brock Peterson
would take a walk.
Toby Gardenhire
would go down on strikes however to give the Fisher Cats a chance.
With two outs on the board,
David Smith
doubled off
Jay Rainville
.
Brian Jeroloman
then went deep, sending a home run over the right field wall to make it 2-1 Fisher Cats.
Keny Rodrgiuez
replaced Cecil in the top of the fourth and following a pop out to
Drew Butera
,
Felix Molina
and
Dustin Martin
hit back-to-back singles. A wild pitch by Rodrigues advanced the pair.
Danny Valencia
ground into a force out that took a Molina out at home, but a throwing error by
J.P. Arencibia
allowed Hughes to score and advanced the runners. Winfree would walk to load the bags before Lis flew out to left.
For the fifth inning,
Jean Machi
would take over for the Fisher Cats, and allowed a lead off walk to Peterson. Gardenhire singled and Butera advanced the pair on a sac bunt. Molina double to drive the two runners in. Hughes flew out to left before Martin singled a ground ball to right that plated Molina, for a 5-2 Rock Cats advantage.
Zach Ward
took over for Rainville in the sixth, and walked Jeroloman. Butler singled to move the slugger to 3rd and
Andrew Pinchney
ground into a double play that saw him home, for the Fisher Cats 3rd run.
Jared Gothreaux
replaced Machi in the sixth inning and allowed a walk to Molina in the seventh. Hughes walked and Martin singled to load up the bags.
Danny Valencia
double to clean them off and Winfree's single moved the Florida native over to 3rd. Lis would fly into a double play that took out out Winfree, but allowed Valencia to score, making it 9-3 Rock Cats.
Gardenhire took a walk off
Orlando Roman
in the top of the 7th, moved to 2nd on Butera's single to third when Hughes was plunked by a pitch. Martin was then walked by Orlando to force in a run.
The Fisher Cats looked to
Seth Overbey
to get them out of this game, but Overbey walked Winfree and Lis. Peterson singled in Winfree and Gardenhire followed that up with his own single to load the bags. Butera then lifted a ball over the left field wall for a grad slam home run.
Julio Pinto
was finally called in to get three outs, while
Frank Mata
was tagged to finish things up for the Rock Cats.
Martin was 4-for-4 with 3 walks, a pair of run and a pair of runs scored. Gardenhire was 3-for-5 with a pair of walks and 3 runs, While Butera and Molina were each 3-for-5 Butera with a run and 4 RBIs and Molina with a walk, a pair of runs and a pair of RBIs. Winfree went 2-for-3 with 3 walks, a run and a run scored.
Game two of the series is Friday at 7:05 PM.
Ricky Romero
(5-5, 5.61) gets the nod for the Fishers on the mound vs.
Anthony Swarzak
(3-7, 5.99) for the Rock Cats.
Box
Log
Rock Cats
Fisher Cats/OSC
Union Leader
Courant
Dog Days with the Cats
---
Norfolk 4 at Rochester 7
W: F. Liriano (8-2, 3.34); L: H. Penn (4-5, 5.40); SV: B. Korecky (13)
HR: ROC: G. Jones (10).
Francisco Liriano
is reportedly unhappy to still find himself in the minors after pitching quite well recently. Liriano picked up the win, allowing only 1 run on 7 hits and striking out 8 over 8 innings.
Ricky Barrett
would be tagged for three on two runs and a walk in .2 innings as the Rochester Red Wings rose above the Tide, 7-4.
Trevor Plouffe
walked and Darnell McDonald doubled out to right.
Garrett Jones
would sacrifice in Plouffe, and
Randy Ruiz
extended his hit streak by singling in McDonald. To give the Red Wings an early lead.
Jones homered to lead off the bottom of the 4th and following a Ruiz ground out, Clark singled then stoled second base.
Matt Macri
took a walk before
Sergio Santos
doubled to plated Clark and Macri. After
Ryan Jorgenson
ground out,
Jason Pridie
doubled to bring in Santos.
The Wings finished off their scoring in the bottom of the 8th with Ruiz doubling off
Jim Miller
, then coming home on a
Howie Clark
single.
Ruiz was 2-for-4 with a run and a run scored, while Clark was 2-for-3 with a walk, a run and a RBI.
The series continues Friday at 6:05 PM with post game fireworks at Frontier Field. Rochester's
Danny Graves
(3-3, 5.18 ERA) will take on the Tides LHP
Randy Keisler
(0-1, 4.18).
Box
Log
Red Wings
Tide
RD&C
RD&C Notes
R News
Virginia Pilot
Extra Bases
Blog
With Ruiz' hitting streak at 23 games, we note that
Michael Jones
of the Greenville Drive (Class A South Atlantic League, Boston affiliate) had a 28-game streak, tops in the minors so far this season. (Ah, our old GCL buddy
Michael Jones
!)
The Red Wings' 45-54 record at the All-Star break is the first losing record Rochester has had at the All-Star break since 2003.