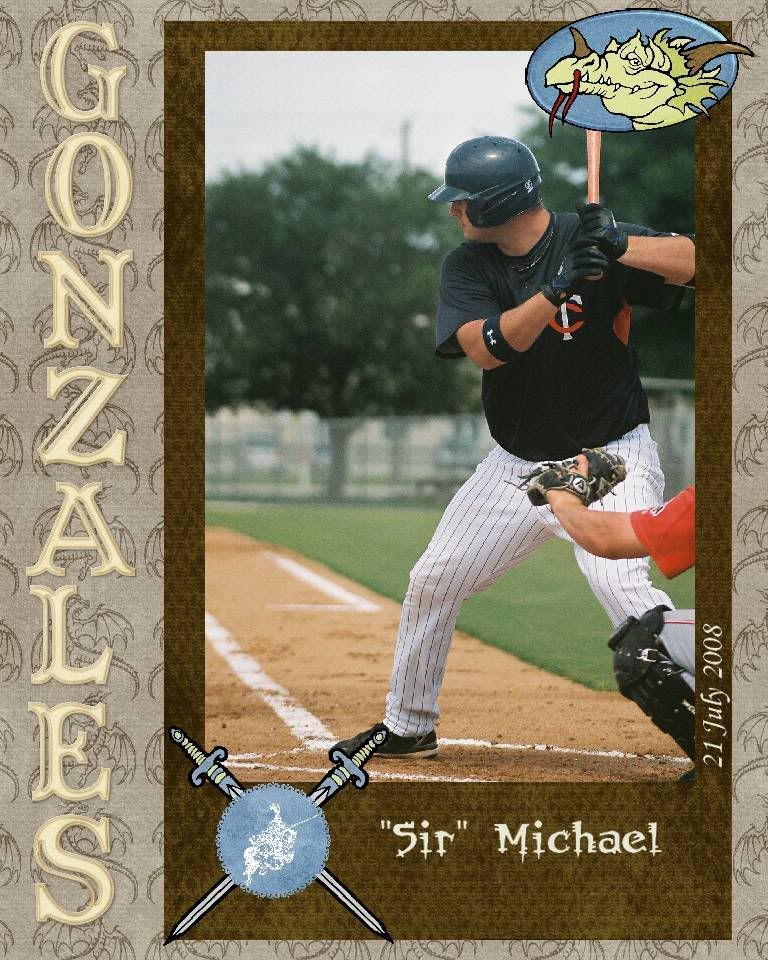 GCL Twins 4 at GCL Red Sox 10
W: M. Lennox (1-2, 5.00); L: A. Sanchez (2-2, 3.38)
HR: RSX: R. Feliz (7).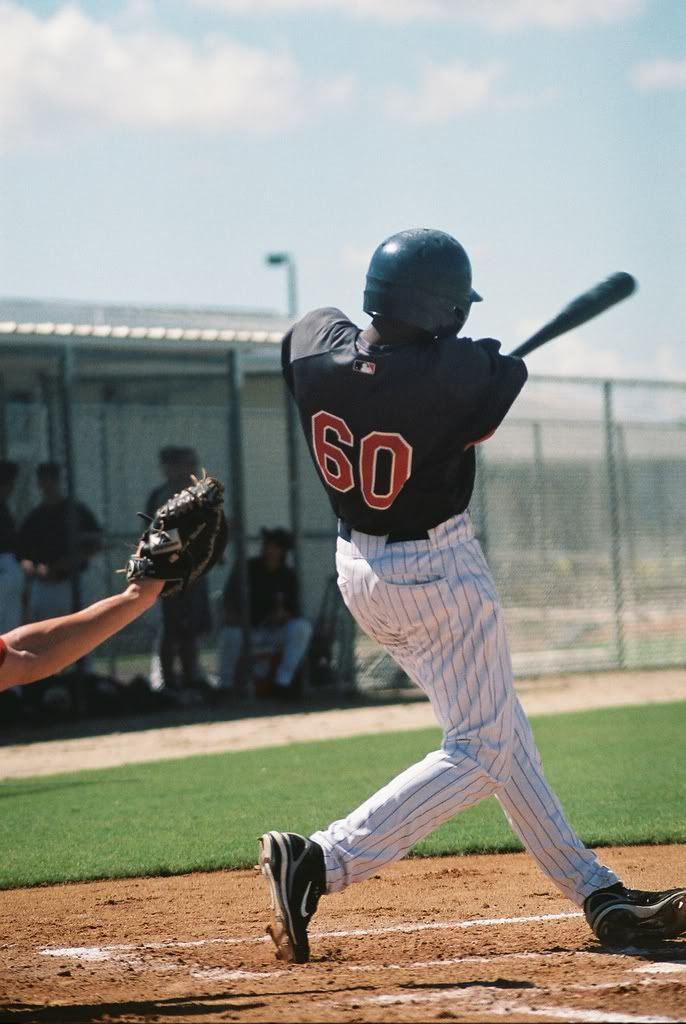 A 5-run sixth inning broke open a close game and gave the GCL Red Sox a huge win the in the completion of the game that was suspended on Sunday, July 27.
Angelo Sanchez
had taken the start and would be back on the mound when the game resumed.
Juan Sanchez
would reach in the top of the 3rd on a play that took
Jon Goncalves
out at home.
Aaron Hicks
, who had singled his way on to base, would move to 3rd on the play. Sanchez advanced to 2nd when short stop
Derrik Gibson
missed the throw on a caught stealing attempt.
Danny Ortiz
would ground out, moving Sanchez to 3rd and Hicks would score on the play. A
Mike Gonzales
single then sent Sanchez home to give the Twins a two run lead early.
Joantoni Garcia
walked in the bottom of the 3rd and
Kenneth Roque
singled to move him to second. A walk to
Christian Vazquez
loaded the bags but Angelo would get
Wilfred Pichardo
out on strikes.
Derrik Gibson
ground into a force out that put Garcia over the plate and took Vazquez out at 3nd.
Bryan Peterson
went down on strikes to end the inning.
Tyler Ladendorf
singled and stole second.
Danny Rohlfing
would be called out on strikes before
Javier Brown
singled to move Ladendorf to 3rd. Goncalves would ground into a force out that took Brown out at 2nd, but allowed Ladendorf to score. Hicks would triple Goncalves in to make it 4-1 Twins.
Roberto Feliz
homered in the bottom of the 4th, a solo shot to cut the lead in half.
Michael Lennoz
would replace
Wang-Yi Lin
in the top of the 5th. Despite a double to Gonzales and a wild pitch, the Twins could not convert. In the bottom of the stanza Pichardo tripled and came home on a Gibson single to make it 4-3 Twins.
Then came the bottom of the sixth.
Chih-Hsiang Huang
and
Andrew Frezza
both took singles off Sanchez to start. Garcia would move the pair on a sac-bunt, and Roque singled to score Huang. Vazquez ground into a force out that plated Frezza but took Roque out at 2nd. Pichardo would steal second and Gibson walked. Peterson then singled, which - combined with a missing catch error by Ladendorf at short and a throwing error by Hicks in center - cleaned off the bags, to make it 8-4 Red Sox.
Sloppy play boys! Sloppy play!
The Red Sox iced their cake in the bottom of the eighth with Roque singling. After Vazquez flew out, Pichardo singled. The two runners then orchestrated a double steal. Gibson would double out to left to bring in the pair.
Angelo Sanchez
would take the loss, giving up 8 runs, six earned on 10 hits and 3 walks. He would fan 9 over six innings however.
Gonzales was 4-for-5 at the plate with a double and a RBI. Hicks was 2-for-4 with a triple, a run and RBI.
Juan Sanchez
, Ladendorf and Goncalves were all 1-for-4 with a run, Goncalves with a run scored as well. Brown, 1-for-3 would share the one hit wonder title with pinch hitters
Hyeong-rok Choi
and
Jakub Hajtmar
, both of which singled in the top of the ninth. A wild pitch would move the pair but Gonzales would strike out, ending the contest.
Box
Log
GCL Red Sox 1 at GCL Twins 4
W: K. Nanney (2-0, 1.50); L: C. Cabral (1-3, 6.03)
HR: None.
The Twins got a bit of revenge in the regularly scheduled game, which was shortened to 7 innings. A pair of errors by Red Sox pitcher
Cesar Cabral
would lead to a 3-run sixth inning to give the GCL Twins a 4-1 win.
Mike Gonzales
and
Hyeong-rok Choi
hit back-to-back doubles off Cabral in the bottom of the 2nd to open the scoring.
The Red Sox would tie it right back up however, with
Wilfred Pichardo
singling then stealing 2nd. Gibson would steal 3rd, and a throwing error by
Josmil Pinto
would allow Pichardo to score.
It would stay that way though until the bottom of the sixth.
Danny Ortiz
singled and moved to second on a
Tyler Ladendorf
sac-bunt. A fielding error by Cabral allowed Ladendorf to reach 1st. Gonzales singled to drive in the speedy Ortiz and. Ladendorf would go to second, but Gonzales evidently though he was going to 3rd and kept running. He'd be taken out in between first and second by second baseman
Kenneth Roque
. A throwing error on a pick off attempt moved Ladendorf to 3rd. Rok would reach on a fielder's choice that took Ladendorf out at home. Pinto then tripled in Rok and a fielding error by
Chih-Hsiang Huang
allowed
Jakub Hajtmar
to reach and Pinto to score.
Gonzales was 2-for-3 with a run and a run scored in the designated hitter role. Ortiz, Rok and Pinto were all 1-for-3 with a run, Rok with a double and a run scored and Pinto with a RBI as well.
Herbert Lara
was 1-for-4 with a double. Hajtmar would end up as the one hit wonder, going 1-for-3.
Box
Log
Herald Tribune
Sox and Dawgs
Blog
---
DSL Indians 2 at DSL Twins 4
W: E. Cardenas (5-1, 1.47); L: E. Araujo (3-2, 1.96); SV: L. Parra (1)
HR: None.
The DSL Twins doubled up the DSL Indians at home on Friday.
Oswaldo Arcia
would have two of the Twins four runs.
Danny Santana
would lead off the bottom of the fourth with a line drive to left, then steal 2nd base.
Jean Carlos Mercedes
' sac bunt moved him to 3rd and Arcia singled to drive him in.
Eliel Sierra
singled, moving Arcia to 3rd. A wild pitch by Indian's starter
Elvis Araujo
plated Arcia and sent Sierra to 2nd.
Manuel Soliman
would pop out, but
Jhonatan Arias
singled to scored Sierra before
Felix Caro
ground out to end the inning.
Twins starter
Eliecer Cardenas
allowed only 2 hits over five innings, striking out 2. The tribe would score on him when
Darling Read
tripled, then came home on a
Roman Vinicio
ground out.
Leonardo Parra
replaced Cardenas on the mound in the top of the sixth, and after getting
Joly Fermin
and
Agustin Avila
to strike out, allowed a triple to
Argenis Martinez
.
Jesus Brito
singled out to center to plate Martinez before
Rolando Petit
popped out to send the Twins back up to bat.
Arcia tripled off Indians' reliever
Ramon Cespedes
and one out later, came home on Soliman's line drive single to left.
The win was Cardenas' fifth of the season, Parra would record his first save, allowing 1 run on four hits while fanning 5 over four innings worth of work.
For the home boys, Santana and Arcia were both 2-for-4, Arcia with a RBI to go with his pair of runs, Santana with a run. Soliman, Arias and
Yorby Martinez
were all 1-for-3, the first two with RBIs, leaving Martinez to become the one hit wonder of the game. Sierra finished up 1-for-4 with a run.
Box
Log