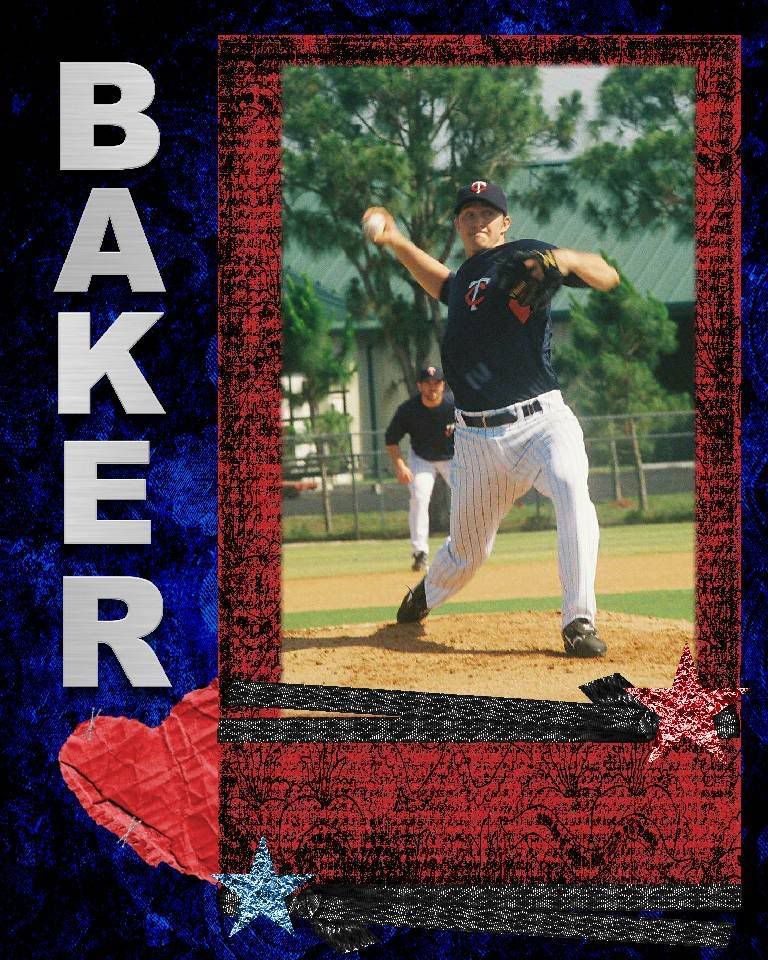 Fort Myers 8 at Tampa 6
W: S. Baker (1-0, 5.40); L: Z. McAllister (0-1, 9.00); SV: R. Delaney (12)
HR: FTM: W. Ramos (8).
Despite a somewhat troubling performance by the bullpen, the Fort Myers Miracle hung on to win 8-6 over the Tampa Yankees. The victory extended the win streak to six games.
Twins hurler
Scott Baker
made the second of two scheduled minor league rehab starts, and the Miracle were quick to give him some offensive help.
Danny Saniesteban
doubled, and singles by
Yangervis Solarte
and
Yancarlos Ortiz
(a.k.a. "the Yans") plated him.
Brian Dinkelman
would fly out to right before an
Edward Ovalle
single would bring in Solarte. A line drive by
Danny Valencia
brought in Ortiz. Tampa starter
Zach McAllister
then got
Whit Robbins
and
Wilson Ramos
out on strikes to end the inning.
It was just in time too, as
Kevin Smith
would hit a ground rule double for the home team with one out on the board. A wild pitch by Baker moved him to 3rd. and
Brian Chaevez
would reach on a fielder's choice. Unfortunately, the play at the plate could not get done in time, and Smith put a run on the board for Tampa.
In the top of the fourth
Juan Portes
would single. Following a pop up to Santieseban, Portes would steal 2nd, and move to 3rd on a wild pitch by McAllister. Solarte would reach on a fielding error by Tampa 3rd baseman
Mitch Hilligoss
, and Ortiz would double to bring in Portes. McAllister would then issue an intentional walk to Dinkelman. Ovalle sacrificed in Solarte to add another run to the Miracle total before Valencia would ground into a force out.
With one out on the board,
Andres Perez
singled, and Hilligoss doubled him in. Hilligoss then stole 3rd.
Josue Calzado
would triple him in to make the score 5-3 Miracle.
Robins would single off
Wilkins Arias
who replaced McAllister at the top of the 5th. Ramos then went yard to increase the Miracle lead by two.
Baker would end up allowing the 3 runs on seven hits while striking out 4 over five innings. He'd be replaced by
Jose Lugo
for the sixth who allowed 1 hit and struck out 2.
Blair Erickson
finally made his long awaited debut for the Miracle, allowing a double in the bottom of the 7th before setting down three Yankee batters to end the inning.
With one out on the board in the 8th, Hilligoss would take a walk, then move to 2nd on a wild pitch by Erickson. Calzado then doubled to score Hilligoss.
Anthony Slama
would come in at that point. The Miracle All-star allowed a single to Smith that plated Calzado. After getting
Ben Blumenthal
to swing into a strike out,
Luis Nunez
singled putting runners at the corners. A single by
James Cooper
plated Smith.
Jose Gil
would be plunked by a pitch before Slama finally got
Kyle Anson
to ground out.
The offense never rests for the Miracle. With
Stephen Antz
on the mound for Tampa, Ovalle singled then stoled 2nd. Following a fly out to Valencia, Ovalle would make his way to 3rd on a Robbins single.
Jose Valdez
then stepped in to try to stop the Miracle, but Ramos greeted him with a single that plated Ovalle. Valdez would get the next two batters out on strikes. The Miracle would call in
Rob Delaney
to end the game and end it he did, retiring 3 Tampa batters to preserve the Miracle win.
Ortiz was 3-for-4 with 1 run and 2 RBI for the Miracle. Ovalle was 2-for-4 with a run and 2 runs scored, plus a pair of strike outs. Robbins, Ramos and Santiesteban were all 2-for-5 with a run, Ramos with 3 RBIs. Valencia,
Juan Portes
and Solarte all collected single hits for Fort Myers. Dinkelman had a bad night, striking out 3 times. Portes and Ramos, like Ovalle, would record 2 strike outs in the game.
The teams finish up tomorrow with a 1:00 start time as Fort Myers looks for a sweep. Miracle southpaw
Tyler Robertson
(3-2, 3.04) will get the start against Tampa righty
Christian Garcia
(2-1, 1.72).
Box
Log
Miracle
News Press
NDN
Pending Pinstripes
Blog
Plus - special to the News Press:
Jeff Manship
Danny Santiesteban
The cost of filling up that bus
Promotion Commotion
Let's Go Miracle
Blog
Where are they now?
Luis Maza
and
Terry Tiffee
each have been called up to the Dodgers. Maza is hitting .360 with 1 home run and 2 RBIs through 11 games (25 AB). Tiffee is batting .500 through 2 games (2 AB)
Alex Romero
earned the last roster spot out of spring training for the Arizona Diamond Backs and is hitting .250 through only 14 games.
Josh Rabe
is tearing it up in the independent Atlantic League, hitting .370 in 25 games (92 AB), with 4 home runs and 18 runs batted in. He is playing for the
Camden Riversharks
.
Kyle Geiger
signed with the Ottawa Rapidz of the independent CanAm league, and is hitting .375 through 5 games (16 AB) with 1 home run and 2 RBIs. That is the same league that the Goldkang owned Brockton Rox participate in.
Catcher
Korey Feiner
is currently playing in the Seattle System.
Josh Hill
was picked up the Pittsburgh Pirates and is currently pitching for the AA Altoona Curve where he has a 3-5 record with a 4.12 ERA in 9 games.