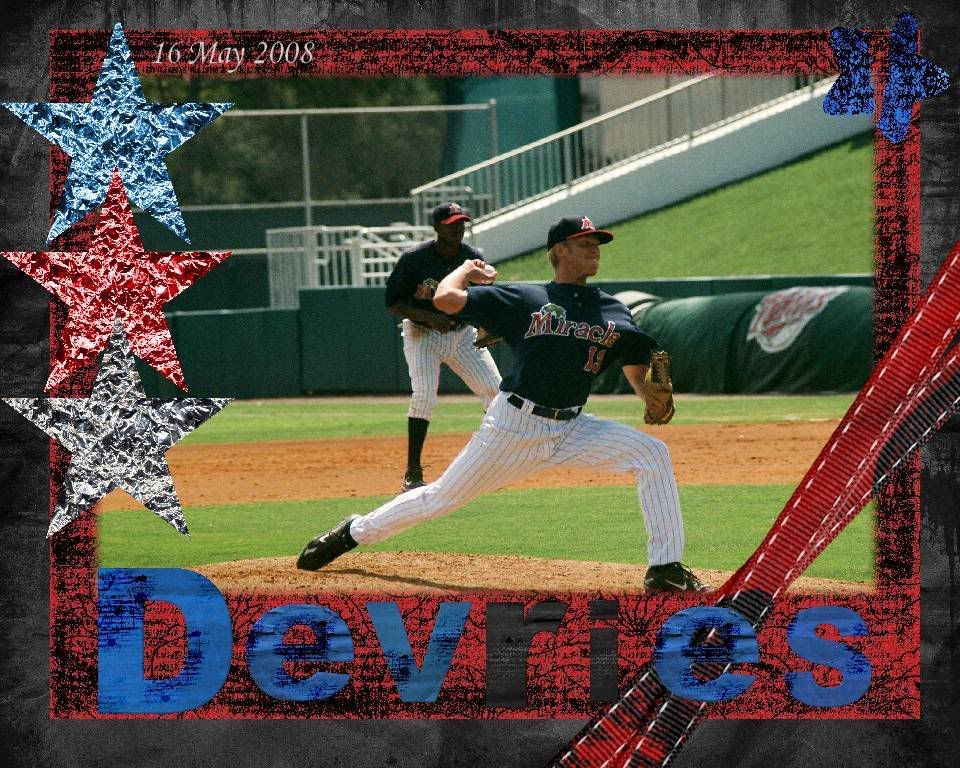 Dunedin 5 at Fort Myers 0
W: R. Ray (5-2, 4.22); L: C. Devries (4-5, 3.50); SV: C. Polanco (2)
HR: None.
Perhaps they were feeling a bit cocky after their sweep of the Tampa Yankees or perhaps they honestly believe they can't beat Dunedin, but the Fort Myers Miracle were shut out at home by the Dunedin Blue Jays.
Cole Devries
was slightly less than his usual brilliant self, allowing one run on 7 hits and one walks while striking out only one in six innings.
The run would come in the top of the 3rd inning, when
Jesus Gonzalez
doubled. He'd move to 3rd on
Adam Calderone
's ground out, and came in off a
Luis Sanchez
single.
Danny Vais
would take over in the top of the 7th. With one out on the board, Sanchez singled, then stole 2nd.
Chris Emanuele
walked as lightning as seen in the sky and the crowd began leaving the stadium bowl.
Sean Shoffit
hit a ground rule double that brought in Sanchez. Vais issued an intentional walk to
J.P. Arencibia
.
Brian Dopirak
would strike out swinging before a double by
Cory Patton
cleared the bases for 3 more runs.
Mother nature stepped in at that point as the game was halted due to rain.
Frank Mata
would take over for Vais, and
Eli Tintor
would replace Santiesteban in the contest, but except for
Juan Portes
who made his way onto base on a missed catch, the Miracle could find little offense.
Yangervis Solarte
was 1-for-3 at the plate with a beautiful little ground rule double.
Brian Dinkelman
,
Danny Valencia
and
Whit Robbins
all had singles for the mostly hitless Miracle.
The two teams rematch tomorrow. All-star
Jeff Manship
(6-2, 3.11) will throw out the first pitch at 7:05 PM. The Jays will send
Kenny Rodriguez
(4-5. 3/58) to the mound.
Box
Log
Miracle
All-star Jays
News Press
NDN
NDN Gas Promo
Breeze
New Britain - Off
The New Britain Rock Cats had Monday night off as they head over to Blair County Ballpark in Pennsylvania to take on the Altoona Curve. The Pirates affiliate picked up several Twins players in the Rule V Draft, including former Miracle starter and fan favorite
Josh Hill
who carries a 4-5 record with a 3.81 ERA in 11 games for the Curve. Hill pitched Sunday against Erie, and will miss the current series against this former team.
Scranton/WB 10 at Rochester 6
W: K. Igawa (5-4, 4.07); L: H. Totten (0-2, 5.79)
HR: SWB: G. Porter (2), C. Stewart (1). ROC: J. Pridie (2), S. Santos (1).
The Rochester Red Wings squandered an early 5 run lead to fall, 10-6 to the Scranton/Wilkes-Barre Yankees.
Danny Graves
pitched well through four innings, but had some trouble in the fifth, finishing up with 4 runs, 2 earned, on 5 hits and 4 walks over 4.2 innings.
Casey Daigle
and
Heath Totten
added another six runs between them over 3.1 combined innings.
Tommy Watkins
walked to lead off the bottom of the first inning for the host team.
Jason Pridie
and
Darnell McDonld
both singled to load up the bases. Former Miracle
Garrett Jones
would hit a sac-fly that brought in Watkins. Pride and McDonald would then orchestrate a twin steal, moving to third and second respectively. A wild pitch by Yankee starter
Kei Igawa
allowed Pridie to score.
Brian Buscher
then took a walk. Igawa would get
Randy Ruiz
to strike out before
Sergio Santos
homered to add 3 runs to the total.
Pridie would homer in the bottom of the second inning, his second yard ball of the season. That would finish it for the Wings scoring however.
McDonald would finish up 3-for-5 at the plate with a run, Buscher was 2-for-3 with a run, Ruiz was 2-for-4 but did not factor into the scoring and Pridie was 2-for-5 with 2 runs and 1 RBI.
Eric Duncan
was 2-for-4 with 2 runs in the designated hitter role for the Scranton.
Cody Ransom
was 3-for-5 with a run, and
Justin Christian
would go 2-for-5 with 2 runs and 3 runs scored.
The friendly confines of Frontier Field were not so friendly with Scranton in town as the Wings won only one game against the Yankees farm team. The road kill Wings (8-21 Away) now head over to Buffalo for a Tuesday game against the Bisons (Cleveland). First pitch is 7:05 PM with
Kevin Mulvey
(3-6, 4.07) on the mound for Rochester.
Not surprisingly,
Howie Clark
cleared waivers and has been reassigned to Rochester from Minnesota. Clark batted .250 (2-for-8) with two doubles and one RBI in four games for Minnesota. Prior to his promotion Clark was batting .284 with one home run and 21 RBI in 37 games for Rochester. To make room for Clark, the Red Wings optioned infielder
Felix Molina
to Double-A New Britain. Molina was 0-for-2 in three games for Rochester.
Watkins had his seven-game hitting streak snapped after going 0-for-4 with a walk. Watkins had four multi-hit games during the hitting streak.
Box
Log
Red Wings
D&C
D&C Notebook
D&C Photo Gallery
Extra Bases Blog

Times Tribune
Yankees Notebook
Pending Pinstripes
Blog