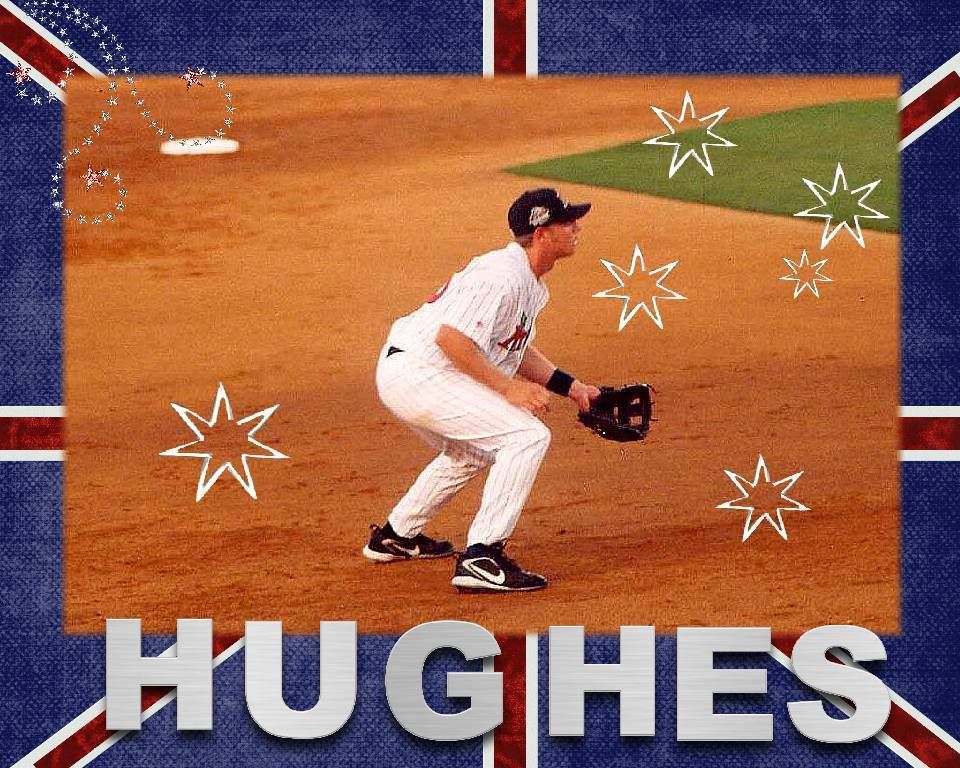 Trenton 13 at New Britain 3
W: M. Melancon (2-0, 1.84); L: E. Simonitsch (0-3, 12.18)
HR: NBR: L. Hughes (12), B. Peterson (5).
Not surprisingly, the Trenton Thunder demolished the New Britain Rock Cats 13-3.
Errol Simonitsch
is clearly not himself and well my initial suggestion would be to put in
Kyle Aselton
instead, it seems that Mr. Aselton gave up his fair share of runs as well.
Simo would give up 6 earned runs on 8 hits over 2.2 innings, while striking out 2.
Luke Hughes
hit is 12th home run of the season for the Cats to start out the bottom of the first. Simonitsch had managed to get through the first inning unscathed, but the second, well...
Kevin Russo
doubled with one out on the board, followed by back-to-back singles by
Jose Tabata
and
P.J. Pilittere
, which plated Trenton's right fielder.
Chris Malec
then double to drive in the pair.
Reegie Corona
's single would move Malac to 3rd and
Ramiro Pena
would sacrifice him in for 4 runs.
That Simo went back out to the mound in the 3rd in is surprising.
Colin Curtis
singled.
Edwar Gonzalez
ground out which moved Curtis to 2nd. A wild pitch moved Curtis to 3rd and he was doubled in by Russo. Tabata struck out swinging. Pilittere singled to bring in Russo and
Jason Miller
- for the Rock Cats, of course. Sarasota's native son gave up a single to Malec, who tried to stretch it for a double and was taken out at 2nd.
Brock Peterson
in the bottom of the 4th would homer to give the Cats another run, in what seemed a lesson in futility.
Russo would reach on a throwing error by third baseman
Toby Gardenhire
. Tabata and
P.J. Pilittere
both singled before Malec ground into a force out that plated Russo and took Pilittere out at 2nd. Corona would reach on a fielding error by Miller before the lefty got Pena and Jackson out on strikes.
Gardenhire would single in the bottom of the fifth, move to 2nd on a
Jeff Christy
ground out and to came home on Hughes line drive to right. Unfortunately, this failed to spark the Rock Cats at all.
Aselton would replace Miller in the top of the 7th, and got through the inning despite a single to Malec and second fielding error by Gardenhire that saw Corona reach. Jackson and Curtis would both single in the 8th. Gonazalez hit into a force out, but Jackson scored on the play. A throwing error by Hughes allowed Gonzalez to progress to 2nd, but Russo and Tabata where taken out on strikes.
Trevor Plouffe
would walk in the bottom of the 8th and
Eric Lis
would double but both would be left stranded.
Pilittere and Malec both hit singles to start out the top of the 9th. Corona ground into a force out, and Pena was walked to load the bags. Jackson reached on a force attempt that allowed Pilittere to score. Curtis singled to bring in Corona and Pena, and Gonazalez singled to bring in Jackson.
Armando Gabino
was brought in as well, to the mound, to replace Aselton. He'd get Russo to fly out and Tabata to ground out to end the Thunder's attack.
Down by 10 runs,
Dustin Martin
would single off
Eric Wordekemper
to start off the inning. 2 outs later,
Luke Hughes
would walk, but Plouffe flew out to center to end the game.
Steve Tolleson
was 2-for-3 with a walk, while Hughes was 2-for-4 with a walk and a run and 2 RBIs. The Cats managed only 8 hits to Trenton's 21 and five errors hurt them as well.
Much as they dislike the idea, the two teams face off today for a 1:35 PM game.
Jason Jones
(7-1, 2.36) will start for Trenton, while
Oswaldo Sosa
(2-4, 6.46) will handle the pitching for New Britain.
Box
Log
Rock Cats
Trenton
Courant
Pending Pinstripes
Blog
Thunder Thoughts
Blog
Who writes these things?
According to the Rock Cats.com farm report "
David Bromberg
also starred in May (2-0, 3.03, 38 K, 29.2 IP) for the Miracle." I wonder if he knows this?