Fort Myers 6 at Tampa 1
W: T. Robertson (4-2, 2.76); L: C. Garcia (2-2, 4.12)
HR: TAM: J. Calzado (4).
One of the best pitchers currently in the Florida State League didn't make it to the FSL All-star game. Southpaw
Tyler Robertson
worked all nine innings against the Tampa Yankees, allowing 1 run on 5 hits and 1 walk while striking out 5.
Brian Dinkelman
and
Edward Ovalle
opened up the game with back-to-back singles.
Danny Valencia
drew a walk to load the bases.
Whit Robbins
would sacrifice in Dinkelman before
Wilson Ramos
hit a double that brought in Ovalle and Valencia. Following a ground out to
Eli Tintor
,
Danny Santiesteban
doubled to plate Ramos, giving the Miracle an early 4 run lead.
Ramos, Tintor and Santiesteban all took singles off Tampa starter
Chris Garcia
to add another run to the total. A wild pitch moved the pair left on base, and
Rocky Palacios
took a walk to load the bags.
Yancarlos Ortiz
ground into a force out that scored Tintor, to make it 6-0 Miracle.
Josue Calzado
homered - his fourth of the season - off Robinson in the bottom of the fifth for the lone Yankees run.
Santiesteban was 3-for-5 with a pair of RBIs, Ramos was 2-for-4 with 2 runs and 2 RBIs, and Dinkelman and Ovalle were both 2-for-5 with a run each.
The Miracle return home for a 3-game set against the Dunedin Blue Jays on Monday.
Cole Devries
(4-4, 3.70) will handle the pitching chores for the Miracle, while Dunedin is expected to counter with
Rob Ray
(4-2, 4.66).
Box
Log
Miracle
News-Press
Breeze
NDN
Pending Pinstripes
Blog
Trenton 9 at New Britain 3
W: J. Jones (8-1, 2.28); L: O. Sosa (2-5, 6.88)
HR: NBR: T. Plouffe (3).
It was a different story at New Britain Stadium as
Oswaldo Sosa
allowed 6 runs on 5 hits and 7 walks while striking out 5 over 5 innings. The lefty got little run support form the Cats, who only manged 3 runs on 9 hits and 5 walks.
Dustin Martin
took a walk in the 5th.
Trevor Plouffe
followed that up with a double. Following a
Jeff Christy
ground out,
Luke Hughes
would also hit into a ground out but managed to plate Martin in the process.
The Cats picked up two more in the 7th - one on a solo shot home run by Plouffe and the other coming off back-to-back walks to Christy and Hughes. A
Steve Tolleson
single would bring in Christy for the 3rd Rock Cats run.
Matt Moses
and
David Winfree
were both 2-for-4 but did not factor into the scoring. Plouffe was 2-for-3 with a run and a run scored.
Box
Log
Rock Cats
Q & A with Erik Lis
Thunder
Thunder Thoughts
Blog
Herald
NBH - Brock Peterson
NJ.Com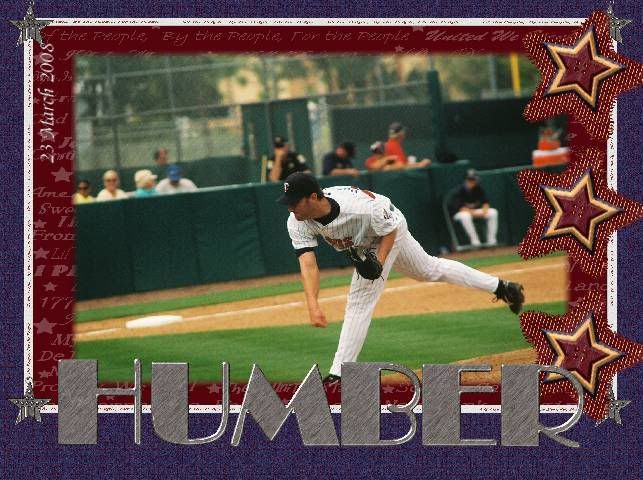 Scranton/WB 7 at Rochester 8
W: P. Humber (3-5, 5.53); L: S. White (4-3, 4.55); SV: B. Korecky (6)
HR: SWB: E. Duncan (6). ROC: C. Basak (4).
The 3-way battle of the farm systems concluded with the Rochester Red Wings picking up a 8-7 win from the Scranton/Wilkes-Barre Yankees.
Phillip Humber
allowed 5 runs on 6 hits and 2 walks while striking out 4 over six inning for his 3rd win of the season. While those numbers are not great, for once, the Red Wings bats were up to the task.
Rochester started out a six-run third inning with
Chris Basek
homering, his fourth of the year, over the left field wall.
Ryan Jorgenson
would get plunked by a pitch.
Tommy Watkins
singled and
Jason Pridie
walked to load the bags.
Darnell McDonald
would sacrifice in Jorgenson and
Garrett Jones
would single to again fill up the bases.
Brian Buscher
then walked to force in a run.
Sergio Santos
doubled in three more before the Yankees could find the third out.
Jogensen would single in the bottom of the 4th, move to second on a Watkins Sac-bunt, and to 3rd on a fielding error by
Ben Broussard
.
Darrell McDonald
's ground out served to plate him, adding another run to the Red Wings total.
Buscher and
Randy Ruiz
would hit singles in the bottom of the fifth. Two outs later, they paid dividends when Jorgensen singled in Buscher.
Jorgenson was an unlikely hero, going 2-for-3 with 2 runs a run scored. Watkins was 2-for-4 with a run. Buscher was 1-for-2 with a pair of walks, 2 runs and a RBI.
The Wings are the only team not quite done with the Yankees farm, as they play one more against Scranton Monday at 7:05 PM.
Box
Log
Red Wings
D&C
Beloit Snappers (Midwest League, Single-A) lefthanded pitcher
Michael Tarsi
is the Twins Minor League Player of the Week for May 24-May 30. The 21-year-old allowed just one run on eight hits in two starts. He went 2-0 and struck out 15 batters in 12.0 innings while walking just one.
Tarsi was the Twins 12th round selection in the 2007 First-Year Player draft out of University of Connecticut. He made his professional debut last season going 5-2 with a 2.22 ERA for Elizabethton.
Roger's Minor League Report
is now online and he names Juan Portes as his player of the week.