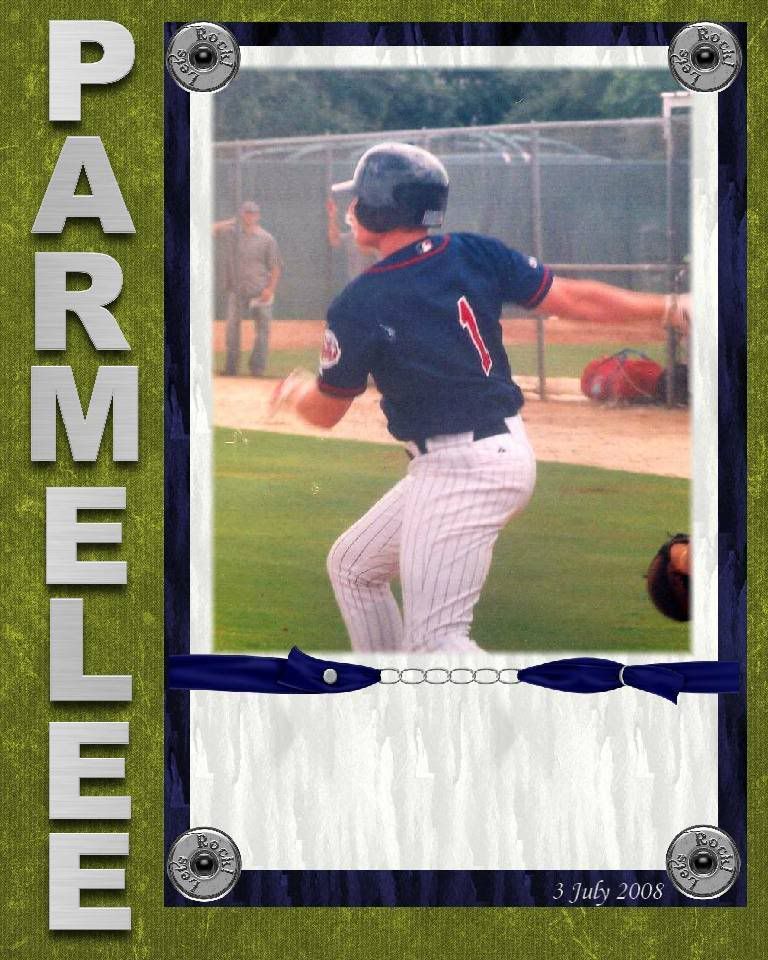 Beloit 8 at Kane County 4
W: B. Kirwan (4-3, 5.22); L: S. Deal (3-2, 3.53); SV: S. Steedley (7)
HR: BEL: C. Parmelee (11), S. Singleton (4). KCC: C. Brown (9), G. Dowling (5).
The Beloit Snappers overcame an early deficit and batted their way to victory as they doubled up the Kane County Cougars, 8-4.
Ben Revere
and
Chris Cates
hit back to back singles to start out in the top of the 1st inning.
Garrett Olson
would ground into a double play, but Revere still crossed the plate to put Beloit on the board.
Adam Klein
bunted his way onto base for Kane County. Following a pop out by
Matt Ray
,
Greg Dowling
took Snappers starter
Brian Kirwan
deep, sending a ball over the right field wall to put the Cougars on top.
Larry Cobb
would be called out on strikes, but
Justin Frash
was issued a walk.
Corey Brown
then launched a ball over the center field wall to make it 4-1 Cougars.
Steve Singleton
decided to play launch-a-ball as well, putting a
Scott Deal
pitch over the right field wall to cut the Snappers lead in half.
With one out on the board,
Ozzie Lewis
' ground ball to center got him on base while Singleton and
Jair Fernandez
drew walks.
Danny Lehmann
would pop out before a
Ramon Santana
line drive brought in Lewis and Singleton to tie up the game.
Cates doubled in the top of the 5th, then moved to 3rd on a passed ball by
Jonathan Johnston
. Olson walked and Parmelee said goodbye to his 3rd ball in two days, putting his 11th home run over the left field wall. He would also say goodbye to Deal, who was dealt off the mound in favor of
Charles Kerfoot
.
Kirwan would give up 4 runs on 7 hits and 3 walks while striking out 5 over six innings before
Charles Nolte
came in for the next 2.2 innings.
In the top of the 7th, Parmelee would walk, and come home on an
Ozzie Lewis
double to finish off the scoring for the Snappers.
5'3" Cates was 3-for-5 at the plate with a run, Lewis was 2-for-4 with a run and an RBI. Parmelee was the hero for the second straight game, going 1-for-3 with a walk, 2 runs and 3 RBIs. Singleton was 1-for-3 with 2 runs, 1 walk and 1 RBI, while Santana was 1-for-4 with 2 RBIs.
Kane County's
Scott Hodsdon
(3-4, 4.38) will face Snapper
Santos Arias
(2-2, 2.59) Saturday for game 3 of the series, with a 6:00 central time start.
Box
Log
Snappers
Cougars/OSC
BDN
BDN - Cates & Van Mil
Cates and Van Mil on ESPN:
Chris Cates
and
Loek Van Mil
have been making quite a splash in the national spotlight recently. The two have been in local publications around the Beloit area, www.mlnsportszone.com and even appeared in the most recent issue of Sports Illustrated. Now the duo is gearing up for their biggest coverage yet.
ESPN's popular morning show "First Take" will be in Belot to talk with Cates and Van Mil this Monday morning. ESPN First Take is on the air from 9:00am to 11:00am central time and then again from 11:00am to 1:00pm central on ESPN2.
Cates, at 5'3" is the smallest and Van Mil, at 7'1" the tallest professional baseball players in the country. While it's nice that the duo is getting coverage, I'd rather it would be for their baseball prowess than because of their size.
DSL Twins 7 at DSL Orioles 3
W: R. Acosta (1-0, 0.00); L: J. Nunez (0-1, 36.00)
HR: None.
The DSL Twins staged a late inning rally to defeat the DSL Orioles, 7-3.
The Twins got on the board first with
Willy Gil
taking a walk in the top of the 1st, then moving to 2nd on a wild pitch. He would advance to 3rd on a balk, and come home on
Jairo Perez
's sac-fly.
However, the Orioles answered back in the bottom of the inning. A fielding error by
Yorby Martinez
at second base allowed
Jaynnertt Melenciano
to reach. Gil would make an error that allowed Nivar to reach and Melenciano to score.
Ramon Acosta
would allow 3 runs over 7 innings on 5 hits, but none of them would be earned. An error by
Felix Caro
at 3rd would lead to two more Orioles runs in the fifth inning.
Manuel Soliman
drew a walk off
Julio Nunez
in the top of the 7th and
Oswaldo Arcia
walked after him.
Jairo Rodriguez
reached on a failed force attempt that loaded the bags. Cairo then singled to score Soliman.
Carlos Vasquez
hit into a double play that scored Arcia to tie up the game.
Martize would single in the top of the 8th, and Perez would get hit by a pitch.
Yancarlo Franco
singled to load the bags.
Leonaldo Abad
would see Soliman triple off him to clean off the bases. Soliman would then come home on Arcia's follow up single to finish off the scoring.
The DSL Twins host the DSL White Sox on Saturday for a 10:30 AM (local time) game.
Box
Log