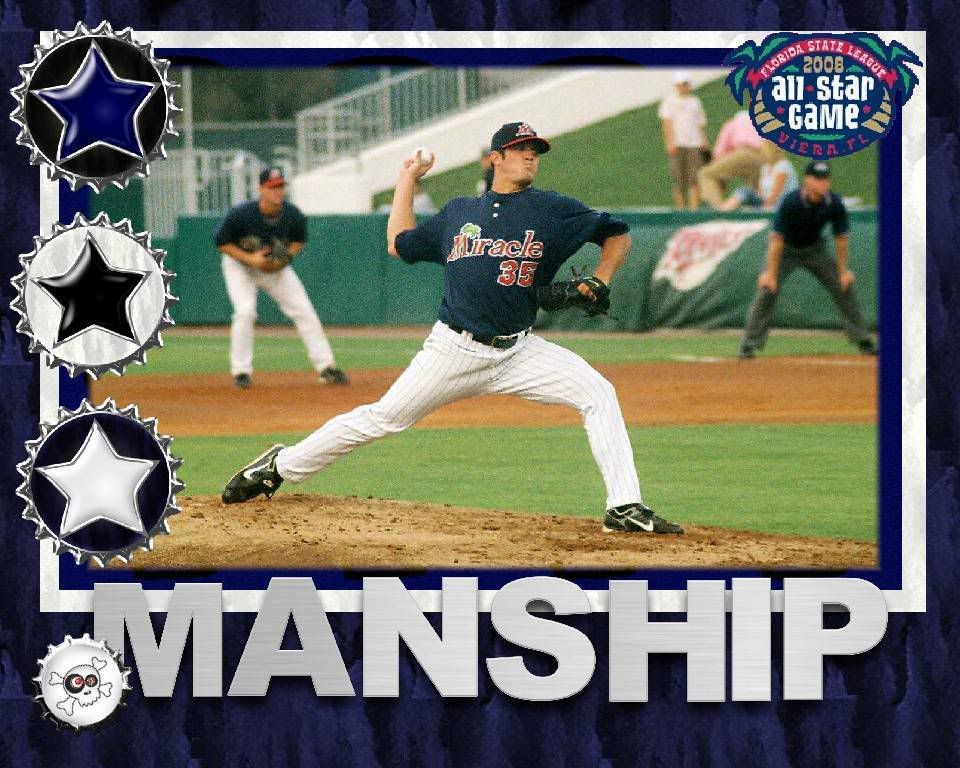 Dunedin 0 at Fort Myers 5
W: J. Manship (7-2, 2.72); L: K. Rodriguez (4-6, 3.84)
HR: FTM: J. Portes (4).
Jeff Manship
validated his ticket to the Florida State League All-star game Tuesday night, dominating the Dunedin Blue Jays from the first pitch through the last out, allowing only 4 hits and 1 walk while striking out five during a complete, 9-inning game.
Rather unfortunately, also All-star bound is home plate umpire
Sean Barber
who made some questionable calls last night at 1st base, and continued the trend tonight.
With one out on the board in the first
Edward Ovalle
would would reach on a throwing error by Jays shortstop
Luis Sanchez
.
Danny Valencia
then drew a walk.
Whit Robbins
ground ball brought in Ovalle, and put Valencia on second, although it was a close, and Valencia was a little slow getting back to his feet. Ramos then singled to load up the bags.
Juan Portes
hit a ground ball to left that brought in Valencia. Robbins would be called out at home, although he certainly looked safe from where I was sitting.
Yangervis Solarte
would then get plunked by a pitch, but Barber ruled that Solarte had leaned into the ball, and he was called out on strikes.
Since the ball hit Mr. Solarte on the hand, he was taken out as a precaution and replaced by
Eli Tintor
in right field.
Valencia would double in the bottom of the third and move to third on Robbin's ground out. Following a strike out to Ramos, Portes went yard over the left center field wall to add two more runs to the total.
Dunedin had their best scoring opportunity in the top of the 5th, when
Jonathan Diaz
singled on a line drive then got to 3rd base on a
Luis Sanchez
double. But Robbins would handle
Chris Emanuele
's pop ball in foul territory for the final out, preserving the shut out.
Valencia hit a line drive in the bottom of the fifth to get on base. Robbins double to plate him for the final Miracle run.
Manship would not let Dunedin get even a whiff of a base during the last four innings.
Brian Dopirak
would ground out to
Yancarlos Ortiz
to end the game with just under two hours of playing time.
Valencia was 3-for-3 at the plate with 3 runs and a walk, a validation of his All-star ticket as well - not that he needed it. Robbins was 2-for-4 with 2 RBIs, and Portes was 2-for-4 with a run and 3 RBIs.
On a side note, Ortiz was 1-for-3 at the plate, but he's been just phenomenal at shortstop, vacuuming up anything that comes near him.
For the Dunedin All-stars, Dopirak was 0-for-3 with a walk in the designated hitter role, catcher
J.P. Arencibia
was 1-for-4 and reliever
Conner Falkenbach
pitched the bottom of the 8th, strike out Portes.
The final game of the brief homestand is Wednesday with lefty
Gustavo Chacin
(0-6, 8.59) on the mound for the visiting Jays against righty
Deolis Guerra
(6-1, 4.23) in the battle of the Venezuelan pitchers.
Box
Log
Miracle
Breeze
NDN
News Press
Photo Gallery
Hey Now, you're an All-star:
Seven players from the Beloit Snappers will be going to the Midwest League All-game this year, which is being played Tuesday, June 17, at Dow Diamond in Midland, Michigan, home of the Great Lakes Loons. Infielders
Steve Singleton
(.314 AVG, 30 runs, 61 hits, 24 RBIs) and
Garrett Olson
(.248 AVG, 24 runs, nine doubles, 30 RBIs) have been named to the team along with catcher
Danny Leahmann
(.273 AVG, 10 runs, 24 hits, three triples), Outfielder
Ben Revere
(.420 AVG, 22 runs, five triples, 16 stolen bases), and starting pitcher
David Bromberg
(3-3, 5.08 ERA, 65 strikeouts, 1.36 WHIP).
Relievers
Spencer Steedley
(2-2, 2.35 ERA, 40 strikeouts, .191 BAA) and
Steven Hirschfield
(4-1, 1.20 ERA, 22 strikeouts, 1.20 WHIP) were also named to the game. Furthermore Singleton and Olson have the honor of being named starters for the West Division All-Star team. They are also the players most likely to be joining the Miracle after the All-star break. (
Press Release
)
One Less Danny:
Reliever
Danny Vais
retired today at around 3:00 PM. The reasons given were that he wasn't having any fun, the hated the travel, and he wanted to be with his wife, who is pregnant with their first child. There are no immediate plans to replace him.
All-star Year:
Word has it the Fort Myers Miracle will announce their plans to host the 2009 Florida State League All-star game during this year's showcase. Fort Myers last hosted the game in 2003 when
Joe Mauer
,
Jason Kubel
and
J.D. Durbin
were honored with their selection to the West Division All-star team.