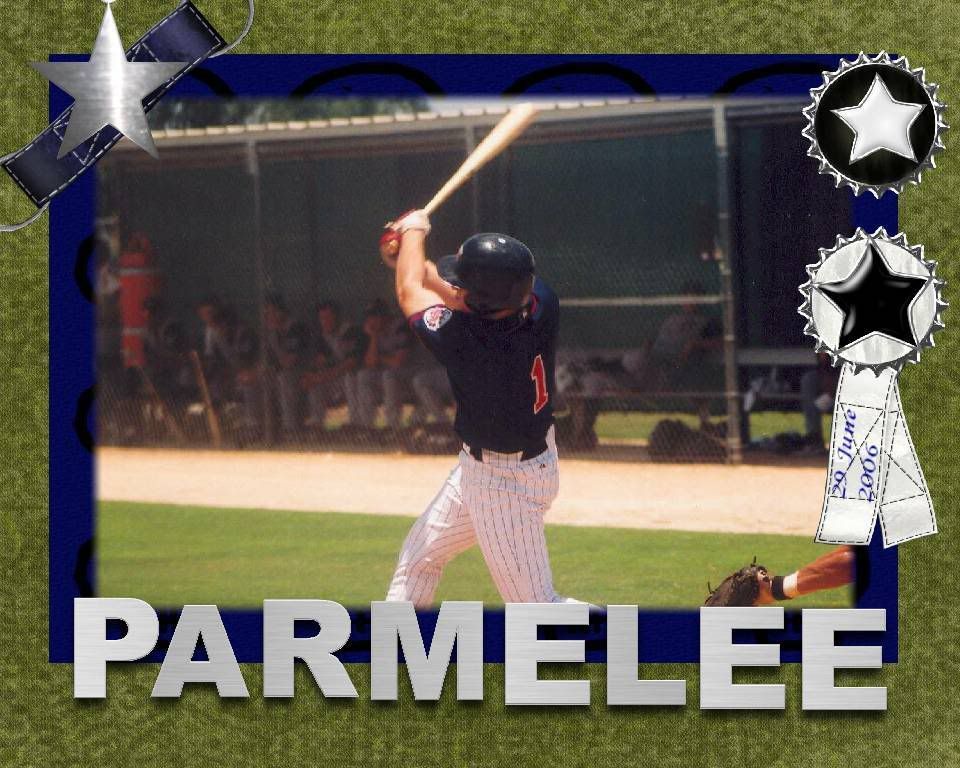 Beloit 8 at Kane County 6
W: M. McCardell (2-1, 3.82); L: J. Richmond (5-4, 3.78); SV: S. Steedley (6)
HR: BEL: C. Parmelee 2 (10). KCC: L. Cobb (3), J. Frash (1).
Chris Parmelee
, the Goodbye Kid, said goodbye to a pair on Thursday, going 3-for-4 at the plate with 3 runs and 4 RBIs to lead the Snappers to a 8-6 victory over the Kane County Cougar.
Ben Revere
would single in the top of the first to get the game underway.
Chris Cates
would ground out. A wild pitch got Revere to 3rd while
Garrett Olson
drew a walk. With Parmelee at the plate,
Jamie Richmond
would miss-throw the ball on the pickoff attempt which allowed Revere to score. It hardly mattered as Parmelee put the first of two over the fence, giving the Snappers a 3-0 lead.
Kane County would get on the board when
Justin Frash
when yard off starter
Michell McCardell
for his first home run of the season.
Cates would get hit by a pitch in the top of the 3rd, then move to second on Olson's line drive. Pop outs to Parmelee and Singleton would follow before
Jair Fernandez
's single drove in the two runners.
The Cougars took a pair back in the bottom of the 4th when
Adam Klein
walked and
Larry Cobb
homered over the left field wall, his 3rd of the season. The yard balls were being helped by a 20 MPH wind out to left, which may account for the four home runs in one game.
Parmelee would power his own ball, this time over the right field fence for a single shot in the top of the 5th.
A double by
Daniel Hamblin
started off Kane County's answer back in the bottom of the 5th.
Jonathan Johnston
singled and advanced on a throwing error by Revere.
Matt Ray
would sacrifice out to right to drive in Hamblin, making the score 6-4 Snappers.
Beloit would get their final two in the seventh with
Ramon Santana
and Revere singling. Olson would reach on a field error and Parmelee would single with the bags loaded to drive in Santana. Singleton's sac fly to right brought in Revere.
A pair more were all that awaited a short lived Cougar rally in the 9th before
Spencer Steedley
finished off the game for his 6th save of the season. McCardell picked up the win allowing 4 runs, earned, on six hits and a walk while fanning 5 over 5.2.
The two teams rematch Friday night with
Danny Berlind
(4-4, 4.11) on the mound for Beloit.
Box
Log
Snappers
Cougars
Beacon News
Wednesday:
BDN
BDN - cates
Outfielder
Ben Revere
, the Twins' first-round draft pick in 2007, was named the organization's minor league player of the month after batting .433 with 18 RBI, 21 runs and 14 stolen bases for Beloit.
New Britain 4 at Altoona 2
W: E. Simonitsch (1-3, 9.39); L: K. Bloom (0-4, 6.46); SV: B. Julianel (11)
HR: NBR: S. Tolleson (5).
After a couple of really bad outings,
Errol Simonitsch
returned to form on Thursday, allowing only 1 run on 3 hits and 3 walks while fanning 3 over six innings to lead the New Britain Rock Cats to a 4-2 win over the Altoona Curve.
Toby Gardenhire
would single to start off the top of the 3rd inning and
Drew Butera
followed him onto the bags with a walk.
Steve Tolleson
would go yard to drive in the pair, as the Rock Cats pounced on a three run lead.
Felix Molina
would bunt his way onto base in the 4th, steal 2nd and move to 3rd on Gardenhire's sac-bunt.
Drew Butera
would then single to plate Molina for an additional New Britain run.
In the bottom of the sixth,
Shelby Ford
would draw a walk, then steal 2nd and 3rd.
Joniel Pacheco
would then walk. With two outs on the board,
Brad Corley
hit a ground rule double that scored Ford, but
Jason Delaney
would fly out to strand the other two runners.
Jason Miller
would work two scoreless innings of relief, walking one and fanning 2.
Ben Julianel
would give up a run late in the bottom of the 9th when
Anthony Webster
singled with 2 outs on the board and came home on
Luis Cruz
's triple.
Jason Bowers
would fly out, however to cut short the Curve's rally.
Next up for New Britain is a 3-game series against the Binghamton Mets.
Box
Log
Rock Cats
Curve
Altoona Mirror
Courant
Sandlot Swashbucklers
Blog
DSL Diamonbacks 2 at DSL Twins 10
W: E. Cardenas (1-0, 0.00); L: Y. Camacho (0-1, 1.59)
HR: None.
Cesar Ciurcina
worked 5 innings allowing 2 runs on 4 hits and no walks while fanning three, but would get a no decision as the DSL Twins Used a sixth inning run and a 7-run eighth inning to put the game against DSL Diamondbacks way.
After two straight scoreless games, the DSL Twins got onto the board first.
Jhonatan Arais
would single in the bottom of the 3rd.
Xavier Gonzalez
would ground out, sending Arias to 3rd, before second baseman
Carlos Valquez
was hit by a pitch. Vasquez then stole 2nd.
Oswaldo Arcia
would reach on a fielder's choice as Arias was taken out at the plate to save the run. However
Jairo Perez
doubled in Vasquez and Arcia for a pair of runs.
The D-Backs tied it up in the top of the fourth when
Gerson Montillo
singled and
Astolfo Inciarte
tripled him in.
Raywilly Gomez
would ground out before
Ruben Felix
singled out to center to plate Inciarte.
Perez singled his way onto base in the bottom of the sixth. Following a line out to
Eliel Sierra
, he'd steal 2nd base.
Felix Cairo
's single to center scored Perez for the game winning run. The fireworks 2 innings later were just for fun.
With
Ruben Serrano
on the mound for the D-Backs, Aracia singled then moved to second on a passed ball by
Ruben Felix
. Perez and Sierra would both draw walks, loading the bags. Serrano would then be called for a balk, which scored Arcia. Cairo would be hit by a pitch before
Eduardo Gomez
was called in form the bullpen.
Manuel Soliman
flew into a sacrifice double play that scored Perez.
Leather Falvin
then singled to being in Sierra. Arias singled and Gonzalez walked to load up the bases. Gomez would be called on a balk, that again scored a run. Vasquez would single to drive in Arias and Gonzalez, while Vasquez would get an extra base on a throwing error by D-Backs right fielder
Jose Jose
.
Arcia doubled bringing in Vasques and Perez would again draw a walk.
Danny Leon
would be brought into the game and got Sierra to ground into a force out for the final out of the inning.
(There's something about the way the Latin Americans throw that draws a lot balks under MLB rules. One of the reasons for the academy is is to work these glitches out of their system, but you'll still see young Latin American hurlers at the Rookie levels making more mistakes than the domestic pitchers do.)
Eliecer Cardenas
picked up the win allowing 1 run and fanning 2 over 2.2 innings, while 2007 VSL All-star
Edison Alvarez
worked .1 inning to finish off the 8th.
Perez was 3-for-3 at the plate with a pair of walks, and two runs and two RBIs. Arcia and Arias were both 2-for-4, Arcia with 2 runs and 1 RBI, and Arias with 1 run.
The DSL Twins visit the DSL Orioles on Friday for a 10:30 AM local time start.
Box
Log