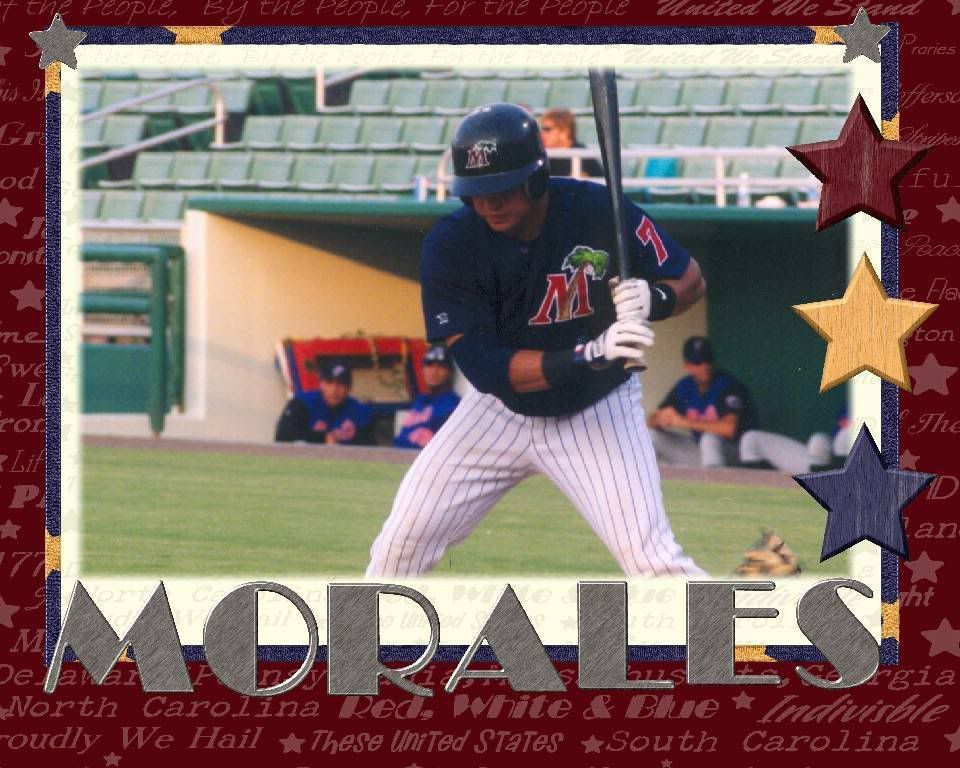 I was hoping after picking up a sweep against Charlotte that they Rochester Red Wings would have picked up their game as well, but with the Scranton/Wilkes-Barre Yankees in town, that seems not to be the case.
Friday: Scranton/WB 6 at Rochester 3
W: J. Marquez (4-6, 5.55); L: C. Daigle (0-3, 2.67); SV: S. Patterson (3)
HR: SWB: E. Duncan (5). ROC: D. McDonald (6).
One would like to believe that the Wings have been seriously hurt by call ups to the bigs, but prior to that, they were not winning the way they should have been.
Friday night they took the early lead when
Darnell McDonald
homered. McDonald has been a key part of the Wings offense - in some cases the only part of the Wings offense.
Brian Buscher
would fallow that up with a double, but
Garrett Jones
could not keep up his end of the bargain, flying out to end the inning.
Randy Ruiz
singled and
Jose Morales
double in the bottom of the 2nd.
Serigo Santos
would reach on a fielders choice. Yankees 3rd baseman
Nick Green
would field the ball and throw to home in an attempt to save the run, but catcher
Chris Stewart
could not get a handle on the ball, and Ruiz added one to the Red Wings total.
Chris Basak
's sac-bunt moved Morales to 3rd, and he'd come home on a
Tommy Watkins
ground out to make it 3-0 Red Wings.
In the top of the 3rd
Eric Duncan
hit his fifth home run of the year to put the Yankees on the board. A
Bernie Castro
single and a
Brett Gardner
double lead to another run in the top of the 5th when
Alberto Gonzalez
sacrificed in Castro.
In the top of the 6h,
Casey Daigle
would replace former Miracle pitcher
Brian Duensing
on the mound. He'd allow a double to
Greg Porter
and one out later, a Double to Duncan to tie up the score. Castro would then reach on a fielding error by
Jason Pridie
, putting the Yankees on top.
Tim Lahey
took over for Daigle in the top of the 8th, allowing a single to Porter.
Chris Stewart
would move him on a a sac-bunt, and a wild pitch would get Porter to 3rd. Duncan's single brough Porter home. A second single to Castro put 2 men in scoring position when a throwing error by Basak put the ball in the first base dugout. Lahey then walked Gardner intentionally. He got Gonzalez out on strikes, but a walk to
Jason Lee
forced in the final run of the contest.
Basak was 2-for-3 in the contest but did not figure into the scoring
Randy Ruiz
and
Jose Morales
were both 2-for-4 with a run each. Buscher was 3-for-4 with a double.
Garrett Jones
went 0-for-3 with a walk, snapping his seven-game hitting streak. Jones has hit safely in 11 of his last 12 games.
The Red Wings had won nine of their last 10 games (includes the 2006 playoff games) vs. Scranton at Frontier Field before Friday.
The paid attendance was 10,566, the largest of the season for the Wings so far.
Box
Log
Red Wings
Times-Tribune
D&C
D&C Notebook
Pending Pinstripes
Blog
RHP
Bobby Korecky
was optioned to Rochester from Minnesota Friday. Korecky appeared in nine games for the Twins, going 1-0 with a 3.48 ERA. Prior to his promotion to Minnesota, Korecky was 2-1 with five saves and a 0.68 ERA in 10 games for Rochester. Korecky was optioned to Rochester to make room for LHP
Craig Breslow
, who was claimed off waivers from the Cleveland Indians. Breslow was 0-0 with a 3.24 ERA in seven appearances for Cleveland. Korecky was in uniform for Friday's game.
Saturday: Scranton/WB 5 at Rochester 2 (10 Innings)
W: D. Robertson (2-0, 2.25); L: J. DePaula (1-2, 5.76)
HR: SWB: J. Lane (11). ROC: D. McDonald (7).
The Scranton/Wilkes-Barre Yankees pulled out a win in extra innings Saturday at Frontier Field.
Chris Steward
doubled off former Miracle
Julio DePaula
. He would be replaced by pinch-runner
Bernie Castro
.
Brett Gardner
lay down a sac bunt that moved him to 3rd, and then a wild pitch by DePaula allowed Castro to cross the plate scoring the game winning run.
Alberto Gonzalez
's follow up single, and
Jason Lane
's home run, were just icing on the cake for the Yankees.
The game had been tight up until that point.
Francisco Lirino
took the start for the Rochester Red Wings. He'd allow a walk to Lane in the first and hit
Ben Broussard
with a pitch while he struggled with his control, but was able to get
Cody Ransom
to ground into a force out to end the first inning.
Much like the previous night's game,
Darnell McDonald
opened up the scoring with a home run to left field in the bottom of the first. S/WB took the run right back however when
Justin Christian
singled and moved to second on
Nick Green
's ground out.
Eric Duncan
then singled out to left to score Christian.
After a scoreless third inning, the Wings would get offensively minded again in the bottom of the 4th when
Randy Ruiz
and
Jose Morales
hit back-to-back singles with one out on the board. They moved on a wild pitch by Yankee starter
Jeff Karstens
.
Chris Basak
would sacrifice in Ruiz, but the other two would be stranded with
Tommy Watkins
ground out.
It would take until the bottom of the seventh for the Yankees to tie it up.
Bobby Korecky
would replace Liriano who'd hit his pitch count after he struck out Christian. Green doubled to greet Korecky, and a Duncan single moved him to 3rd. A wild pitch put Green over the plate for the equalizing run.
Brian Buscher
would lead off the bottom of the 10th with a double, but pair of ground outs and a strike out ended the contest.
Morales lead the team at the plate going 3-for-5. McDonald was 2-for-4 with a walk, a run and a run scored.
Sergio Santos
was 0-for-3 with three strike outs and a walk, and Ruiz was 1-for-5 with a run and a pair of strike outs.
Liriano gave up 1 run on 3 hits and walk while striking out 7 over 6.1 innings for a excellent outing.
The two teams rematch Sunday at 1:35 PM.
Phillip Humber
(2-5, 5.19) will be on the mound for the Wings against SWB's
Dan Giese
(4-2, 2.02).
Box
Log
Red Wings
Times-Tribune
D&C
D&C Notebook
The Red Wings pitching staff has allowed seven home runs in their last six games prior to Saturday (54 innings). Despite this trend Rochester is currently 2nd in fewest home runs allowed (37) in the International League (only Richmond has allowed less, 25). Rochester has not led the IL in fewest home runs allowed in a season since 1976, when they allowed a league low 77 runs.
Friday's crowd of 10,566 was not only the largest crowd of the 2008 season so far, but also the largest May crowd in Frontier Field history. Since Frontier Field opened in 1997, the Red Wings have drawn just five crowds of over 10,000 for a May date..
The Minnesota Twins reinstated infielder
Nick Punto
from the 15-day disabled list Saturday. To make room for Punto on the 25-man roster, the Twins have designated infielder
Howie Clark
for release or assignment.