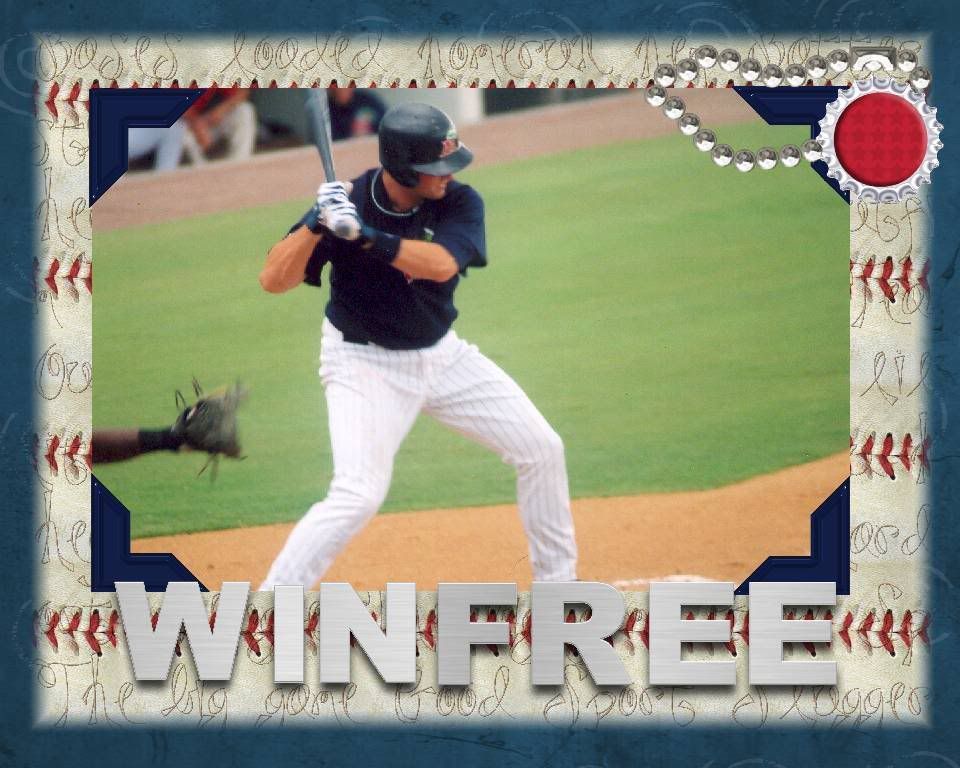 New Britain 2 at Connecticut 4
W: N. Bump (1-3, 4.71); L: R. Mullins (6-5, 3.47)
HR: NBR: D. Winfree (12).
While it wasn't a blow out, the Connecticut Defenders got to the New Britain Rock Cats early, while Giant's prospect
Nate Bump
kept the visiting team's offense clueless through most of the game.
The Cats managed a whole three hits in the game, paltry by any standards.
Eddy Martinez-Esteve
would take walk off Rock cats' starter
Ryan Mullins
in the bottom of the second, then move to second base on wild pitch.
Olmo Rosario
and
David Maroul
hit back to back singles to score the runner for the Defenders early lead.
Following a pop out to
Ben Copeland
in the bottom of the 3rd,
Kyle Haines
would take a free pass off Mullins.
Carlos Sosa
ground into a force out however, then moved to 2nd on
Eliezar Alfanzo
's single. Martinez-Esteve then walked to load the bags. Rosario would single to bring in two, but Martinez-Esteve would be taken out at 3rd on the play ending the inning.
Jake Wald
walked in the bottom of th 4th, and was tripled in by Copeland. While Mullins only gave up 7 hits over 5 innings, the 5 walks hurt him quite a bit, leading to 4 earned runs. He'd fan 3 before
Frank Mata
took over for the final three stanzas.
Sergio Romo
would take over the Defenders mound in the 9th, and would issue a walk to
Matt Moses
.
David Winfree
then went yard over the left field wall for a questionable home run that was ruled to hold fair. It as too little to late however, despite a double to
Drew Butera
with two outs and the Cats went down on
Brian Dinkelman
's ground out.
Dustin Martin
had the only other hit in the game, a single, going 1-for-3 at the plate with a walk.
Game three of the series is Saturday Night.
Anthony Swarzak
(3-3, 4.74) is expected to face
Garrett Broshuis
(5-5, 3.87) with the first pitch scheduled for 6:35 PM.
Box
Log
Defenders
Bulletin
Defenders Notebook
Courant
Rochester 7 at Indianapolis 8
W: M. Miller (4-3, 5.48); L: B. Korecky (3-3, 3.41)
HR: ROC: J. Pridie (5). IND: N. Walker (11), S. Pearce (9), A. Boeve (8).
The Rochester Red Wings could not hold off a ninth-inning rally by the Indianapolis Indians Friday night, watching their lead walk away to lose, 8-7.
Randy Ruiz
doubled in the bottom of the second and moved to 3rd on
Sergio Santos
single.
Trevor Plouffe
would ground out, but Ruiz came home on the play to open the scoring.
Tommy Watkins
walked before
Ryan Jorgenson
's single brought in Santos.
The Wings would not score again until the fifth inning when
Jason Pridie
and Pittsburgh's
Neil Walker
traded home runs. Pridie's was a solo shot, while Walker would bring in
Brian Bilxer
with him.
The the Indians leading into the top of the 7th, Jorgenson singled with 2 outs on the board.
Denard Span
then tripled him in. A wild pitch would bring in Span before Pridie tripled, then came home on
Darrell McDonald
's line drive single.
Pridie doubled in the 9th and was plated by McDonald's ground ball single for the insurance run, but it was not enough insurance as
Steve Pearce
hit a walk off home run off
Bobby Korecky
with 2-runners on to finish off the game.
Nancy has another great first person recap at
Sandlot Swashbucklers
. Game three of the series is Saturday night.
Box
Log
Indians
Red wings
RD&C
IndyStar
The Red Wings fell to 12-26 on the road. Rochester has not had a three-game winning streak on the road since July 2007. Only Lehigh Valley (9-27 record entering play Friday) has a worse road record then Rochester. The last time Rochester finished the season with the IL's worst road record was 1984 when the Red Wings finished with a 22-48 record away from Silver Stadium.
Twins infielder
Matt Macri
left Friday's game with a left calf strain and is listed as day-to-day. He had a career-high two RBIs in the game.
Twins outfielder
Michael Cuddyer
's wife, Claudia, gave birth to the couple's first child Friday afternoon.
Casey Jonathan Cuddyer
was born at 3:23 pm Friday at Fairview Southdale Hospital and he weighed in at 7 pounds, 8 ounces and is 20 inches long. Congratulations to the former Miracle and his family!