Sarasota 4 at Fort Myers 3
W: S. Carroll (4-1, 4.94); L: J. Lugo (1-3, 5.06); SV: R. Geronimo (8)
HR: FTM: D. Berg (3).
Matt Williams
likes to pitch to the outside of the plate and they call a tighter strike zone in the Florida State League. This is not a combination for success as the young reliever gave up two runs in the fifth, tying the game. The Sarasota Reds would go on to defeat the Fort Myers Miracle, 4-3.
Miracle ace
Tyler Robertson
was making his first start after missing a brief time on the disable list with shoulder tendinitis. He described it more a sore bicep but in any case, he was held to a lower pitch count than usual and threw only the first 4 innings. Even so, he limited the Reds to just 3 hits and walked only 1 while fanning 5.
Eli Tintor
singled his way onto base in the bottom of the 3rd.
Danny Lehmann
then lay down a ground ball bunt that would have made former Miracle field manager
Jose Marzan
proud.
Yancarlos Ortiz
followed this up with his own bunt to advance the pair.
Nick Punto
ground out to first, plating Tintor to put he Miracle on the board.
In the bottom of the fourth,
Danny Berg
would knock his 3rd home run of the year over the left field wall.
Williams would take over for Robertson in the top of the fifth and walked
Eddy Rodriguez
.
Jake Kahaulelio
would move Rodriguez to 2nd with a sac bunt.
Jose Castro
then hit a line drive out to center, scoring the runner. Williams would get
Chris Heisey
out on strikes, before
Juan Francisco
doubled to the left field line to score Castro.
Iris was a little concerned that they didn't go for a play at the plate, but Lehmann really wasn't in position to make one and a throwing error would have cost them another run. Sometimes you just have to suck it up.
Drew Stubbs
would go down swinging to retire the side.
Sarasota right hander
Scott Carroll
worked 7 innings to pick up his 4th save of the season. He'd allow 5 hits and fan seven over the time.
After his shaky fifth, Williams worked the next two innings, using a combination of fly outs and ground outs to get Sarasota to sit down and keeping the game tied.
Field Manager
Jeff Smith
would then send
Jose Lugo
to the bullpen and once again, it was the not the good
Jose Lugo
. Heisey would walk before Francisco doubled off the Dominican reliever to put the Reds on top. Stubbs would single to move Francisco to 3rd, and after
Carson Kainer
when down on strikes,
Jason Louwsma
would reach on a fielder's choice as the Lugo caught the ball and sent it back to Lehmann to make the play at home, saving the run. Catcher
Jacob Long
would ground into a force out to retire the side.
With two outs on the board in the bottom of the 8th,
Nick Punto
would draw a walk from
Phil Valliquette
, then steal 2nd.
Wilson Ramos
, pinch hitting for
Steve Singleton
would ground out however, leaving him stranded.
With the loss of
Rob Delaney
to Double A New Britain, Smith is looking more to
Blair Erickson
to take over the closer role.
After getting Rodriguez out on strikes, Erickson would allow Kahaulelio to single out to center. Castro would ground into a force out and would be tripled in by Heisey before Erickson could get Francisco to strike out.
Juan Portes
would get hit by a pitch in the bottom of the ninth, after a fly out to Berg,
Garrett Olson
would reach on a fielding error by Francisco that put Portes at 3rd.
Yangervis Solarte
then singled to score Portes. Reds closer
Ramon Geronimo
would then get
Whit Robbins
and
Danny Lehmann
to fly out, ending the game.
Solarte finished up 2-for-4 in the game. Punto was 1-for-3 with a walk. Tintor was 1-for-3 with a run and a pair of strike outs. Lehmann was the one hit wonder, finishing up 1-for-4.
The two teams rematch Saturday evening with
Matt Fox
(3-1, 3.80) taking to the mound against major leaguer
Josh Fogg
(0-0, 4.35) who is pitching on a rehab assignment from Cincinnati.
Box
Log
Miracle
News Press
Water Day Photos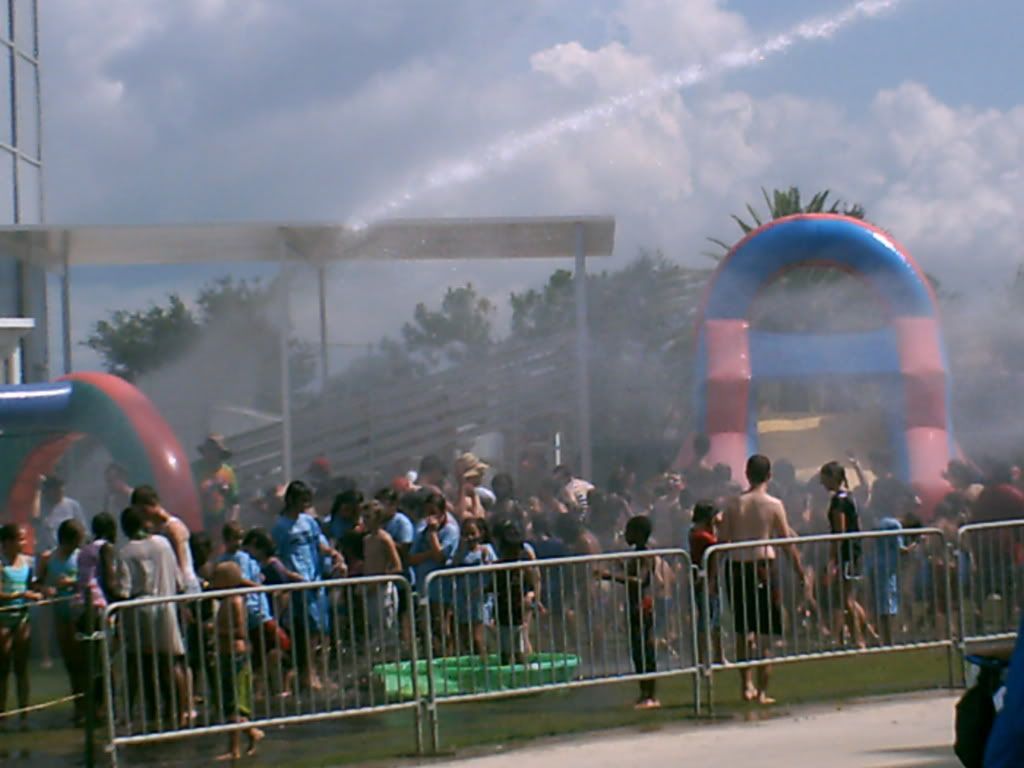 Kudos to Sharpie for being able to say "Kahaulelio". But dude, that Square Bob Spongepants song was
TOO
loud. You hurt my ears!
Iris wanted to know Saturday's promotion was. "It's Cat night," I tell her. "You get a free kitten when you walk through the gate."
"NO IT'S NOT!" she says, but she had to think about it first.
In truth, the first 750 people through the gate get a free snazzy looking Miracle cap courtesy of North Trail RV. Myself, I'd rather have the free kitten.