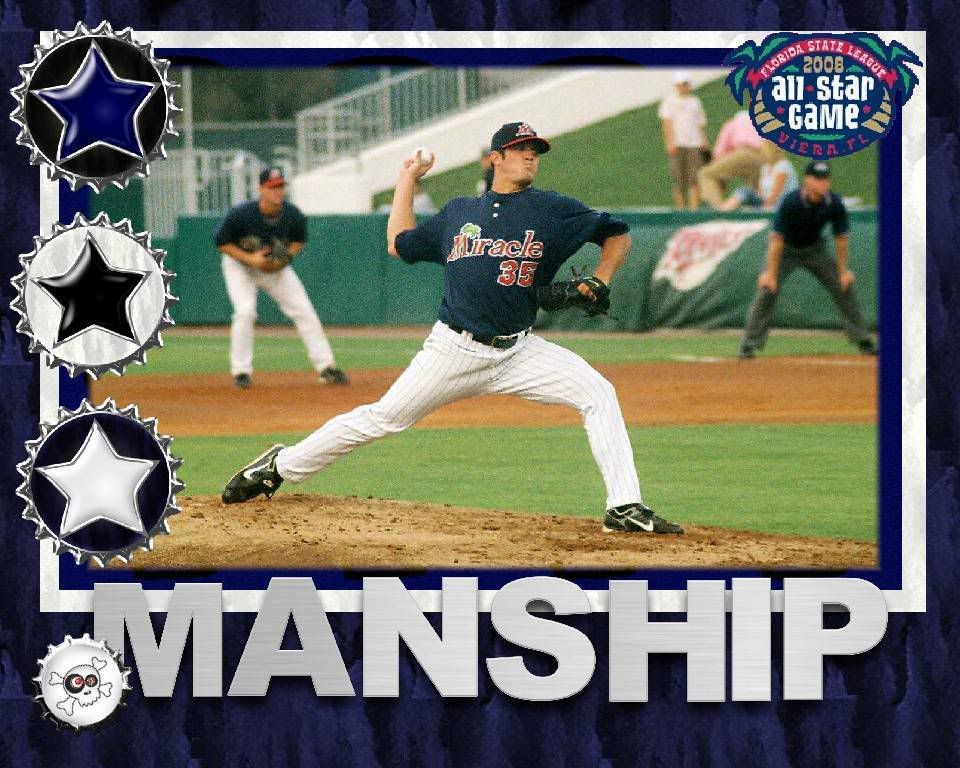 New Britain 4 at Portland 10
W: M. Bowden (6-3, 2.20); L: J. Manship (0-1, 11.25)
HR: NBR: E. Lis (7). POR: M. Wagner 2 (6).
Jeff Manship
got a rude reception in his first AA game Thursday night. The Miracle ace gave up 5 runs on 8 hits and 1 walks while striking out 6 over just 4 innings, as the Portland Sea Dogs demolished the New Britain Rock Cats 10-4.
Sea Dog
Tony Granadillo
singled with one out on the board in the bottom of the first.
Jeff Corsaletti
reached on a failed force attempt, with a throwing error by
Brock Peterson
moving the runners to 2nd and 3rd.
Mark Wagner
then took Manship yard over the left field fence to give the Sea Dogs an early 3 run lead.
The Cats answered back in the top of the 2nd, with
Erik Lis
putting his 7th home run over the right field wall.
Brock Peterson
would get on base on a fielding error by
John Otness
.
Matt Moses
would ground into a force out however, and would move to 3rd on a throwing error by
Michael Bowden
on the pick off attempt.
David Winfree
would hit a fly ball single to right to score Moses.
Manship would get
Mickey Hall
out on strikes before giving up a walk to
Ryan Khoury
.
Iggy Suarez
then singled, moving Khoury to 3rd.
Bubba Bell
tripled the runners in before Granadillo would go down on strikes and Corsaletti would ground out.
The Cats would get a single out of
Brian Dinkelman
in the top of the 3rd, but left him stranded. In the bottom of the stanza,
Mark Wagner
put a single shot home run, his sixth of the season, over the left center field wall.
Andy Pinckney
would fly out before Otness singled. Hall would go down on strikes again, but Khoury doubled a line drive out to left to plate Otness.
By the bottom of the fourth, Manship had figured out if you don't get them out on strikes, you're not going to get them out, and so struck out 2 of the three batters he faced.
Moses would get as far as 3rd in the top of the 4th, and
Danny Valencia
would find himself there in the top of the fifth, but the Cats couldn't convert.
Jason Miller
took over for Manship in the 5th. With two outs on the board, Otness doubled. Hall would single to drive him in, then stoled 2nd base. Khoury would draw a walk, and the pair would orchestrate a double steal.
Iggy Suarez
then singled out to left to bring in the pair. Suarze would try to stretch it for 2, but was taken down at second, ending the inning.
The Cats finally found some offense in the top of the 8th, with Winfree singling his way onto base.
Felix Molina
followed him onto the bags with a grounder. A fielding error by Corsaletti proved costly as it allowed
Drew Butera
to reach, and Winfree and Molina to score. Dinkelman would get plunked with a pitch, but
Dustin Martin
's force out retired the side before they could take a sizable chunk out of Portland's lead.
Hall would single off Miller in the bottom of the stanza and Khoury drew a walk. Suarez would go down on strikes before
Bubba Bell
's single scored Hall for the Dogs' 10th run of the night.
New Britain takes on Connecticut on Friday with
Ryan Mullins
(6-4, 3.23) getting the start against
Nate Bump
(0-3, 5.70).
Box
Log
Rock cats
Sea Dogs
Press Herald
Courant
Rochester 9 at Indianapolis 3
W: B. Duensing (4-6, 3.69); L: J. Chavez (1-2, 3.89)
HR: ROC: D. McDonald (10).
The Rochester Red Wings used a pair of big innings late in the game to overcome the Indianapolis Indians 9-3.
Sergio Santos
,
Trevor Plouffe
and
Alejandro Machado
all singled to load the bases with one out in the top of the 7th.
Ryan Jorgensen
then doubled to clear the bags, then moved to 3rd on the throw. He'd be plated by
Denard Span
.
Randy Ruiz
would single in the top of the 8th, and move to 3rd on Santos double. Plouffe walked to fill up the bags again, and Machado tripled to clear them off giving the Wings 7 runs in two innings.
Brian Duensing
worked 7 innings, giving up just 2 runs on six hits and 3 walks while striking out 5.
Tim Lahey
finish off the last two allowing 1 run on three hits.
Santos was 4-for-5 at the plate with a pair of runs, Machado was 2-for-3 with a run and 3 RBIs, Plouffe and Span were both 2-for-4, Plouffe with 3 runs and a walk and Span with a walk and a run scored.
Darnell McDonald
was 2-for-5 with a run, and a RBI.
Nancy has an excellent first hand write up at
Sandlot Swashbucklers
(with pictures), so pounce on over there and have a look.
The two teams rematch on Friday at 7:15 PM with
Frankie Liriano
(3-2, 3.78) on the mound against Pittsburgh prospect
Bryan Bullington
(3-6, 5.70).
Box
Log
Indians
Red Wings
RD&C
Indy Star
Infielder Chris Basak was traded to the New York Yankees organization for cash considerations after the game on Tuesday. Basak was batting .260 with six home runs and 17 RBI in 56 games for Rochester.
A season ago, Rochester and Indianapolis split the season series 4-4. The Red Wings were 3-1 at Frontier Field and 1-3 at Victory Field.
Extra Bases
Blog