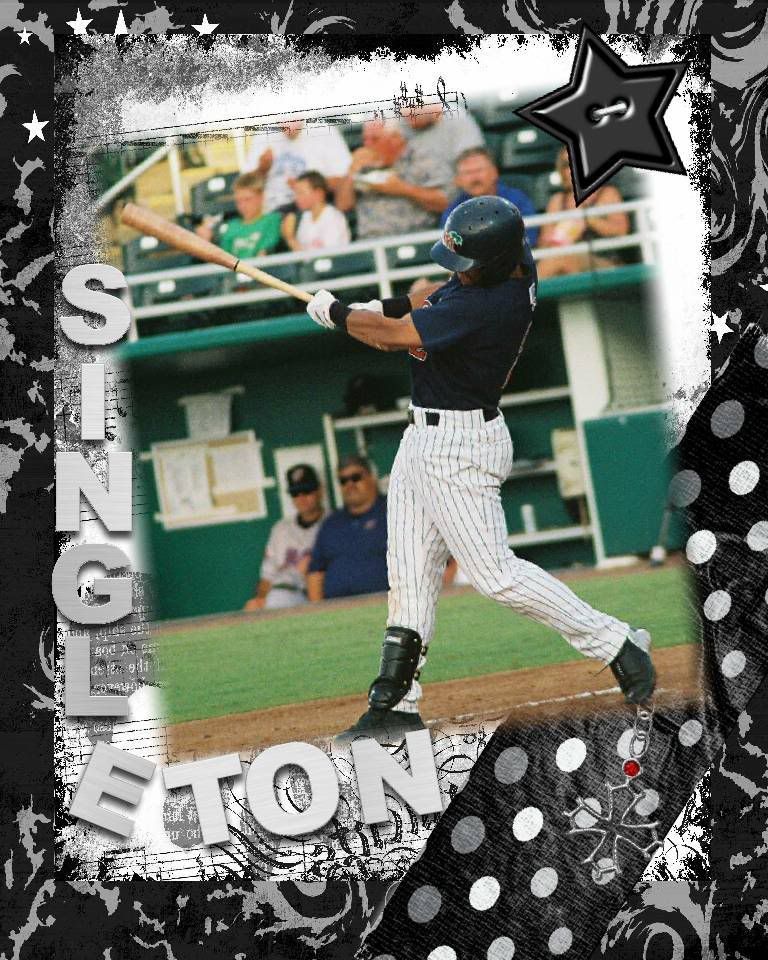 Fort Myers 6 at Dunedin 7
W: R. Gonzalez (9-3, 3.56); L: D. Guerra (10-6, 4.89); SV: C. Falkenbach (20)
HR: None.
Deolis Guerra
would not make it out of the fifth inning, giving up 5 runs - a total of 7, 6 earned - on 9 hits and 4 walks. He'd strike out only one.
As a result, the Dunedin Blue Jays took a five run lead and were able to hold off the Fort Myers Miracle until the end of the contest, winning 7-6 at Knology Park.
Steve Singleton
opened the game with a walk, then moved to 2nd on a wild pitch by
Reider Gonzalez
. After
Danny Lehmann
popped out,
Wilson Ramos
doubled Singleton in for an early Fort Myers lead.
Chris Emanuele
singled in the bottom of the inning, then moved to 2nd on a wild pitch by Guerra.
Brad Eamau
took a walk and a passed ball by Lehmann advanced the pair.
Cory Patton
's ground out would score Emanuele, tying up the game.
In the bottom of the 2nd
Adam Calderone
walked, then stole 2nd.
Al Quintana
singled to move him to 3rd, and a
Luis Sanchez
sac-fly plated him for the Jay's second run of evening.
Juan Portes
reached on a fielding error by
Brad Emaus
and moved to 2nd on
Garrett Olson
's single.
Eli Tintor
singled as well, loading the bags.
Danny Santiesteban
then hit into a force out that scored Portes to tie up the game again.
Patton lead off the bottom of the fifth with a walk.
Brian Dopirak
singled and
Jesus Gonzalez
doubled to plate the pair of runners.
Marcos Cabral
singled to bring in Gonzalez and Calderone tripled in Cabrial. At the point field manager brought
Spencer Steedley
into the game, replacing Guerra. Steedley allowed a single to Quitara which drove in Calderone but finally found an out as he got Sanchez to ground into a force out. Emanuele wold single before Emaus and Patton both ground out to end the inning with runners on second and third.
The Twins now had a lot of catch up work to do, so they got to it with
Johnny Woodard
and Portes hitting back-to-back singles. The Jays would then call for a pitching change bringing
Chad Blackwell
into the game to replace the outgoing Gonzalez. Blackwell would get Olson to ground into a force out that took Woodard down at 3rd. Tintor would fly out before Santiesteban singled to score Portes.
Yancarlos Ortiz
would reach on a throwing error that also plated Olson before Singleton popped out to finish off the top of the sixth.
In the top fo the 7th, Lehmann would be plunked by a pitch. Ramos and Woodard hit back-to-back singles to load the bags. Portes would go down on strikes, while Olson sacrificed in Lehmann. Tintor would go down on strikes as well to send the Jays up to bat again.
Steedley would work two innings for the Miracle, allowing just two hits.
Matt Williams
had the hill for the seventh and the eighth innings, allowing 3 hits and a walk, but otherwise keeping the Jays under control.
The top of the 9th would be do or die for the Miracle, and Wooodard opened up the crucial inning, going down on strikes. Portes would ground out before
Whit Robbins
was brought in as a pinch runner and drew a walk. Tintor and Santiesteban hit back-to-back singles score Robbins before
Yancarlos Ortiz
ground out, ending the contest.
Ramos, Woodard, Tintor and Santiesteban were all 2-for-5, Ramos with a double and a run scored and Santiesteban with 3 RBIs. Singleton was 1-for-4 with a run, and Olson was 1-for-3 with a run and a RBI. Portes was 1-for-5 with a pair of runs.
Dunedin claimed the series, 2 games to one. The Miracle take Wednesday off before returning home to Hammond Stadium on Thursday to face the Clearwater Threshers on a Thirsty Thursday. The Mighty Gonzalez with will on hand to perform stupid human tricks,
Oswaldo Sosa
has the mound for the Miracle. Game time is 7:05 PM, gates open at 6:00.
Box
Log
Miracle
News Press
Cape Coral Daily Breeze
NDN