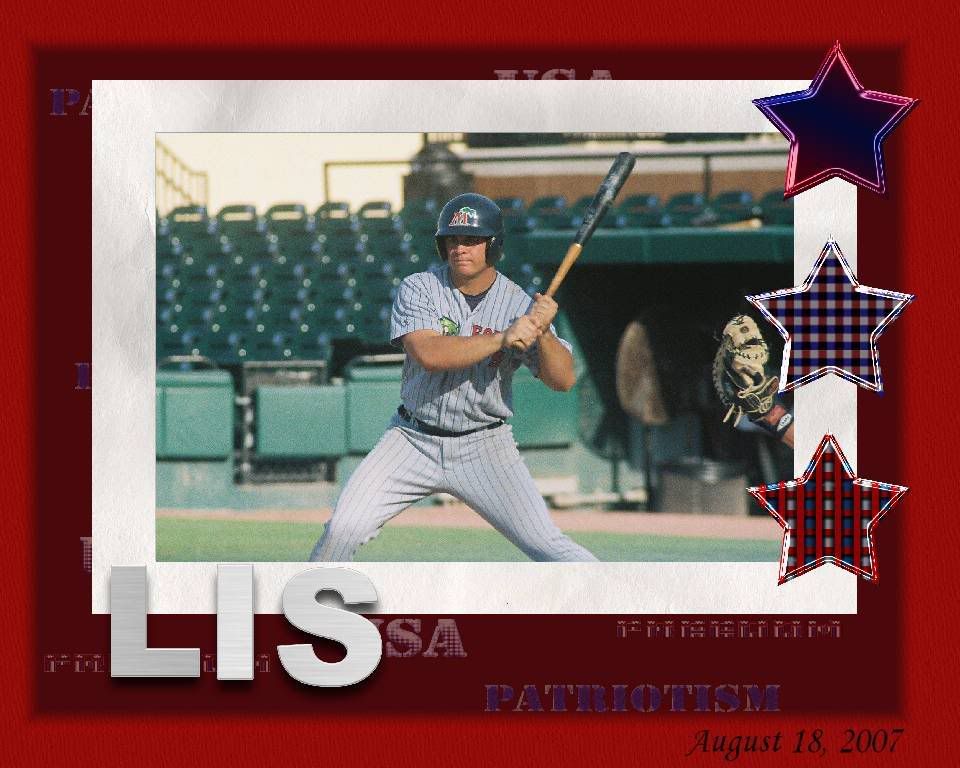 New Britain 0 at Bowie 7
W: B. Bergesen (13-3, 2.68); L: J. Rainville (7-8, 6.50)
HR: BOW: B. Davis (4).
Once again, the New Britain Rock Cats proved themselves clawless as they failed to find any sort of comprehensive offense against the Bowie Baysox.
Bowie's
Brad Bergesen
went the distance for the Orioles farm team, scattering six hits over nine innings while fanning three. The Concord, California, native pick up he 13 win of the season, he has lost only 3 eastern league games in 2008.
Jay Rainville
took the start for the listless Cats, and allowed a walk to
Sebastien Boucher
to lead off.
Carlos Rojas
doubled and
Luis Montanez
sacrificed in Boucher.
Nolan Reimold
then singled to plate Rojas, giving the Baysox an early lead.
With one out on the board in the bottom of the 5th,
Jonthan Tucker
singled and
Blake Davis
launched a ball over the right field wall for his fourth home run of the season, extending Bowie's league to 4.
In the bottom of the 8th, Rojas singled with one out on the board, Montanez then tripled to plate Rojas and send Rock Cats field manager
Bobby Cuellar
out to the mound. He'd lift
Jay Rainville
in favor of
Kyle Aselton
. The 6'5" lefty would walk Reimold and allow a single to
Matt Wieters
that brought in Montanez. He'd then unleash a wild pitch to advance Reimold to 3rd and Wieters to 2nd.
Mike Rodriguez
singled out to center to drive in Reimold.
Erik Lis
was 4-for-4 at the plate and had a double in the 7th inning. Tolleson and Hughes were both 1-for-4, Tolleson with a single in the 3rd and Hughes with one of two singles in the ninth (the other belonging to Lis). It was the only time during the contest the Cats would get two hits in the same inning.
Game number two of the four game set is Tuesday at 7:05 PM at Prince George's Stadium. Baysox southpaw
Rommie Lewis
(1-5, 4.03) will step onto the hill for the first pitch. New Britain counters with lefty
Ryan Mullins
(7-7, 4.28).
Box
Log
Baysox
Rock Cats
Courant
NB Herald
---
Scranton/WB 4 at Rochester 7
W: P. Humber (6-7, 5.38); L: A. Horne (2-3, 5.63); SV: B. Korecky (16)
HR: SWB: C. Ransom (20), B. Broussard (7).
Phil Humber
and
Casey Daigle
held the Scranton/Wilkes-Barre Yankees to six hits over 7.3 innings and the Rochester Red Wings did the rest as the Wings picked up a 7-4 win at Frontier Field.
Alan Horne
did not fair nearly so well. The Marianna, Florida, native surrendered 5 runs on a pair of hits and 5 walks in 1 innings worth of work.
Horne started off by walking
Jason Pridie
, who then stole 2nd.
Adam Everett
took a walk as well. Horne got
Darnell McDonald
to pop out but
Garrett Jones
tripled to clear off the bags.
Randy Ruiz
hit into a ground out before another walk was issued, this time to
Howie Clark
.
Matt Macri
lined out to end the inning.
Horne return for the bottom of the second to walk
Trevor Plouffe
and
Jeff Christy
. He'd then allow a single to Pride, which plated Plouffe before the Yankees would replace him on the mound with
Chris Britton
. Britton allowed a single to Everett that brought in Christie and after getting McDonald and Jones out on strikes, allowed a line drive single to Ruiz that brought in Pridie.
Scranton would get on the board in the top of the 4th, with
Alberto Gonzalez
singling and
Cody Ransom
hitting his 20th home run of the season, over the center field wall, making the score 5-2, Rochester.
Brian Bruney
would replace Britton in the top of the 5th and hit Ruiz with a pitch. There would be an small disagreement regarding Bruney's actions and he would be ejected by umpire
Mike Estabrook
, as was Ruiz.*
Billy Traber
stepped onto the mound for the Yankees and
Sergio Santos
replaced Ruiz at first base. Clark would ground out and Macri single to advance Santos to 3rd. Plouffe then ground into a force out that scored Santos and took Macri out at 2nd, to add another run to the Wings total.
Steve Jackson
replaced Traber in the bottom of the 7th, and Clark would reach on a
Ben Broussard
fielding error. Macri ground out, but Plouffe drew a walk. Christy followed that up with a single to plate Clark, giving Rochester 7 runs. Pridie would single to load the bags, but Everett ground into a double play to end the inning.
Chris Stewart
doubled for the Yankees in the top of the 8th. Gonzalez would fly out to move him to 3rd and then pair of wild pitches by Daigle would plate Stewart.
In the 9th, Broussard took his 7th home run of the season off Daigle and
J.D. Closser
walked. But the Red Wings would bring in
Bobby Korecky
who got
Eric Duncan
out on strikes and
Chris Stewart
and
Brett Gardner
to both pop out to end the contest.
Pridie finished up 2-for-4 with a walk, a pair of runs and a RBI; Jones was 2-for-5 with a triple and pair of RBIs. Everett was 1-for-4 with a walk, a run and a run scored. Macri was also 1-for-4 but qualifies as a one hit wonder, as did McDonald, who was 1-for-5. Plouffe twas 1-for-2 with a pair of walks, a run and a RBI, while Christy was 1-for-1 with 3 walks, a run and a run scored.
Santos, 0-for-2 and Clark 0-for-3 with a walk, each had a run as well.
Rochester now travels to Pawtuckett for a four game series against the Pawtuckett Paw Sox starting Tuesday at 7:05 PM.
Box
Log
RD&C
RD&C: Notebook
Times Tribune
Pending Pinstripes
Blog
*
Extra Bases
Blog
Tommy Watkins
will have surgery on his left shoulder to replace a torn labium on Tuesday morning. He is expected to remain in Rochester through the end of the season.
Brian Duensing
was presented with his USA Olympic Baseball team cap and jersey in a pregame ceremony Sunday. Wings GM
Dan Mason
surprised Duensing with a gift from the front office: a plane ticket for Duensing's wife Lisa to join him in Beijing. His Red Wings teammates have put together a silent auction that will take place at the Aug. 8 home game; proceeds will help offset hotel costs for Duensing's wife.
RHP
Anthony Swarzak
has been promoted from Double-A New Britain and start Wednesday's game in Pawtucket.
Right-hander
Tom Shearn
was signed to a free-agent contract. He started the season with Triple-A Louisville and went 6-2 with a 4.53 earned-run average before being sold to a team in Korea.
Adam Everett
's rehab assignment expired Monday. According to the Minneapolis Star-Tribune, if Minnesota does not activate the infielder, the ballclub will either have to designate him for assignment or get Everett to agree on a longer rehab stint.
Former Red Wing
Jason Tyner
was released by the Buffalo Bisons.
Former Red Wing/Rock Cat/Miracle
Denard Span
, now with the Minnesota Twins hit his first big-league home run Monday night.
Photo of Sergio Santos courtesy of Nancy Zinni.