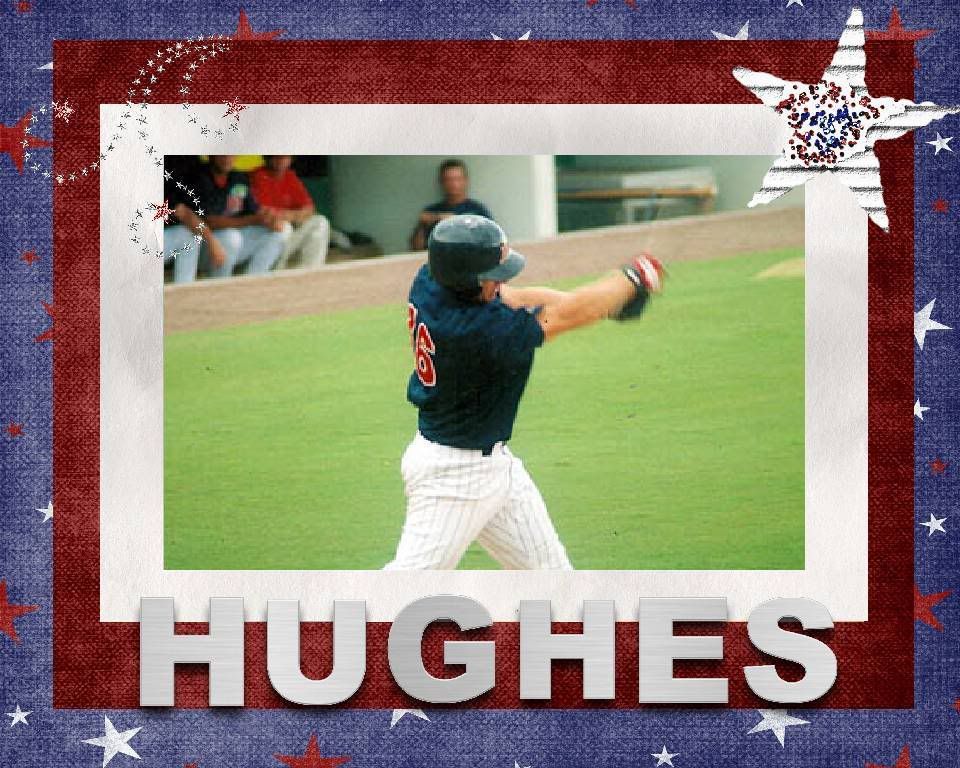 New Britain 6 at Bowie 8
W: R. Keefer (2-4, 4.56); L: J. Miller (1-2, 5.15); SV: J. Manon (25)
HR: NBR: D. Valencia (2). BOW: L. Montanez (24), J. Nettles (20), C. Rojas (1).
The New Britain Rock Cats finally mounted an offense Wednesday evening at Prince Georges Stadium, but pitching proved to be the problem as they fell again, this time 8-6 to the Bowie Baysox.
Carlos Rojas
knocked his first home run of the season over the left field wall and
Luis Montenez
put this 24th over the same left field wall off starter
Yohan Pino
in the bottom of the first with one out on the board.
Nolan Reimold
then took a free pass and
Matt Wieters
doubled out to right to plate Reimold. Wieters would make it to 3rd with men on the corners when Pino finally got
Ryan Finan
to ground out to end the inning.
Danny Valencia
went yard in the top of the second, launching his 2nd of the year over the center field fence.
Rocky Palacios
singled and
Luke Hughes
doubled in the top of the 3rd.
Dustin Martin
went down on strikes before
Brock Peterson
singled to plate the two runners, tying up the game.
Erik Lis
reached on a force attempt and Valencia drew a walk to load the bags.
Matt Moses
would ground into a force out which took Peterson out at home, but
Steve Tolleson
then drew a walk, forcing in Lis.
Felix Molina
would fly out to end the scoring threat.
Reimold doubled in the bottom of the 3rd but would try to make it a triple and was taken out at 3rd.
Matt Wieters
then doubled and came home on a
Mike Rodriguez
single. Rodriguez then stole 2nd and
Jeff Nettles
sent him over the plate with a ground ball to left.
Luke Hughes
singled in the bottom of the fourth and went to 2nd on a wild pitch. Martin's ground out got him to 3rd and he'd come home on a
Brock Peterson
single to again tie up the game.
Jason Miller
replaced Pino on the mound in the bottom of the fourth and set down 3 straight batters.
The top of the 5th saw Valencia single, then steal 2nd. Moses drew a walk. After Toleosn went down on strikes, Molina would be hit by a pitch to load the bags. Palacious sacrificed in Valencia, but Hughes struck out, ending the cat's threat.
Wieters would walk in the bottom of the 5th and
Mike Gonzalez
singled. Nettles then put his 20th home run of the year over the left center field wall to bring in 3, putting the Baysox on top for good.
The Cats had a good chance to tie up the game in the 7th with Moses on 3rd and Tolleson on 2nd but Molina popped out and Palacios ground out, leaving them stranded.
Pino end the game after giving up 5 runs, all earned, on 7 hits and a pair of walks while striking out 1 over 3 innings. Miller took his 2nd loss of the year, giving up 3 runs on 2 hits and a walk while fanning 3 over 3 innings.
Rob Delaney
worked the last two innings, giving up 3 hits, but no runs. He's strike out only one.
Hughes was 3-for-5 with a double and a pair of runs while Valencia and Tolleson were 2-for-4 each, Valencia with a walk, a pair of runs, and a run score, while Tolleson had a walk, a double and a RBI.
Peterson was 2-for-5 with 3 RBIs. Lis was 0-for-5 at the plate but contributed a run. Moses was 1-for-4 with a walk, while Palacios was 1-for-3 with a run and a run scored.
Bowie will look for brooms in an attempt to sweep the Cats out of town on Thursday night. New Britain returns home on Friday to fireworks and the Binghamton Mets for a three game set.
However they must get by Bowie's
Zach Clark
(1-0, 2.81) first and will look to
Jeff Manship
(1-5, 4.70) to give them a solid performance on the mound. Thursday's contest begins at 7:05 P.M.
Box
Log
Baysox
Rock Cats
Gazette.net
Courant