GCL Twins 5 at GCL Orioles 3
W: E. Ibarra (2-0, 3.30); L: J. Moore (1-1, 2.48); SV: K. Mota (8)
HR: None.
Anderson Hidalgo
and
Danny Ortiz
were key players in propelling the GCL Twins to a 5-3 win Wednesday over the GCL Orioles at Twins Lakes Park.
Edgar Iberra
took the start for the Twins, scattering seven hits and three walks over five innings to limit the Orioles to a pair of runs while striking out four.
The O's runs would come in the bottom of the 3rd inning, with
Xavier Avery
singling. He'd be taken out at second however on
Luis Ramirez
force out, and pinch runner
Edwin Cinton
replaced Ramirez on the basepaths.
Jerome Hoes
took a walk and Edinho Meyers singled to plate Cintron.
Garabes Rosa
's line drive to left scored Hoes before
Dennis Perez
ground out and and
Dashenko Richardo
struck out to end the inning.
The Twins were already leading by three at the point however, as they lost no time getting on the board against Orioles starter
Justin Moore
. Back-to-back-to-back doubles by
Aaron Hicks
, Hidalgo and Ortiz opened up the game to give the Twins a pair of runs in the opening stanza.
They'd add a third run in the top of the third with Hidalgo singling and Ortiz doubling him in.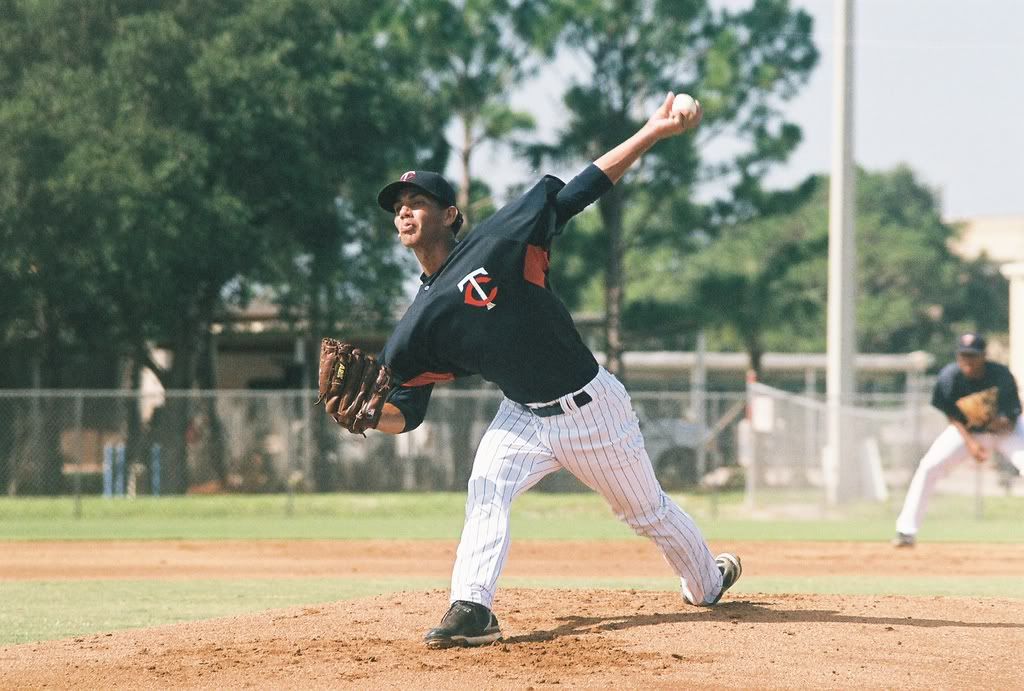 In the top of the sixth,
Henry Sanchez
doubled and
Hyeong-rok Choi
reached on a fielder's choice that saw Sanchez to 3rd.
Danny Rohlfing
would line out before
Hyun-wook Choi
sacrificed in Sachez.
Herbert Lara
then hit a line drive single out to left to plate Rok for the Twins fifth run.
Joe Test
replaced Iberra at the top of the sixth and took the first two batters he faced out on strikes while getting the third to ground out. The seventh inning proved a bit more difficult for the former Wagner College ace, as Avery singled off him to start off the inning. Cintron ground into a force out that took Avery down at 2nd but Cintron then stole second. Hoes would ground out, moving Cintron to 3rd and a passed ball by
Danny Rohlfing
brought the O's runner home.
Kelvin Mota
worked the last two innings for the Twins, picking up his 8th save of the season.
Hidalgo finished up 3-for-4 with a double, a pair of runs and a RBI. Ortiz was 3-for-3 with a pair of doubles and a pair of RBIs.
Henry Sanchez
was 1-for-3 with a double and a run, Lara went 1-for-4 with a RBI and Hicks finished up 1-for-5 with a double and a run. Rok would contribute a run despite going 0-for-4 in the game.
The Twins are currently tied for the Pirates for first in the GCL South Division as each team has posted a 20-13 record. The Twins are on the road Thursday against the GCL Reds, for a Noon game.
Box
Log
---
DSL Orioles 2 at DSL Twins 7
W: O. Villaroel (3-3, 2.06); L: D. Mambru (0-2, 2.75); SV: L. Vargas (1)
HR: None.
The DSL Twins pounded out 7 runs on 8 hits as they routed the DSL Orioles Wednesday morning.
Jairo Perez
would get hit by a pitch in the bottom of the second and
Eliel Sierra
walked to follow him onto the basepaths.
Manuel Soliman
flew out before
Jhonatan Arias
walked to fill the bases. Orioles starter
Dionicio Mambru
then walked
Felix Caro
and
Carlos Vasquez
to force in pair of runs.
Danny Santana
would go down on strikes before
Jean Carlos Mercedes
took a walk for force in Arias for the Twins 3rd run.
Needless to say, Mambru was not invited back to the mound for the bottom of the 3rd.
Enrico Jimenez
took over and despite a walk, a wild pitch and a single kept the Twins off the board for that inning at least.
He'd walk
Carlos Vasquez
in the bottom of the 4th and a sac bunt by Santana advanced him to 2nd. Mercedes singled but Vasquez would be taken out at home.
Oswaldo Arcia
doubled however to plate Mercedes, giving the Twins a 4-1 lead.
Cesar Ciurcina
worked the first four innings for the Twins before giving way to
Orlando Villaroel
for the next three. Villaroel would give up 1 run on 3 hits and a pair of walks while striking out 2 to pick up his 3rd win of the season.
Jose Sosa
would be throwing for the Orioles in the bottom of the 7th. Arcia took a single off of him, and advanced to 3rd on a throwing error by
Moises Ciriaco
. Perez then sacrificed him in for the Twins 5th run.
In the bottom of the 8th, Arias singles, then advanced to second when Sosa uncorked a wild pitch. A balk would see Arias to 3rd.
Wilfy Gil
would go down on strikes, and Vasquez would fly out before Santana tripled in Arias. Mercedes would be hit by a pitch before Arcia singled to plate Santana to top off the Twins scoring.
Lesmir Vargas
picked up his first save of the season, working a pair of scoreless innings for the Twins.
Arcia was 3-for-5 with a run and a pair of RBIs and Arias was 2-for-3 with a walk, a double and a pair of runs. Mercedes (1-for-3) and Soliman (1-for-4) added singles, Mercedes with a run and a RBI was well. Santana finished up 1-for-4 with the triple, a run and a RBI. Perez (0-for-2) and Sierra (0-for-3) were hitless at the plate but both had walk and run in contest, Perez with a RBI as well.
The DSL Twins are on the road Thursday against the DSL Rockies for a 10:30 AM Dominican Time game.
Box
Log