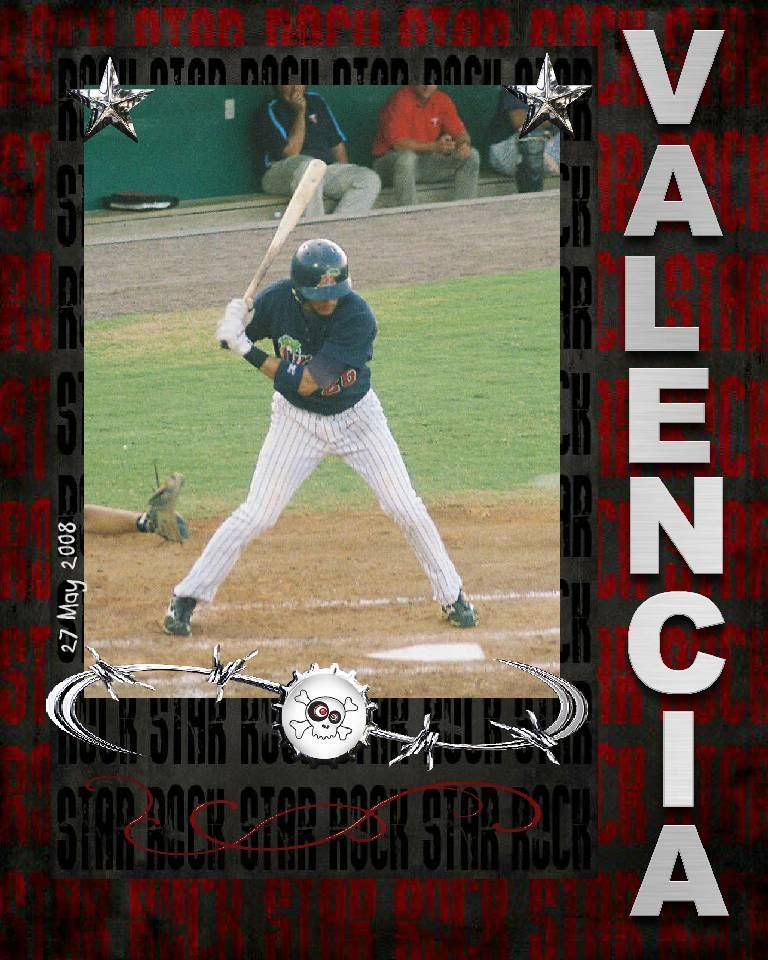 Monday: Reading 3 at New Britan 1
W: T. Brummett (2-3, 4.05); L: J. Manship (1-5, 4.50); SV: J. Pope (4)
HR: None.
Jeff Manship
gave up 2 runs, only 1 earned, in six innings worth of work, while fanning 4, but got little help from the New Britain Rock Cats' lazy offense, which only managed three hits as they fell, 3-1 to the Reading Phillies in game one of the four-game homestand.
Luke Appert
singled and
Jason Donald
reached on a
Felix Molina
fielding error. Appert would advance to 3rd on a missed catch by Rock Cats' 3rd baseman
Danny Valencia
.
Greg Golson
would then sacrifice him in for an unearned Phillies run to start off the contest.
Neil Sellers
singed in the top of the 2nd but Manship got
Brad Harman
and
Mike Eylward
to ground out. Sellers would move to 2nd and
Kevin Nelson
would knock a line drive to center to plate him, before Manship could get Appart to ground out as well to retire the Phillies.
Drew Butera
and
Dustin Martin
took back-to-back walks off Phillies starter
Tyson Brummett
in the bottom of the 3rd. After
Matt Moses
popped out, Valencia would single to plate Butera.
Erik Lis
would go down on strikes however, and
David Winfree
would ground into a force out to strand the Cats' runners.
Zack Ward
would take over for Manship in the top of the 7th, and walk Harman. The Aussie second baseman then stole 2nd.
Mike Eylward
would ground out and
Kevin Nelson
and Appert both draw walks which moved Harman to 3rd. Donald's sac-fly would bring him in for Reading's 3rd run of the game.
Aside from Valencia,
Dustin Martin
(1-for-3) would add a single and walk twice, and Winfree would double to lead off in the bottom of the 8th.
Rob Delaney
worked the mound for the eighth and
Ben Julianel
struck out one during a scoreless ninth.
Box
Log
Rock Cats/OSC
R-Phils
PhillyBurbs
Courant
NB Herald
Tuesday: Reading 6 at New Britain 7
W: A. Gabino (5-4, 3.07); L: P. Overholt (3-6, 5.09); SV: B. Julianel (21)
HR: REA: J. Blalock (2). NBR: D. Butera (6), F. Molina (2).
The pitching was slightly suspect as
Jay Rainville
lasted only 3-2 innings, surrendering 4 runs on six hits and 3 walks while striking out 3, but the New Britain Rock Cats used some steady batting to down the Reading Phillies, 7-6 in game two of the four-game series at New Britain Stadium.
Drew Butera
opened up the game in the bottom of the 3rd by taking his sixth home run of the season of Reading starter
Edgar Garcia
.
Rainville allowed 3 straight walks in the top of the 3rd, but got
Jeremy Slaydon
to strike out to strand the runners in the bases loaded situation. He would not fair quite so well in the 4th.
After getting
Neil Sellers
to pop out, he allowed back-to-back singles to
Brad Harman
and
Clay Harris
.
Jake Blalock
then put his 2nd home run of the season over the left field wall to make it 3-1 Phillies. After
Luke Appert
flew out,
Jason Donald
and
Greg Golson
took back-to-back doubles off Rainville, resulting in another run, before
Armando Gabino
was brought in to replace the Rock Cats struggling starter.
The Cats took one back in the bottom of the 4th, with
Danny Valencia
singling then moving to 3nd on a wild pitch by Garica.
Erik Lis
would strike out swinging and
David Winfree
would line out before a
Brock Peterson
single plated the Cats' third baseman.
Slayden singled and Sellars doubled in the top of the fifth, while Harman took a walk to load the bags.
Clay Harris
ground into a double play that scored Slayden, making it 5-2 Phillies.
Valencia walked in the bottom of the sixth and moved to 2nd on a Lis single. A wild pitch by Garcia moved the pair, and Winfree would sacrifice in Valencia. Peterson then doubled to scored Lis and also to prompt a pitching change, with
Pat Overholt
coming in to relieve Garcia.
Toby Gardenhire
singled to plate Peterson and the Phillies found themselves with a tied up ballgame.
Matt Moses
singled in the bottom of the 7th and stole 2nd. After
Dustin Martin
when down on strikes,
Felix Molina
put his 2nd home run of the season over the right field wall to give the Rock Cats two more runs.
Brett Harker
would come in to replace Overholt and after walking Winfree and Peterson, got Gardenhire to strike out to end the inning.
With
Ben Julianel
on the mound in the top of the 9th, Golson would walk with one out on the board.
Lou Marson
and
Jeremy Slayden
hit back-to-back singles to plate Golson, but Sellers would fly into a double play to end the game.
Valencia was 2-for-1 at the plate with a pair of walks and pair of runs. Peterson was 2-for-3 with a walk, a run and a pair of RBIs. Lis was 2-for-4 with a run. Gardenhire, Molina and Moses were both 1-for-4, Gardy with a RBI, Molina with a run and 2 RBIs, and Moses with a run. Butera was 1-for-3 with a walk a run and run scored.
Gabino picked up his fifth win of the season in 3.1 innings worth of work.
Frank Mata
worked a scoreless eighth, while Julianel's one-run ninth gave him his 21st save of the season.
Box
Log
Rock Cats/OSC
R-Phils
Taylor's Twins Talk
Blog
While it's probably not surprising to find the New Britain Rock Cats down near the bottom of the league in team pitching, it is surprising to note that both New Hampshire, who recently took three straight from New Britain, and Reading, both trail the Rock Cats in that category. Notably though, the Cats have give up a team total of 102 home runs, six more than Reading and 54 more than inner-state rival Connecticut.
Connecticut however trails the league in team batting average with .251. Erie, Bowie and Altoona also trail the cats, who are hitting .264 as a team in 2008.