GCL Twins 11 at GCL Pirates 1
W: E. Ibarra (1-0, 3.24); L: N. Pereira (1-2, 1.50)
HR: TWI: A. Hicks (2).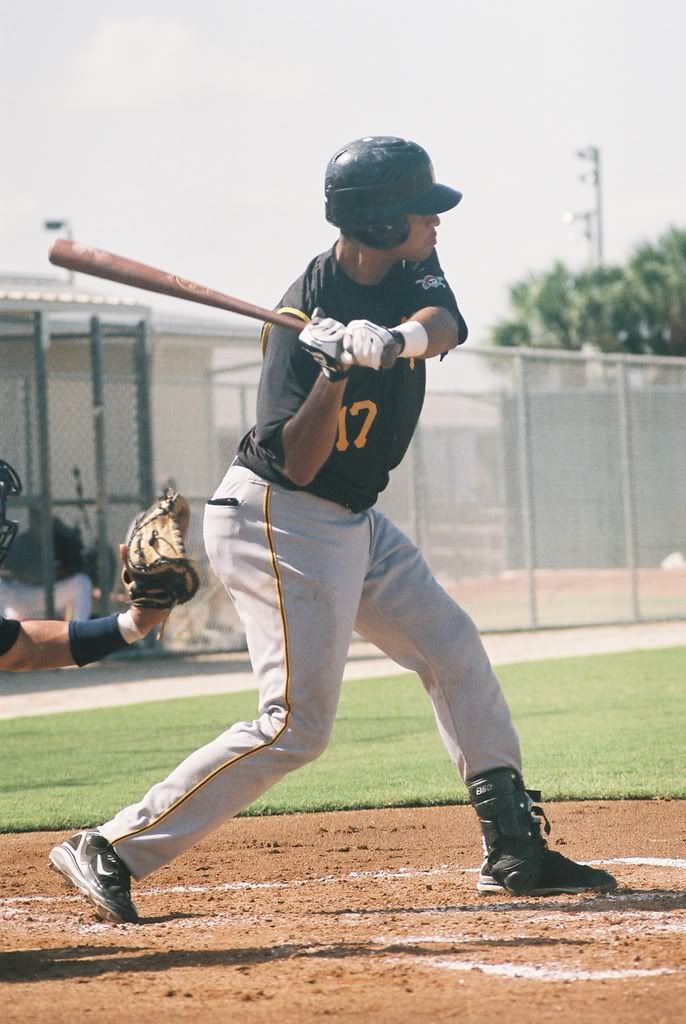 The GCL Twins knocked out 11 runs on 14 hits to thump the GCL Pirates, 11-1 at McKechnie Field in Bradenton Thursday.
Edgar Ibarra
limited the Pirates to only 1 run on three hits and a pair of walks while fanning 3 over 5 innings.
Adenson Chourio
would walk in the the bottom of the 1st, then steal 2nd and 3rd base. A throwing error by
Josmil Pinto
allowed Chourio to cross the plate for the Pirates lone run.
Brian Friday
would walk. Two outs later,
Miguel Mendez
doubled him over to 3rd but he'd be left stranded when
Alex Vargas
ground out to end the inning.
The Twins offensive onslaught began in the top of the 3rd with
Aaron Hicks
hitting his second home run of the season, a solo shot over the left field wall. Following a ground out to
Juan Sanchez
,
Danny Ortiz doubled
.
Johnny Woodard
, playing on a rehab assignment from the High-A Fort Myers Miracle, reached on on a fielding error by Pirates shortstop
Ben Gonzalez
.
Andres Diaz
would come into to replace
Henry Sanchez
. Sanchez was also playing on a rehab assignment and as the grounds were damp, they felt it prudent to remove him from the game rather than risk re-injuring his knee. Diaz would go down on strikes, but
Tyler Ladendorf
doubled to bring in Ortiz and Woodard.
The Pirates would put lefty
Tyler Cox
into the game at the top of the 5th inning. Ladendorf doubled off him in the top of the sixth.
Javier Brown
ground out, but Pinto doubled to plate Ladendorf. Following a ground out to
Herbert Lara
,
Aaron Hicks
would single his way onto base to drive in Pinto. The Twins 1st round pick the 2008 draft would then steal 2nd base. Sanchez would be hit by a pitch before Ortiz's fly ball single brought Hicks home.
With one out on the board in the top of the 7th, Ladendorf took a walk then moved to second on a wild pitch. Brown would pop out, but another fielding error by Gonzalez allowed Pinto to reach and Ladendorf to score.
Carolos Teller
would replace Cox on the hill for the Pirates in the top of the 8th, and Hicks would draw a walk from him. Teller then unleashed a wild pitch that moved Hicks to 2nd. The Nicaragian lefty would get Sanchez to fly out, but then hit Ortiz with a pitch as he struggled with his control. Woodard would take a single off him to score Hicks and Diaz followed up with a single of his own to plate Ortiz. With the Twins sporting a big lead,
Jakub Hajtmar
would be brought in to replace Ladendorf. But Teller uncorked yet another wild pitch to move the runners. Hajtmar would go down on strikes and Teller would go down to the dugout in favor of
Jorge Charry
, who managed to get Brown out on strikes to strand the runners.
Field manager
Jake Mauer
would make several more changes in the bottom of the 8th, putting
Jon Goncalves
in for Hicks and Hyun-wook Choi in for Ortiz. The Pirates also made a change, replacing Charry with
Carlos Silva
.
Normally a 3rd baseman, Silva would give up back-to-back doubles to Pinto and Lara to add one more to the Twins total. After Goncalves ground out and Sanchez flew out, Wook singled out to center to bring in Lara, finishing off the Twins scoring.
Bruce Pugh
would work three innings of relief for the Twins, allowing a double to Vargas in the seventh, and a walk to Chourio in the 8th. He'd fan four before giving way to
Ian Mopas
for the final inning, who used a ground out, a pop out and a line out to finish the game.
Ortiz and Ladendorf finished off the game 2-for-3, Ortiz with a walk, a double, a pair of runs and a run scored, while Ladendorf had a walk, two doubles and two runs to go with his pair of RBIs. Hicks was 2-for-4 with a walk, 3 runs and 2 RBIs. Pinto was 3-for-5 with a pair of doubles and two runs, as well as a run scored.
Lara and Sanchez were both 1-for-5 at the plate with a double, Lara with a run and a run scored as well. Woodard was also 1-for-5, with a run and a run scored, but added a walk instead of a double. Diaz was 1-for-4 with a RBI and Choi was 1-for-1 with a RBI.
The Twins play a pair against the Orioles a the Lee County Sportsplex on Friday, July 24, starting at 11:00 AM, and remain at home Saturday against the Reds.
Box
Log
---
DSL Twins 9 at DSL Diamondback/Reds 8
W: R. Reverol (3-1, 4.12); L: R. Quezada (0-1, 7.36)
HR: DSL TWI: O. Arcia (2).
It would take extra innings for the Twins to find the game winning run to give them a victory over the DSL Diamonback/Reds on the road, but find it they did.
With two outs on the board in the top of the 12,
Oswaldo Arcia
singled and
Jean Carlos Mercedes
reached on a force attempt that moved Arcia to 2nd.
Teo Gutierrez
would replace
Radhames Quezada
on the mound, and
Eliel Sierra
greeting him with a single out to center that brought in Arcia.
The Twins opened the scoring in the top of the first, with
Danny Santana
tripling.
Yorby Martinez
hit into a ground out before
Manuel Soliman
singled to plate Santana. Arcia then went yard, his second home run of the season going over the right field fence to give the Twins a 3-0 lead.
The Diamondback/Reds would tie the game up in the fourth. Arcia would be hit by a pitch in the top of the sixth and moved to 3rd on a throwing error by
Michael Noboa
, which also allowed Mercedes to reach on a force attempt. Sierra would hit into a ground out that served to plate Arcia, putting the Twins on top again.
Pesky, the Dia-Reds answered back in the seventh. The top of the 8th saw Arcia single with one out on the board, then steal 2nd. A throwing error by catcher
Alberto Restrepo
advanced him to 3rd, and he would score on Mercedes ground ball single. Mercedes then stole 2nd. Sierra would go down on strikes before the Dia-Reds made a pitching change, bringing in
Eddy Santana
.
Yancarlo Franco
would single off the new arrival, and
Jairo Rodriguez
double.
Juan Blanco
then doubled to plate the pair giving the Twins a four run lead.
Still that wasn't enough to keep the Dia-Reds down as they came back in the bottom of the 9th to add four runs of their own, taking three doubles off ace closer
Edison Alvarez
.
That would set the stage for the Twins' 12th inning victory.
Arcia was 4-for-5 with four runs and 2 RBIs. Sierra and Rodriguez were both 2-for-4, Sierra with a pair of walks and a pair of runs scored, Rodriguez with a double and a run. Blanco (1-for-4) also had a double and pair of RBIs, while Santana (1-for-5) had a walk a triple and a run.
Soliman (1-for-3), Mercedes (1-for-6),
Felix Caro
(1-for-3), Franco (1-for-3) and Blanco (1-for-4) all had singles in the contest.
Box
Log