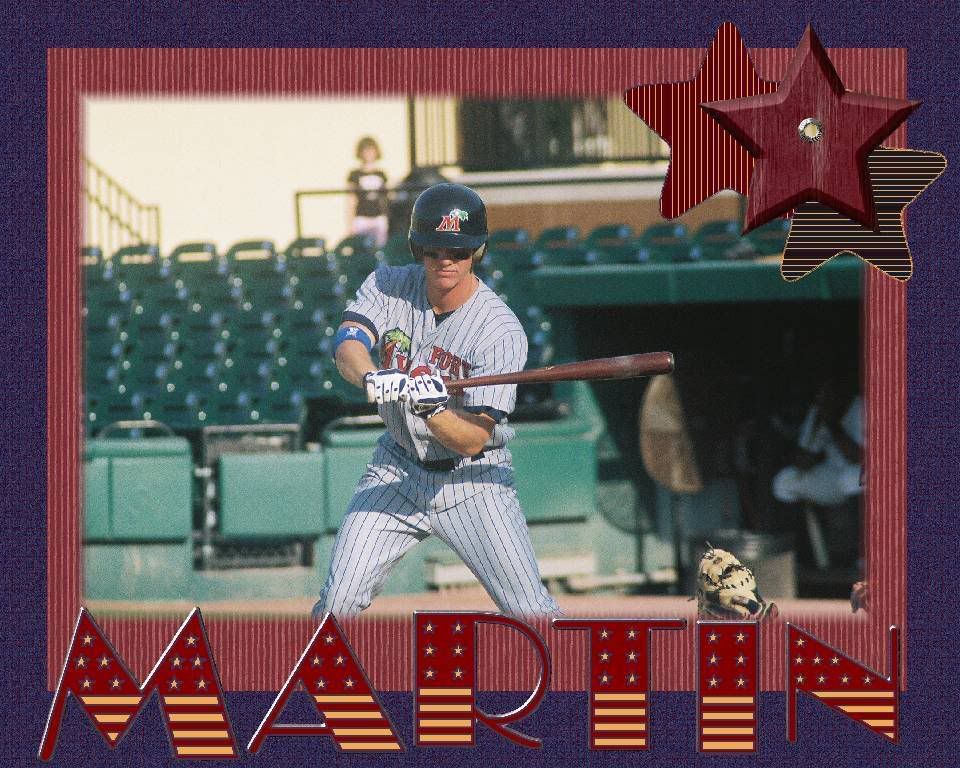 Reading 7 at New Britain 3
W: F. Castro (8-1, 4.20); L: R. Mullins (7-7, 4.28)
HR: REA: B. Harman (9). NBR: D. Martin (7), D. Valencia (1).
Home runs by
Dustin Martin
and
Danny Valencia
were not enough to overcome the Reading Phillies, who used a 4-run fourth inning to top the New Britain Rock Cats 7-3.
Valencia homered - his first in a Rock Cats uniform - in the bottom of the 2nd inning with one out on the board.
Luke Hughes
followed that up by bunting his way to base, and
Felix Molina
took a walk.
Toby Gardenhire
's fly out moved Hughes to 3rd, and he'd come home on a
Drew Butera
single to give the Rock Cats an early 2 run lead.
Ryan Mullins
was back as a starter after a stint in the bulllpen and allowed singles to
Clay Harris
,
Jake Blalock
,
Mike Spidale
and
Jason Donald
in the top of the 3rd, to give the Phillies one. Blalock would try to go home as well, but was taken out at the plate.
Greg Golson
would strike out to end the scoring threat.
Lou Marson
started out the top of the 4th with a walk for the Phils, then after
Jeremy Slayden
went down on strikes,
Neil Sellers
doubled.
Brad Harmon
blasted his 9th home run of the season over the left field wall to give Reading a two run lead. Harris walked and moved to 2nd on Blalock's single. After a pop out to
Mike Spidale
, Donald walked to load the bags.
Jason Miller
then walked out to the mound to replace Mullins, whose name was recently mentioned as being a candidate for promotion to AAA when
Brian Duensing
goes to the olympics. Miller would walk Golson to force in a run before getting Marson to strike out swinging.
Valencia would single in the 4th and make it all the way to 3rd, only to be stranded when Gardenhire popped out and
Drew Butera
ground out. He was then removed from the game, with
Erik Lis
replacing him in the line up, which also sent off a chain reaction switch amongst the infielders.
Slayden would single to start out the top of the fifth, and Sellers took a walk. Harman would go down on strikes before Harris walked to load the bags. Miller would then take Blalock down on strikes and get Spidale to fly out to get out of the inning safely.
He would not fair so well in the top of the sixth with Donald tripling and Golson walking. Golson then stole 2nd and Marson would go down on strikes before Slayden reached on a fielder's choice. the play at the plate didn't work however, as Butera never had control of the ball, and Donald scored on a controversial call that saw Rock Cats field manager
Bobby Cuellar
ejected from the game. Sellers would reach on a force attempt that scored Golson, and caused a pitching change, with
Kyle Aselton
replacing J-Mill. Aselton would take Harmon down on strikes and get Harris to fly out to retire the side.
Jason Anderson
would replace
Fabio Castro
in the bottom of the 8th. Castro left after allowing a pair of runs, earned, on 5 hits and walk while fanning five. Anderson would get
Steve Tolleson
to ground out before giving up a home run to
Dustin Martin
, who smacked a line drive over the right field fence. It was the sluggers 7th of the year for New Britain.
It was also all the Rock Cats could manage.
Mullins took the loss, his 7th of the season. Hitting wise, Hughes was 2-for-4 at the plate with a run, while Valencia was 2-for-2 with a run and a RBI. Martin, Winfree, and Butera were each 1-for-4, Martin with a run and a RBI, Butera with a RBI leaving Winfree to be the one hit wonder of the contest.
The Cats fall to 42-62 on the season, 5th in the six team Northern Division, 22.5 games behind division leading Trenton. They now head over to Norwich for a series against the Connecticut Defenders, a team they trail by only 11 games.
Box
Log
Rock Cats/OSC
R-Phils
Courant
Eagle
Philly Inquirer
Phuture Phillies
Blog