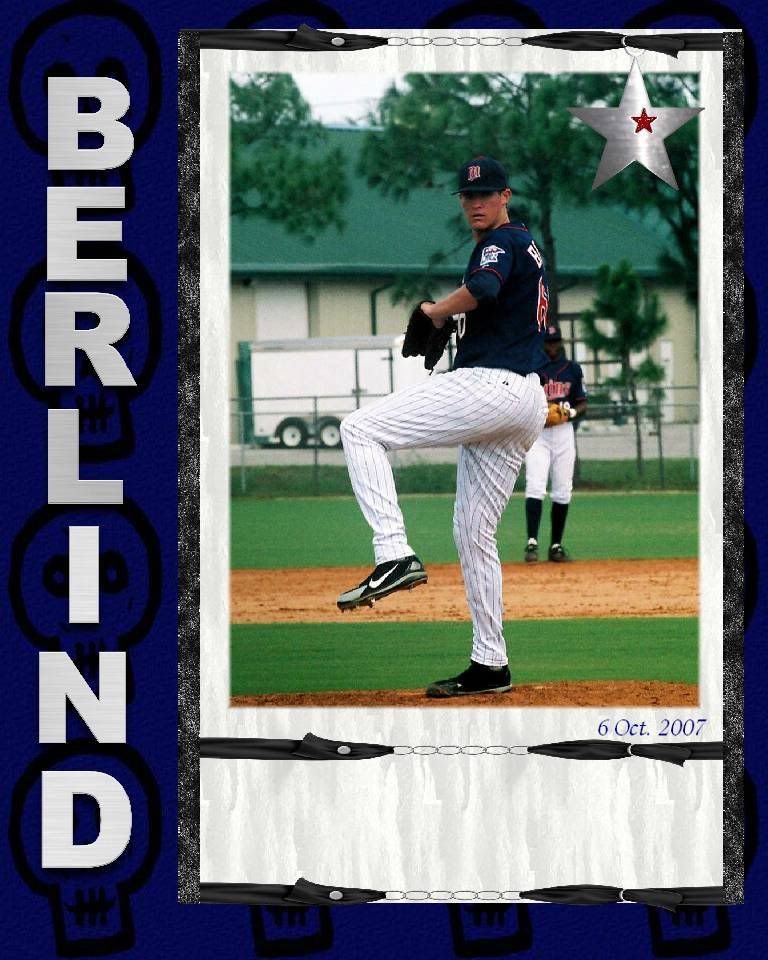 Elizabethton 1 at Johnson City 6
W: J. Bravo (1-3, 3.80); L: B. Lanigan (1-2, 4.05)
HR: None.
It's rare to see the Elizabethton Twins with only two hits, but that's exactly what happened against the Johnson City Cardinals in the conclusion of the game suspended on July 1, 2008.
Guillermo Toribio
would single in the bottom of the first off starter
Bobby Lanigan
. Following a fly out to
Matt Rigoli
,
Nico Vasquez
singled to put two on board. A passed ball by catcher
Alex Soto
advanced the pair, and Torbino would cross the plate on
Curt Smith
's ground out to give the cards the early lead.
They would added to it in the bottom of the fourth with Smith singling. After
Jack Cawley
and
Edgar Lara
went down on strikes,
Travis Mitchell
singled and
Osvaldo Morales
was hit by a pitch to load the bags. Lannigan then walked
Jarred Bogany
and Torbino to force in a pair of runs before finally getting
Matt Rigoli
out on the strikes.
Lanigan would exit the mound, giving up 3 runs, 2 earned on 5 hits and 2 walks while fanning five after 4 innings. After that it appears that
Curt Leavitt
replaced him but there are no stats available for for this game for the inning coming Twins prospect.
(Don't you just LOVE Baseball Advanced Media?)
James Beresford
would single and a passed ball by Cawley moved him to second.
Dominic De La Osa
drew a walk and
Nick Romero
reached on a fielding error by the Cards' Morales.
Jon Waltenbury
would hit into a ground out that plated Beresford, and
Jon Bravo
would replace
Jose Mateo
on the mound before
Alex Soto
was taken out on strikes.
Vasquez singled and stole 2nd off Leavitt. Smith would ground out and Cawley walk before
Edgar Lara
doubled to drive in Vasquez and Cawley.
The seventh inning would see Vasquez walk to lead off then moving to 2nd on a passed ball by Soto. Smith doubled him in for the final run of the game.
Soto had the only other hit in the game, going 1-for-3 at the plate with walk.
Box
(such as it is)
Log
Elizabethton 3 at Johnson City 11
W: J. Rondon (2-2, 4.30); L: D. Berlind (1-2, 12.46)
HR: JCY: C. Smith (6), O. Morales (5), I. Castro (3).
One of the big questions Monday at the GCL game was WHAT is wrong with
Danny Berlind
? I don't know, I'm not there. And short of
Rick Knapp
showing up I'm not likely to know anytime soon. I do know that he wasn't pitching as well as I expected in Instructional League, but it was in no way indicative for the sort of shelling he's been suffering in Elizabethton.
Nico Vasquez
singled off Berlind in the bottom of the first with one out on the board. A throwing error by Berlind on the pick off attempt moved Vasquez to 2nd.
Curt Smith
would pop out before
Ivan Castro
singled to plate the Cards short stop.
Nathan Hanson
reached on a fielding error and took 2nd base as well when the ball went into the dugout. He moved to 3rd on a sac bunt by Beresford and came home on
Dominic De La Osa
's sacrifice fly to center.
Things turned bad for Berlind in the bottom of the stanza. After getting
Brett Lilley
out on strikes, Vasquez singled. Smith then clubbed a home run, his sixth of the season over the center field wall.
Ivan Castro
would walk to follow that up and
Alex Castellanos
,
Travis Mitchell
,
Edgar Lara
and
Jarred Bogany
all singled to to plate four more.
Kyle Carr
would replace Berlind at that point, getting Lilley to ground into a double play to end the inning.
It seems like Berlind is not pitching with a lot of confidence at the moment. Perhaps a move to the bullpen would be in order, so he could just air it out for an inning or two and get himself back on track?
Hanson doubled in the top of the fifth and following a fly out by Beresford, De La Osa would get hit by a pitch.
Nick Romero
sacrificed in Hanson. Singles to
Jon Waltenbury
and
Michael Harrigton
brought in De La Osa. Lanning would walk and the Cards would bring in
Jorge Rondon
to replace starter
Matthew North
. Rondon would get
Angel Morales
out on strikes to end the E-Twins scoring threat.
Osvaldo Morales
put his fifth home run of the season over the right field wall. Following a fly out to
Alex Castellonos
,
Travis Mitchell
and
Edgar Lara
both walked.
Jarred Bogany
ground into a force out that plated Mitchell and Lilley singled before
Danny Rondon
came in to replace Carr, getting Vasques to ground out to end the the inning.
Smith would single and
Ivan Castro
homered off Rondon in the bottom of the sixth to complete the scoring.
Harrington was 2-for-4 with a double and a RBI, while Hanson was 1-for-3 with a double and a pair of runs. Waltenbury and Beresford were the one hit wonders of the game.
Jeff Lanning
also had a single, going 1-for-2 at the plate, but drew a walk to go along with it.
Box
Log
JC Press
JC Press - Waltenbury
E-Star
Gassy Night got rained out, but evidently Mullet Night is on the way. The longest mullet and the funniest redneck joke contest will being at 6 PM, with free E-Twins tattoos for the first 100 fans. (
Shuck and Jive
Blog)