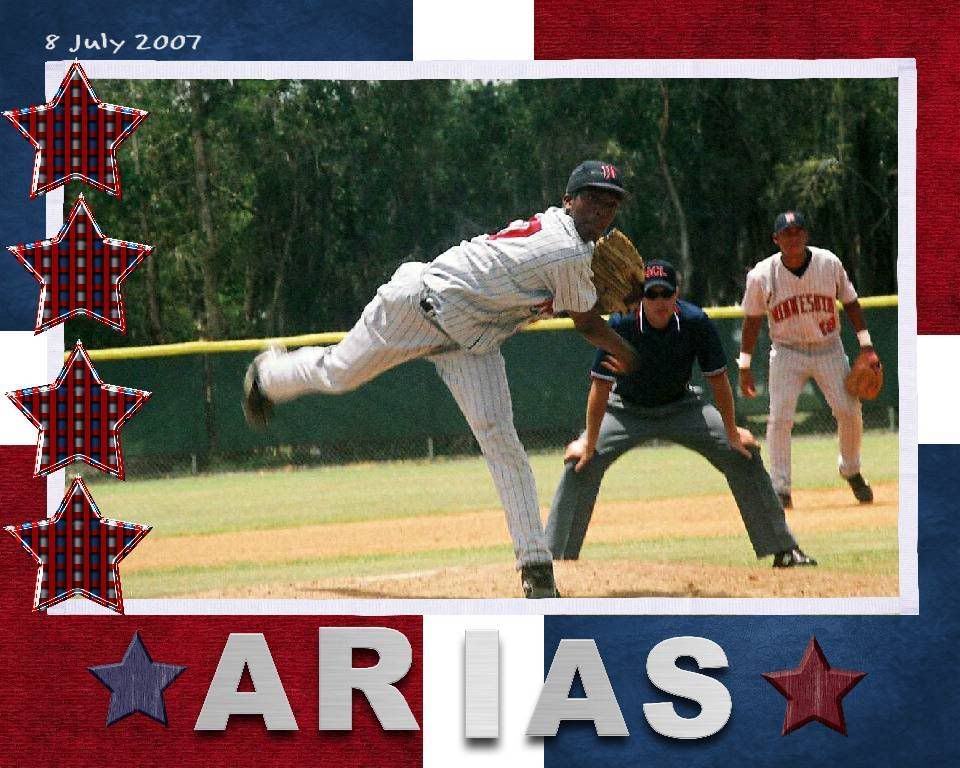 Beloit 2 at Clinton 0
W: S. Arias (4-3, 2.39); L: K. Gomez (8-3, 2.81)
HR: None.
Santos Arias
threw a complete 9-inning game, allowing only 3 hits to the Clinton Lumber Kings who were shut out by the Beloit Snappers, 2-0.
Ozzie Lewis
doubled in the top of the 2nd, moved to third on
Joe Benson
's bunt single and came home when
Eric Santiago
ground into a double play for the first and only run the Snappers would need.
Clinton's best scoring opportunity came in the bottom of the 4th, when
Mitchell Moreland
singled and moved to 2nd on a balk. A passed ball by
Allan de San Miguel
got him to 3rd before Arias would strike out
Cristian Santana
to end the inning.
De San Miguel would double in the top of the 6th for the Snappers but find himself stranded at 3rd on a
Chris Cates
ground out.
Ben Revere
tripled in the top of the 7th, then came home on a Benson single for the insurance run.
Benson was 2-for-3 with a RBI, and Revere was 2-for-4 with a run. Lewis was 1-for- with a run.
The Snappers now return home for a 4-game series against the Cedar Rapids Kernels. Game time is 7:00 PM at Pohlman Field. It is Redneck Night as well as Fireworks night #5.
Box
Log
Snappers
L-Kings
Wednesday
BDN
Clinton Herald
Janesville Gazette
Cards in the Attic has a really nice review of the Beloit Snappers 2008 Card set. well worth checking out, you can find it at
Aardvark Trading Co.
.
Johnson City 6 at Elizabethton 7
W: C. Leavitt (1-1, 7.36); L: R. Santos (0-1, 5.87); SV: M. Hamburger (2)
HR: JCY: J. Martinez (2), N. Vasquez (1). ELI: A. Morales (3), R. Leveret (2).
Must have been an off day for the Elizabethton Twins who only managed 7 runs on 9 hit - instead of their usual 2 billion - as they defeated the Johnson City Cardinals, 7-6.
Rene Leveret
took a walk to lead off the bottom of the 2nd inning, and wild pitch by the Cardinals
Randy Santos
moved him to 2nd. Following a pop out to
Michael Harrington
,
Evan Bigley
would be hit by a pitch.
Jeff Lanning
's line drive sent Leveret home before
Angel Morales
hit his 3rd home run of the season to clear off the bases, giving the E-Twins a 4-0 lead.
Leveret would hit a solo shot home run in the bottom of the 3rd.
Dominic De La Osa
reached on a throwing error in the bottom of the fourth, moved to second on
Jeanfred Brito
's ground single and to 3rd on a wild pitch by Johnson City's
Samuel Freeman
.
Juan Richardson
would sacrifice in De La Osa.
Jon Waltenbury
's ground out moved Brioto to 3rd, a throwing error by
Alex Castellanos
at 3rd allowed Leverett to reach and Brito to score, for 7 runs.
Curtis Leavitt
would work five innings, allowing 3 runs on 7 hits while fanning five. He'd allow a home run to
Nico Vasquez
in the top of the 6th before
Thom Wright
came in to relieve him. Wright would allow 1 run on 2 hits and a walk while fanning 2 in one innings worth of work.
Mark Hamburger
worked the final 3, allowing 2 runs, earned, on 3 hits while striking out 6.
Lanning was 2-for-3 in the contest with a run and walk and a RBI, Morales was 2-for-4 with a run and 3 RBIs, and Brito was 2-for-5 with a run.
The two teams rematch tonight for a 7:00 PM game.
Box
Log
Future Redbirds
Blog