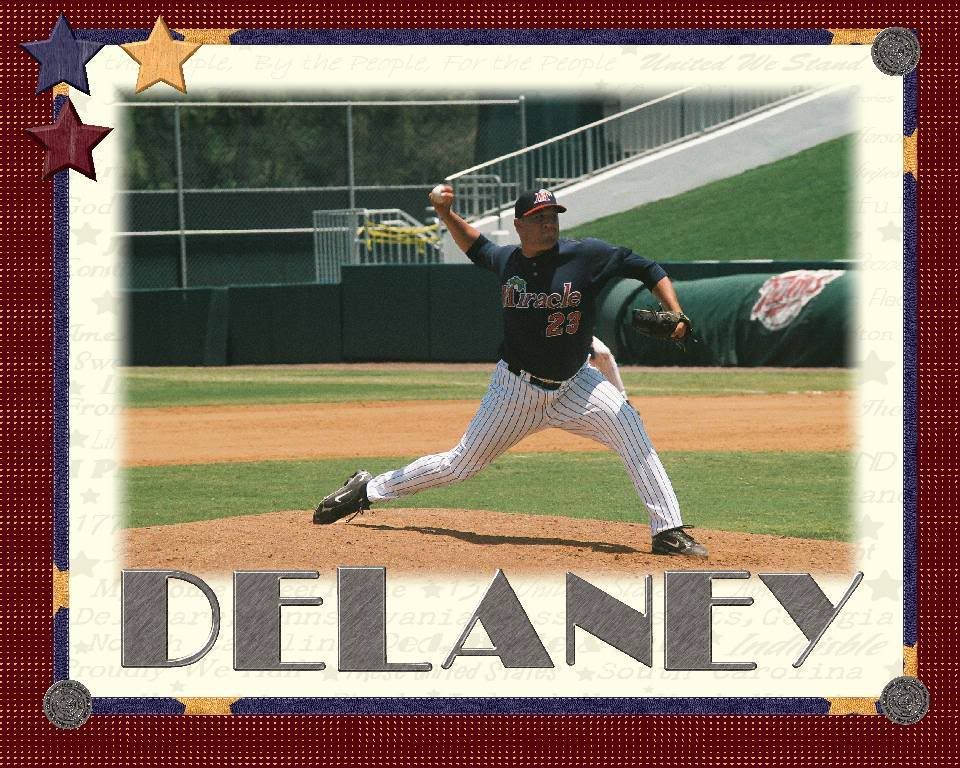 New Hampshire 4 at New Britain 2
W: S. Richmond (5-8, 4.92); L: K. Aselton (3-2, 5.03); SV: Z. Dials (10)
HR: None.
Kyle Aselton
's second AA start went some what better than the first, but he still ended up taking the loss as the New Hampshire Fisher Cats doubled up the New Britain Rock Cats, 4-2.
Jacob Butler
and
Ryan Patterson
both singled to start off the top of the 2nd.
Scott Campbell
then took a walk off Aselton to load the bags.
Eric Nielsen
would single out to left to bring in two. The New Britain lefty then got
Ryan Klosterman
and
Chris Gutierrez
out on strikes before
Aaron Mathews
singled to score Campbell. Nielsen would be taken out at second on the throw to retire the side without further damage.
The top of the fourth saw Campbell take a walk, and Nielson double for the visitors. Campbell would try to come home but would be taken out at the plate.
Ryan Klosterman
then singled to plate Nielson for the fourth Fisher Cats run.
Brock Peterson
would draw a walk in the bottom of the 4th, then move to 2nd on an
Erik Lis
ground out. Following a fly out to
Danny Valencia
,
Dustin Martin
singled out to right to drive in Peterson. Aselton would work 5 inning allowing all four runs on 8 hits and a pair of walks while striking out 7.
Frank Mata
and
Armando Gabino
worked an inning each, with Mata allowing a pair of hits, and Gabino one hit while fanning 2.
Rob Delaney
would finish up the last 2, allowing only 1 hit and walking 1 while striking out 1.
Scott Richmond
worked 7 innings for the Fisher Cats allowing only the one run on 3 hits and 3 walks while striking out 5.
Daryl Harang
would strike out
Felix Molina
and Peterson in the bottom of the 8th.
Lis would lead off the bottom of the 9th with a walk, and Valencia singled out to center. A wild pitch moved Lis to 3rd.
Dustin Martin
would strike out before
Zachary Dials
came in to replace Harang.
David Winfree
singled to score Lis but
Toby Gardenhire
would ground out and
Drew Butera
would strike out, cutting the rally attempt short for the host Rock Cats.
Five different Cats singled for New Britain who was held largely offenseless in the contest.
The two teams rematch tomorrow a New Britain Stadium. Former Dunedin Blue Jay
Rob Ray
(2-0, 1.29) will take the start against
Jeff Manship
(0-1, 11.25), who will look to redeem himself after a very tough first AA outing.
Box
Log
Rock Cats/OSC
Fisher Cats
Union Leaders
Courant
NB Herald
Rochester 8 at Louisville 5
W: C.Daigle (1-3, 2.61) L: D.Herrera (0-3, 2.52) Sv: B.Korecky (9)
HR: LOU: K. Barker (10).
The Rochester Red Wings were feeling muscular at the bat cave as they downed the Louisville Bats 8 to 5.
Denard Span
singled to lead off the for the Wings, but was taken out a 2nd when
Jason Pridie
hit into a force out.
Darnell McDonald
's ground out moved Pridie to second.
Garrett Jones
then singled to plate Pridie for the Wings first run.
Michael Griffin
would double off
Kevin Mulvey
with one out in the bottom of the 3rd, then move to 3rd on
Jarry Hairston
's ground out.
Chris Dickerson
would walk before
Drew Anderson
singled to drive in Griffin, tying up the game.
The Wings responded it the top of the 4th with McDonald singling and moving to 2nd on a throwing error.
Garrett Jones
doubled him in.
Randy Ruiz
would be hit by a pitch, and
Tommy Watkins
would lay down a sac-bunt to move the runners. After a strike out to
Trevor Plouffe
,
Alejandro Machado
doubled to score the pair.
Kevin Barker
would homer in the bottom of the stanza for the Bats, who now trailed the Wings 4-2.
Following a fly out to Griffin, Hairston would single and Dickerson take a walk off Mulvey. Anderson then tripled to score two, and would come home on a passed ball by
Jeff Christy
to put the Bats on top.
The Wings would not get it together until the top of the 8th when Span reached on a fielding error then moved to 2nd on Pridie's ground out.
Daniel Herrera
would take over the pitching for Lousiville at that point. Jones singled to plate Span, which prompted another pitching change with
Josh Roenicke
taking over on the mound. Ruiz and Watkins hit back to back singles to drive in Jones. A wild pitch moved Watkins to 2nd, and Plouffe would triple to score Ruiz and Watkins to finish off the Bats.
Jones would got 3-for-4 with a double, 2 runs and 3 RBIs. Span was 2-for-5 with a run, while Machado was 2-for-4 with a double and two RBIs.
Bobby Korecky
picked up his 9th save of the season for the Wings, while
Casey Daigle
took the win on .1 innings worth of relief.
Box
Log
Red Wings
Bats
RD&C
R News
Courier-Journal
The Minnesota Twins announced Sunday that they will activate infielder
Nick Punto
from the 15-day disabled list prior to Tuesday night's game in San Diego. Punto was originally placed on the disabled list with a left hamstring strain on May 10 (retro to May 8), was activated on May 30th and again placed on the D.L. on June 6 after re-aggravating the left hamstring strain. To make room for Punto on the 25-man roster, the Twins have optioned infielder
Matt Macri
to Triple-A Rochester.