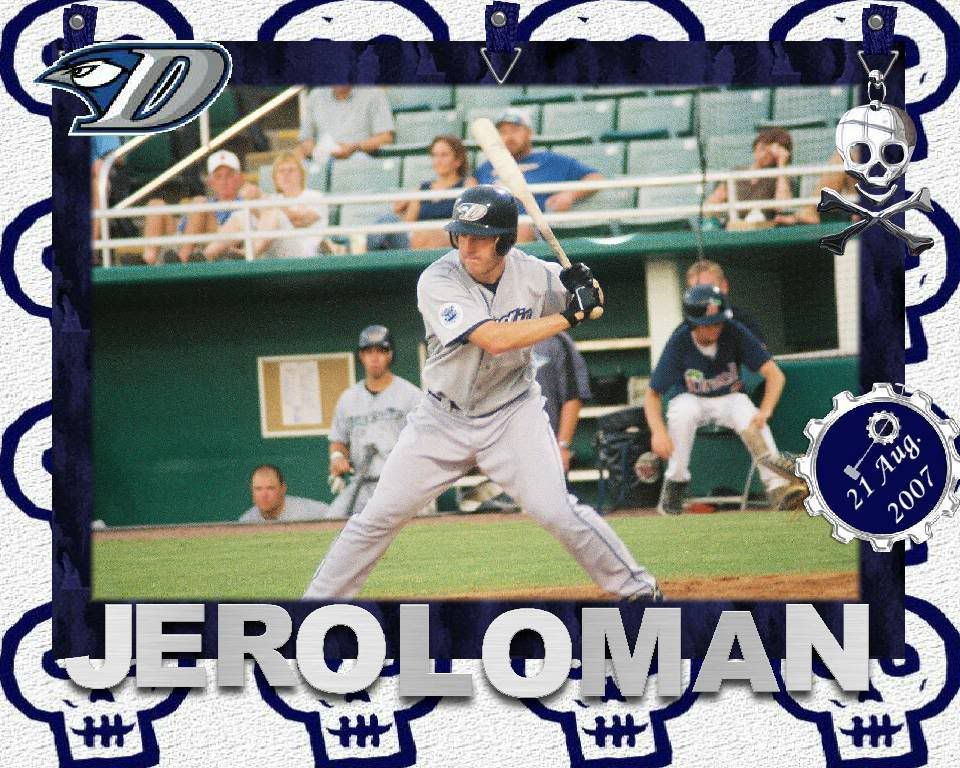 New Hampshire 13 at New Britain 6
W: B. Magee (1-10, 6.04); L: A. Swarzak (3-5, 5.63)
HR: NHM: T. Snider (11), J. Butler (10), A. Mathews (6). NBR: D. Martin (5), D. Butera (3).
The New Britain Rock Cats has a huge collection of top prospects and high round draft picks in their line up. Unfortunately, they don't play like they do. The New Hamphshire Fisher Cats jumped all over
Anthony Swarzak
in route a 13-6 romp at New Britain Stadium.
Jacob Butler
and
Brian Jeroloman
took back-to-back walks off Swarzak in the top of the 2nd inning.
Eric Nelson
then singled to load the bags.
Kyle Phillips
line drive to right scored Butler.
Anthony Hatch
would strike out swinging and
Ryan Klosterman
ground into a double play that took Jeroloman out at the plate.
Scott Campbell
would single and
Aaron Mathews
followed up with his sixth home run of the season, over the center field wall.
Travis Snider
and Butler then hit back-to-back singles. Jeroloman followed that up with a line drive double to center to score Snider. Nelson would sacrifice in Bulter before Phillips would fly out and Hatch would strike out to retire the side.
Klosterman and Campbell opened up the top of the 4th with back to back singles, and would advance a base each on
Dustin Martin
's throw. Mathews then sacrificed in Klosterman. Snider's single would drive in Campbell.
Yohan Pino
would be called into the game at that point, replace Swarzak, who had surrendered 8 runs on 10 hits and a pair of walks while striking out 2 in 3.1 innings worth of work. Pino would get Butler out on strikes, but Jeroloman would double off him to drive in Snider. Nelson would ground out to send the Fisher Cats on the defense.
Erik Lis
would double for New Britain and following a fly out to
Brock Peterson
,
David Winfree
would single.
Felix Molina
then tripled to drive in the pair, and
Drew Butera
followed that up with his 3rd home run of the season, to give the Rock Cats 4. Following a ground out to
Brian Dinkelman
,
Dustin Martin
would make it an 8-5 game with his fifth home run of the season, a solo shot over the right field fence.
Toby Gardenhire
would go down on strikes to end the inning.
Both teams would catnap for a couple of innings. Nielsen then drew a walk in the top of the 7th. Phillips would double him in, but the former Miracle who is known as being one of the slowest players in professional baseball, was taken out at 3rd on the throw.
David Harang
would replace
Brandon Magee
in the bottom of the 7th. Dinkelman, Martin and Gardenhire would all hit back to back singles which plated Dinkelman.
Danny Valencia
and Lis would both strike out, and
Seth Overbey
would come in to get Peterson to ground into a force out. The score was now 9-6 in favor of the Fishers.
Frank Mata
would replace Pino for the top of the 8th, and allowed a walk to Campbell. Mathews then double him in.
Travis Snider
would go yard over the center field wall, his 11th of the season and Butler followed suite, for his 10th home run of the season. Jeroloman would draw a walk as did Nelson, but Phillips would fly out and Hatch ground into a double play to end New Hampshire's threat.
Martin and Gardenhire went 3-for-5 at the top of the order, Martin with a run and a run batted in, and Gardenhire with a RBI. Lis and Butera were 2-for-4 with a run each,Butera with a pair of RBIs as well. Winfree, Molina and Dinkelman all finished up 1-for-4 with a run each, Molina with a pair of RBIs as well.
The Fisher Cats sweep the series, but never fear! There's still a chance for revenge as the two teams meet tomorrow. They now switch over to MerchantsAuto.com Stadium for a 3-game set. Left-hander
Ricky Romero
(3-4, 6.34) will pitch for New Hampshire against New Britain right-hander
Zach Ward
(2-2, 2.53).
Box
Log
Rock cats
Fisher Cats
Union Times
Concord Monitor
NB Herald
Courant
New Britain infielder and former Miracle
Luke Hughes
as been selected to the 2008 All-star Futures Game. Hughes, a native of Perth, Australia, will represent the Minnesota Twins as a member of the World Team. The 10th annual Futures Game will be played on Sunday, July 13 at Yankee Stadium. The 6'0," 190-lb. Hughes has been one of the top offensive players in the Eastern League this season. He is batting .335 with 13 home runs and 34 RBI. In 47 games with the Rock Cats, Hughes has scored 41 runs and posted a .618 slugging percentage.
Scott Campbell
was selected to the game for the Fisher Cats. A New Zealand native, he will represent the Blue Jays on the World Team. He is currently hitting an Eastern League-leading .353 with four home runs and 25 RBI. Campbell leads the Fisher Cats in on-base percentage (.453) and walks (42).
The game will be televised on ESPN2, and will be broadcast on XM Satellite Radio.
Rochester 4 at Louisville 1
W: P. Humber (4-6, 5.19); L: J. Fogg (0-1, 3.00); SV: C. Daigle (1)
HR: None.
Fogg wasn't the only weather putting in an appearance at Louisville Slugger Stadium Thursday as rain held the start of the contest between the Rochester Red Wings and the Louisville Bats up by 2-and-a-half hours.
Phil Humber
picked up only his fourth win this season, limiting the Louisville Bats to only 5 hits and a pair of walks over 5 innings, while striking out 6. Meanwhile, this counterpart,
Josh Fogg
, worked all nine innings, allowing 4 runs, 3 earned on 10 hits while striking out 6.
The Red Wings jumped on Fogg early, with
Tommy Watkins
tripling in the first inning, then coming home on
Matt Macri
's ground out. The top of the 2nd would see
Sergio Santos
reach on a throwing error then advance to 2nd.
Jason Pridie
would triple him in.
In the 3rd,
Garrett Jones
doubled, moved to 3rd on
Randy Ruiz
ground out, and came in on a Santos single.
Casey Daigle
would allow
Andy Green
a double out to center field in the bottom of the 8th.
Chris Dickerson
would move him to 2rd. Dickerson would then go for his 14th stolen base of the season. A throwing error by
Ryan Jorgensen
sent the ball into the outfield and allowed Green to come home for the only Bats run.
Randy Ruiz
tripled in the top of the ninth.
Alejandro Machado
would come in as a pinch runner and a sac-fly by Santos would bring him home the Red Wings' fourth run.
Pridie went 4-for-4 at the plate with 1 RBI, while
Denard Span
was 2-for-4.
The Wings now return home to face the Pawtucket Red Sox Friday at Frontier Field. Danny Graves (3-2, 5.40) will throw out the first pitch at 7:05 PM. The Pawsox will counter with Edgar Martinez (2-1, 4.22).
Box
Log
Red Wings
Bats
Courier Journal
RD&C
R-News
Extra Bases
Blog
Red Wings outfielder and former Miracle
Denard Span
was named to the U.S. Olympic Trial team, and will play in the All-Star Futures Game. Former Red Wing
Davey Johnson
will manage the U.S. club; Johnson will also serve as the manager of the U.S. Team at the Olympics in Beijing, China in August.
Former Red Wing/Miracle
Matt Garza
thew a one-hitter Thursday afternoon - a home run in the 7th inning by former Sara-Sox Hanley Ramirez - as the Tampa Bay Red Wings finished a 3-game sweep of the Florida Marlins. Garza (6-4) struck out 10 and walked one in his first complete game in 38 major league starts. He faced the minimum 18 batters through six innings on a humid afternoon in Miami.