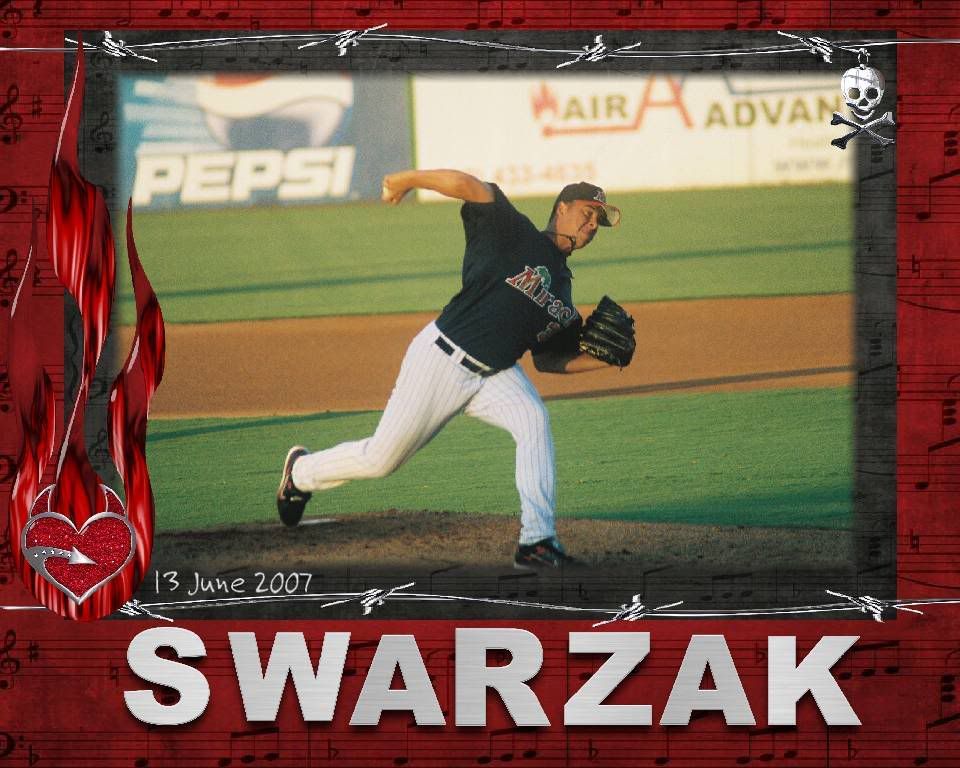 New Britain 2 at Connecticut 5
W: G. Broshuis (6-5, 3.76); L: A. Swarzak (3-4, 4.85); SV: O. Matos (7)
HR: CT: C. Sosa (7), O. Rosario (4).
After due consideration, I've decided the problem with the New Britain Rock Cats is defense, or lack there of. When
Matt Moses
was with the Miracle, they moved him as soon as he could hit consistently at the High A level. I said that he needed to stay here and work on his defense. "Oh, he can work on his defense in New Britain."
The same with
Trevor Plouffe
, and
David Winfree
, and...the kids get up there and are forced to focus on their batting again.
So it isn't
Anthony Swarzak
's fault he gave up 4 runs, earned on five hits and 3 walks while fanning 4 over six innings. It's all in the lack of defense. Yes, I realize he gave up 2 home runs, but when you can't count on your defense, well...that weighs on your mind, when you're a pitcher.
Anytime the Twins tell you that they value defense as an organization, believe me...they don't. They don't spend the time to develop it.
Olmo Rosario
hit a single shot home run in the 4th inning to put the Conneticut Defenders on the board. They'd go on to defeat the New Britain Rock Cats 5-2 at Dodd Stadium.
The Cats answered back in the top of the 5th, with
Brock Peterson
doubling, then moving to 3rd on
Dustin Martin
's ground out. Winfree would ground out as well, but it served to plate Peterson.
It as a short lived lead however,
Eliezer Alfonzo
would single and
Adam Witter
take a walk before
Carlos Soso
hammered one over the right field wall, making it 4-1 Defenders.
Peterson would triple in the 7th, then score on another Martin ground out.
Jay Sawatski
would give up the final Defender's run in the 7th, with
Ben Copeland
tripling and Alfonzo doubling him in.
Peterson finished up 2-for-4 with a pair of runs.
Felix Molina
was 2-for-3 with a double while Martin was 1-for-4 with a RBI.
Brian Dinkelman
had the only other Rock cat's hit, going 1-for-3 with a walk.
The final contest in the 3-game set is Sunday at 1:05 PM.
Zach Ward
(2-2, 2.76) will start for the Rock Cats against Giant's prospect
Dave McKae
(5-3, 5.05).
Box
Log
Rock Cats
Defenders
Courant
Bulletin
Defenders Notebook
Rochester 3 at Indiandapolis 5
W: J. Barthmaier (2-1, 2.84); L: P. Humber (3-6, 5.60); SV: M. Miller (4)
HR: IND: B. Bixler (5), M. Kata 2 (4).
The Indianapolis Indians scored consistently on
Phil Humber
taking one run over the first five innings to defeat the Rochester Red Wings, 5-3.
Denard Span singled to lead off for the Wings then stole 2nd.
Jason Pridie
would single out to left to score the speedster for the first Wings run.
Then the Indianapolis offense started. Humber lasted four innings, giving up 4 runs, 3 earned on six hits while fanning 3.
Ricky Barrett
took over the fifth, and allowed 1 run on 2 hits and a walk. He'd fan 1 over 2 innings.
Trailing 5-1 in the 8th
Ryan Jorgensen
singled with one out on the board and
Denard Span
walked.
Jason Pridie
singled to fill up the bags.
Jesse Chavez
would replace
Chris Hernandez
on the mound and get
Darnell McDonald
to ground into a force out which took Jorgenson out at home.
Garrett Jones
would single however to score Span before
Randy Ruiz
was taken out on strikes to end the inning.
Matt Miller
would take over the Indians' mound for the ninth and get
Sergio Santos
out on strikes before
Trevor Plouffe
singled. He then stole 2nd, and came home on
Alejandro Machado
's single for the 3rd and final Wings run.
The two teams rematch on Sunday for a 2:00 matinee.
Box
Log
Indians
Red Wings
Indy Star
RD&C
Extra Bases
Blog
The Minnesota Twins inducted former Twins pitcher
Rick Aguilera
as the 19th member of the Twins Hall of Fame during a special on-field ceremony Saturday night.