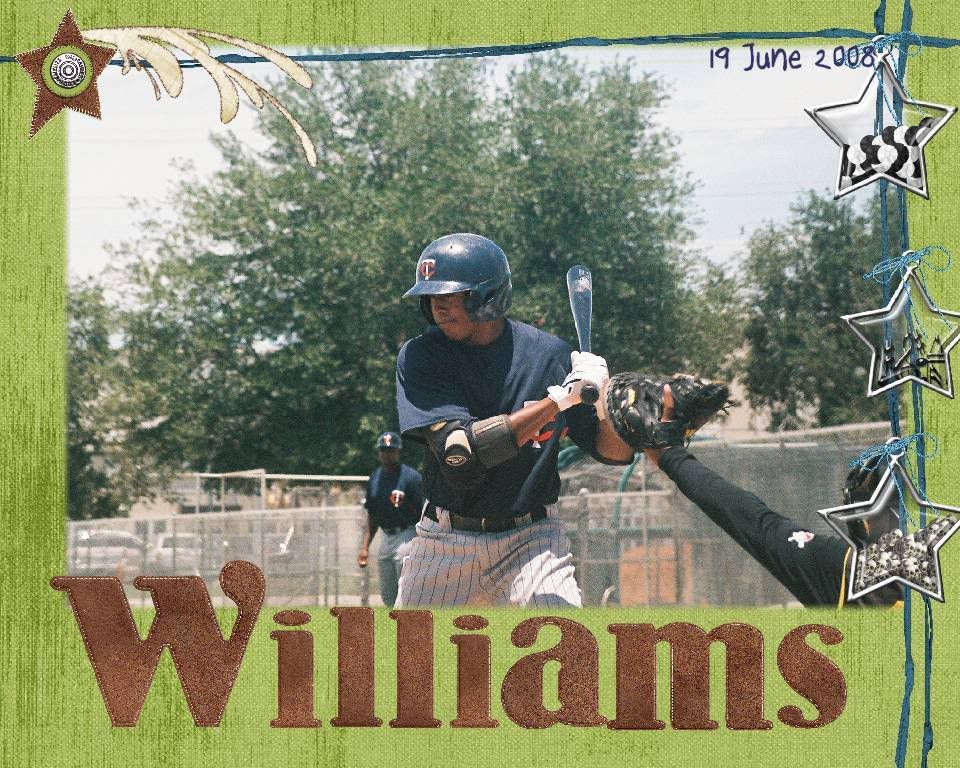 GCL Red Sox 9 at GCL Twins 2
W: A. Batista (1-0, 0.00); L: M. Munoz (0-1, 15.00)
HR: None.
It would be
Aaron Hicks
3rd professional at bat, as he went 0-for-1 yesterday with a walk. It was his first at bat against the Red Sox. Hicks lay down a beautiful bunt along the third base line and used blistering speed to make it on base.
It was the first quietly impressive thing of a quietly impressive performance for the Twins new first round draft pick. I only wish it had been under happier circumstances.
The GCL Twins were mired down in the land of remedial pitching through most of the contest.
Miguel Munoz
took the start, and the Venezuelan righty was not very impressive in his first professional outing.
Wilfred Pichardo
singled out to left, then stole 2nd.
Bryan Peterson
then singled to score Pichardo for the first of los Calcetines Rojos many, many, many runs. After getting
Michael Almanzar
to line out,
Thomas De Benedetto
ground into a force out.
Tyler Vockey
then doubled to score De Benedetto.
Chih-Hsiang Huang
ground out to end the inning.
GCL Twins outfielder
Wang-Wei Lin
is has been sidelined following
Tommy Johns
surgery, but the showed up at the game today to watch his twin brother pitch for the cross town rival Sox.
Herbert Lara
would take a single off
Wang-Yi Lin
to lead off.
Juan Sanchez
would then be hit by a pitch before Hicks lay down the nice ground bunt single. Following a fly out to fourth round pick
Danny Ortiz
,
Tyler Ladendorf
singled to score Lara.
Reggie Williams
ground into a double play to end the inning.
Munoz would get through the second inning, allowing only a double to
Chia-Chu Chen
. By this point it was clear it was going to be a very long game however, as Munoz labored through each batter, often running his count full before getting a resolution. GCL Twins first baseman
Michael Gonzales
would take a walk in the bottom of the second with out out, but
Anderson Hildago
hit into a double play to end the inning.
Peterson would lead off the top of the 3rd with a triple. Almanzar singled to bring in Peterson and Di Benedetto followed that up with his own single.
Tyler Yockey
would fly out before
Chih-Hsiang Huang
singled to score Almanzar.
Kennth Roque
would be taken out on strikes, before Chen singled to plate De Benedetto.
Joantoni Garcia
would fly out to Hicks in center to retire the side.
Hicks agent was at the game to get his client's first pro-hit on video. I did not video this time out - sorry - however I did take something like 75 shots at the game, which will be up soon - like maybe Monday afternoon.
Lin would work 3 innings for los Calcetines Rojos, allowing 1 run on 3 hits and a walk. Munoz was also finished after the third inning, allowing 5 runs on 9 hits while fanning 1.
Ivan Arteaga
is going to have his hands full getting his pitching staff into shape.
Ian Michael Mopas
would work the next two innings. A fielding error by
Reggie Williams
allowed Pichardo to reach. Peterson would strike out swinging, but Pichardo would steal second, then third base. Almanzar's single to center plated Pichardo. Di Benedetto reached on a force attempt when Williams missed the ball. Yockey would be taking out swinging bfore Huang singled to score Almanzar.
Anatanaer Batista
replace Lin, and would get Ladendorf to ground out and Williams and Rohlfing to strike out, but the 3rd K pitch went wild, allowing Rohlfing to reach first. No worries, mate. Gonzales, the Twins 9th rounder from Diablo Valley Collage went down on strikes. Gonzalez is a real big kid, BTW, and has the potential to turn into a great slugger. As with most of these position prospects, the trick will be if they can connect with the bat.
Chen singled off Mopas in the top of the fifth as did Garcia. Pichardo hit into a gound out that plated Chen before Peterson ground into a double play.
Jean "sabretooth" Mijares
replaced Mopas in the sixth. "Sabretooth" is Liam's nickname for the kid. Aside from the last name and the fact that they are both lefties, there are few similarities between
Jose Mijares
and
Jean Mijares
. One of the differences is that Jose throws hard while Jean...let's just say he's more of a finesse player. He was reasonably effective through in the top of the six, with only Di Benedetto reaching on a throwing error by Ladendorf.
He did not fair quite as well in the top of the 7th, giving up a walk to Huang. Following a line out to Roque, Chen then singled. Garcia was taken down on strikes, but a wild pitch by Mijares moved the pair. Pichardo would take a walk, and Peterson would get hit by a pitch to force in a run beofre
Micheal Almanzar
got called out on strikes. It proved to be a very long inning, much longer than it looks in the write up, and part of a very long game. Time isn't part of the offical score, but I would say we went for 3 hours.
Following a ground out to Rohlfing,
Andres Diaz
, who had replace Gonzalez at first, cracked a double. Hidalgo then singled to drive in Diaz. He would try to stretch it for a double, but was take down at 2nd base.
Nick Lobonov
came in for the top of the 8th, and allowed a walk to Di Benedetto to start out. A little bit of coaxing however to him to get the next three batters to fly out. Field Manager
Jake Mauer
also put the GCL Twins three sound Korean prospects into the game in that inning.
Juan Sanchez
drew a walk, but Hicks would be taken down on strikes.
Hyun-wook Choi
flew out to center. Ladendorft walked, but Hysong-rok Choi ground into a force out to end the inning.
Lobonov would walk Chen and Garcia in the top of the ninth, but got Pichardo to hit into a double play, and Peterson to strike out swinging.
At one point in the game, the Twins had been trailing 4-1 with a lot of baseball left to play. This was no longer the case, as the Twins had only the bottom of the ninth left to play, and needed quite a few runs to tie it. There were no late inning heroics however, as los Calcetines Rojos took them three up-three down to end the game.
I had read, perhaps on BYTO, that Hicks' batting was the weakest of his tools. A THT article stated that Hicks needed to work on his pitch recognition. I had asked Milt about this, figuring that as batting coach, he'd know what Hicks biggest weakness was, and he scoffed at the idea. "If that were the case they wouldn't have drafted him to play outfield. He can play 8 at center and then close the game." Hicks agent reports that Hicks is just happy to be focusing on being a position player at the current time. Right now, I'd say he looks pretty promising as a position player.
The GCL Twins take Monday off. They will visit the GCL Pirates on Tuesday, with a noon game set to happen at Pirate City in Bradenton, Fl. They return home for a pair at the Lee County Sports Complex on Wednesday and Thursday.
Box
Log
Sons of Sam Horn
(Sox)
Herald Tribune