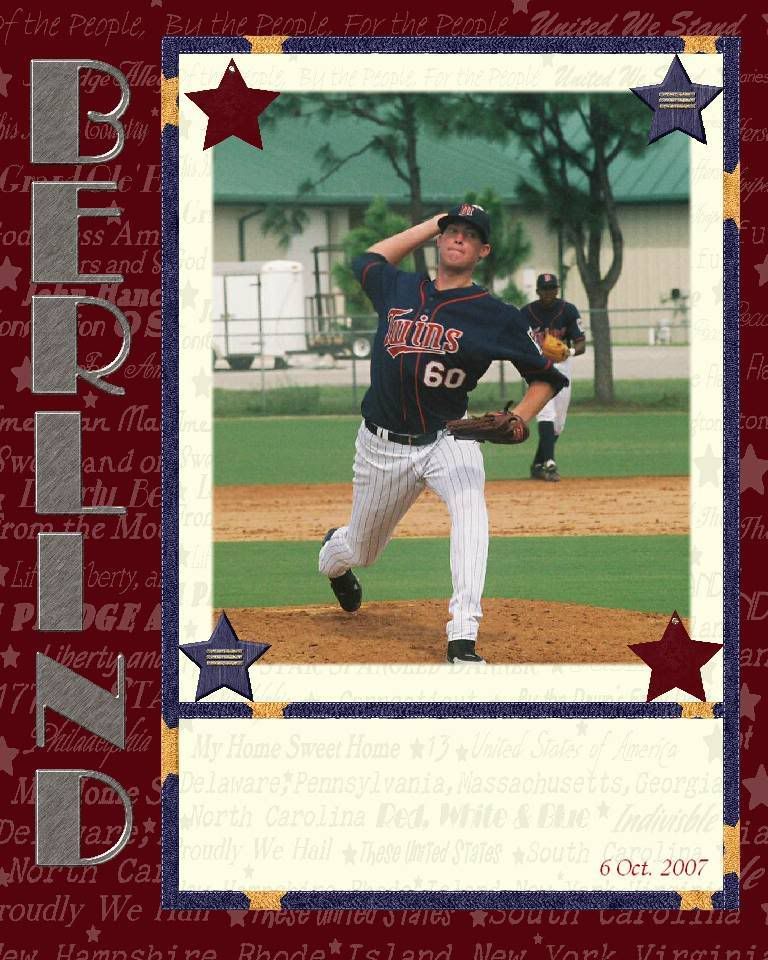 Elizabethton 10 at Pulaski 2
W: D. Berlind (1-0, 4.09); L: F. Williamson (0-1, 8.64)
HR: ELI: E. Bigley 2 (2), R. Leveret (1), A. Morales (1).
Things were popping in the Appy League Sunday night as the Elizabethton Twins used four home runs and 14 hits to put 10 runs on the board in a 10-2 drubbing of the Pulaski Mariners.
The E-Twins would open the scoring in the top of the second inning with
Rene Leveret
and
Evan Bigley
hitting back-to-back home runs off Pulaski starter
Fabian Williamson
.
In the top of the 3rd,
Jeanfred Brito
reached on a fielding error by Mariner's shortstop
Fred Bello
. He would then steal 2nd and move to 3rd on
Dominic De La Osa
's ground out.
Juan Richardson
singled to plate Brito for the Twins third run.
Danny Berlind
took the start for the E-Twins, allowing 2 runs on 5 hits and a walk while striking out 7 over six innings. The first run came in the bottom of the 3rd when
Juan Fuentes
doubled then moved to 3rd on a Bello bunt single.
Anthony Phillips
would sacrifice Fuentes home.
Williamson would not fair as well. Bigley opened the top of the 4th with his second homer of the game.
Michael Harrington
singled and would be plated by
Jeff Lanning
's double.
Angel Morales
would ground out before
Nathan Hanson
took a walk. Williamson took a walk too, back to the dugout while
Tommy Johannesen-Ellis
trotted out of the bullpen. The E-Twins wanted to make the new pitcher welcome, so Brito doubled off him to score Lanning. De La Osa took a single that scored Hanson, and Richardson's double brought in Brito and De La Osa. Leveret would ground out and Bigley fly out to end the fun.
Jacob Shaffer
tripled off Berlind in the bottom of the forth. The E-Twins pitcher then walked
Jose Rivero before Mario Martinez would sacrifice in Shaffer. Kris Sanchez would get called out on strikes, and Kailian Sams would hit into a double play to end the inning.

Angel Morales would hit his first home run of the year, a single shot over the left field wall in the top of the 7th to finish off the scoring.

The last two innings would fall to Jarrad Eacott and the Aussie closer walked one and struck out one to finish off the contest which would be called slightly early due to rain.

The E-Twins head over to Bluefield now for a 3-game set. Start time for game one is 7:00 PM

Box
Log
Saturday
MLN
TriCities.com