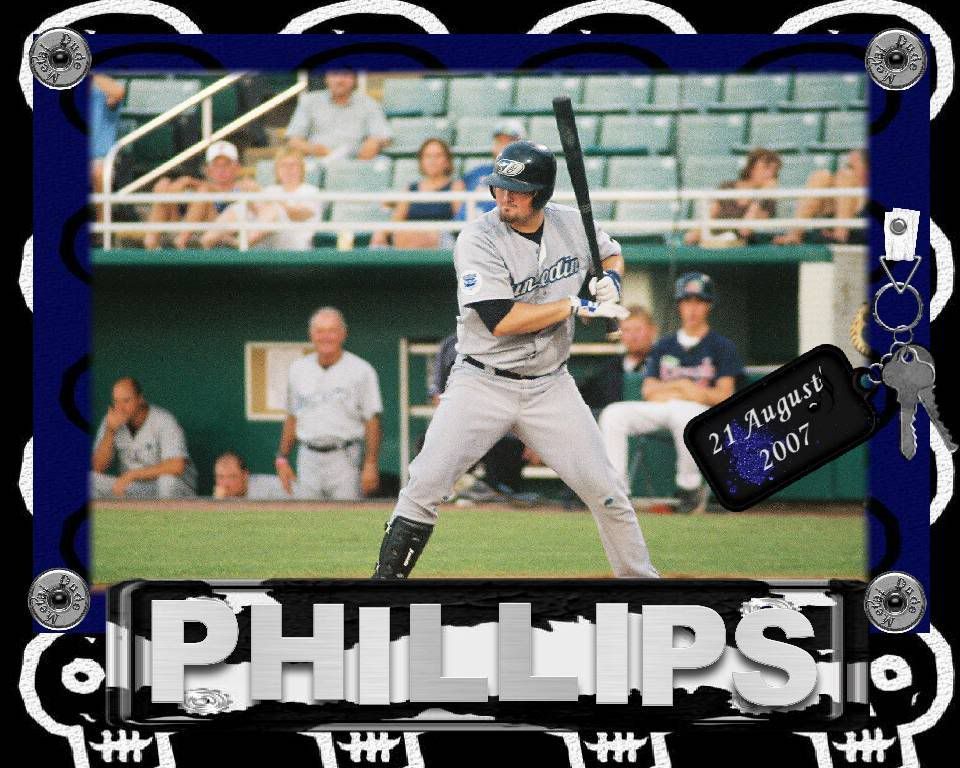 New Hampshire 6 at New Britain 1
W: R. Ray (3-0, 0.78); L: J. Manship (0-2, 5.40)
HR: None.
Once again, the New Britain Rock Cats proved to the New Britain declawed cats, as they managed only 5 hits against New Hampshire's
Rob Ray
.
Sure
Rob Ray
's a good pitcher, but the recently promoted FSL hurler looked unstoppable as he worked 9 innings of shut out baseball, allowing only 5 hits and fanning 10.
Scott Campbell
doubled off former Miracle
Jeff Manship
to start off the proceedings.
Aaron Mathews
singled to move him to 3rd before
Travis Snider
was called out on strikes.
J.P. Arencibia
singled to score Campbell, putting the Fisher Cats on the board.
Manship catches on quick however and set on to to work 6 innings, allowing only 2 more hits the entire time and going on to fan 4 more, for a total of 5.
Jason Miller
would take over in the 7th, but it was in the 8th that New Hampshire rocked him.
Ryan Klosterman
doubled. J-Mill then hit Campbell with a pitch. A throwing error on the pick off attempt moved the pair of runners to 2nd and 3rd. Mathews line drive out to left plated the pair. Snider drew a walk, and Arencibia singled out to center to score Mathews before
Brian Jeroloman
was taken out on strikes.
Eric Nelsen
then flew out before former Miracle
Kyle Phillips
doubled to drive in 2 more.
Felix Molina
was 2-for-3 while
Steve Tolleson
,
Brock Peterson
and
Danny Valencia
were all one hit wonders, Tolleson with three (3!) strike outs on the side.
The Rickity Cats will try to find some offense against New Hampshire on Wednesday night at 6:35 PM as the series continues at New Britain Stadium. Left
Ryan Mullins
(6-5, 3.47) will throw out the first pitch. New Hampshire counters with southpaw
Brett Cecil
(2-1, 3.59)
Box
Log
Rock Cats
Fisher Cats
Union Leader
Courant
NB Herald
Rochester 0 at Louisville 8
W: M. Maloney (7-4, 4.55); L: B. Duensing (4-7, 4.10)
HR: LOU: A. Rosales 2 (4).
The
Louisville Slugger Museum & Factory
is located in Louisville Kentucky, and so the Rochester Red Wings evidently felt they did not need to bring bats with them, they could just buy new ones at the gift shop.
Unfortunately, the Wings have yet to take a tour. Rochester was shut out by the Louisville Bats'
Matt Maloney
and two relievers, managing - much like their Double A affiliate - only 5 hits in the contest. Meanwhile the Bats wasted little time breaking out their sluggers against Rochester starter
Brian Duensing
.
Jerry Hairston
doubled to get things started off for the home town team and
Andy Green
followed him onto base with a single that served to plate Hairston. Following a ground out to
Drew Anderson
and a fly out to
Aaron Herr
,
Ryan Hanigan
walked putting two runners on.
Adam Rosales
then slugged his 3rd home run over the left field wall to give the Bats a 4 run lead.
In the bottom of the 6th Anderson singled with one out on the board. A wild pitch moved him to 2nd, just in time for
Aaron Herr
to double him in. Following a ground out to Harigan, Rolases put his second home run ball of the night over the left field fence, making it 7-0 Bats.
With
Julio DePaula
on the mound in the bottom of the 8th,
Chris Dickerson
would double with two outs on the board.
Jerry Gil
drew a walk before
Luis Boilvar
's line drive scored Dickerson.
Randy Ruiz
was 1-for-4 at the plate with a double, while
Darnell McDonald
,
Garrett Jones
,
Trevor Plouffe
and
Ryan Jorgensen
all shared the one hit wonder title.
The two teams play at 12:05 game Wednesday and one can only hope that the Wings send someone out to buy them some bats early Wednesday morning. Lefty
Adam Pettyjon
(7-1, 4.48) will throw out the first pitch, while southpaw
Francisco Liriano
(3-2, 4.14) will counter for the Wings.
Box
Log
Red Wings
L-Bats
RD&C
Courier-Journal
Extra Bases
Blog
The Red Wings starting pitchers have struggled the last five games; in 24.2 innings of work, the starters have allowed 24 runs (22 earned) on 36 hits, while walking four and striking out 18.
The Wings were blanked for the seventh time this season.
Rookie LHP
Mariano Gomez
has been a bright spot out of the Rochester bullpen, with a 2-1 record with one save and a 1.99 ERA in 31 games. Gomez has not allowed a run in 22 of his 31 appearances, and has allowed just two of his 12 inherited runners to score.
Former Twins and Wings right-hander
Juan Rincon
signed a Minor League deal with the Cleveland Indians on Tuesday, and will report to Buffalo later this week.
From a bit of mail in the Extra Bases blog: "They started out a couple guys (
Aaron Hicks
, et al) at Ft Myers (in the GCL) who could/should be in Elizabethtown or maybe even Beloit." I love people who have naver seen these kids play sit there and make these assessments. Hicks is currently hitting 3 for 10 with a walk and one run in three games. This qualifies him for Elizabethton? Beloit? The world is full of GMs who have never seen a single game. Oh - I know - maybe they could call him up to Rochester so he could help the Wings! There you go. And take Ladendorf and his .231 average with along as well.