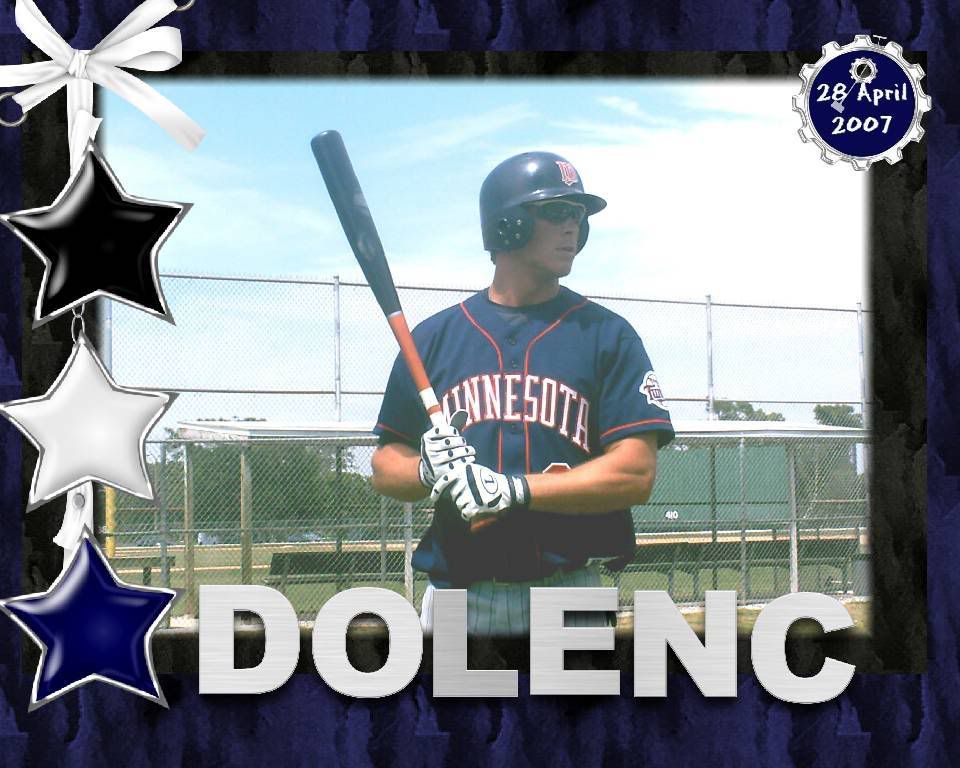 Beloit 5 at Clinton 8
W: F. Castillo (1-3, 5.49); L: D. Bromberg (5-5, 5.11); SV: A. Flores (6)
HR: CLI: I. Gac (19).
All good things must come to an end, and so it was with the Beloit Snappers' win streak. The Snapper fell into a hole early against the Clinton Lumber Kings and could not find enough runs to get out.
Ian Gac
singled in the bottom of the 2nd before Beloit starter
David Bromberg
would hit
Jonathan Greene
with a pitch.
Cristian Santana
doubled to drive in the pair. Following a ground out to
Jose Felix
,
Andres Jones
singled to plate Santana, giving the L-Kings a 3-0 lead.
Renny Osuna
singled to start out the bottom of the third, and
Timothy Smith
doubled him in.
Michael Moreland
's single moved Smith to 3rd, and
Ian Gac
would smack a line drive out to left to bring in Smith.
Jonathan Greene
hit into a double play and
Cristian Santana
would ground out to end the inning.
Estarlin De Los Santos
and
Chris Cates
drew back-to-back walks off the L-Kings
Fabio Castillo
.
Diebenson Romero
would single out to left field to load the bags.
Chris Parmalee
would hit a sac fly to bring in De Lo while
Joe Benson
's follow up single plated Cates A fielding error by Santana gave Deibinson 3rd, and Benson would then steal 2nd, but Castillo would take
Ozzie Lewis
and
Greg Yersich
out on strikes to end the inning.
Bromberg would work the fourth without any further problems and the Snappers continued to play catch up in the bottom of the 5th.
Eric Santiago
walked.
Mark Dolenc
singled before De Lo would fly out, moving Santiago to 3rd. Cates ground out to put Dolenc on 2nd. Romero then doubled the pair in. Parmelee would fly out to retire the side.
Timothy Smith
singled and
Mitchell Moreland
doubled to start out the bottom of the 5th. Gac then took a Bromberg pitch over the left field wall to give the L-Kings 8 to the Snappers 4. Bromberg would then hit Greene with a pitch before
Nelson Prada
took Bromberg off the mound and gave the ball to
Henry Reyes
. The big Dominican would get Santana to fly out, Felix to ground into a force out, and James to ground out, ending the inning.
Santiago and Dolenc would draw back-to-back walks from
Joseph Ortiz
in the top of the 7th. De Lo would offer up a sac bunt to advance the runners, and Cates would sacrifice in Santiago. Romero would be hit by a pitch and Parmalee would walk to load the bags before
Chris Dennis
came into to replace Ortiz, getting Benson to ground into a force out to stop the Snapper's scoring threat.
Bromberg's line score would not look good: 8 runs on 11 hits while fanning 4 over four innings.
Henry Reyes
and
Danny Hernandez
pitched the last four, with Reyes going three before letting Hernandez take over.
Romero was 2-for-4 with a pair of RBIs in the contest. Cates and Yersich were both 1-for-3, Cates with a walk, a run and a RBI and Yersich with a walk and pair of strike outs. Dolenc was also 1-for-3 with a run and a walk. Benson was 1-for-4 with 1 RBI.
The Snappers play one more against the L-Kings, Thursday night at Alliant Energy Field starting at 7:00 PM. They finally return home on Friday to open a 4-game series against the Cedar Rapids Kernels.
Box
Log
Snappers
L-Kings
Tuesday:
Clinton Herald
BDN
BDN: Benson
Elizabethton 5 at Bluefield 13
W: T. Phelps (1-0, 4.50); L: B. Lanigan (0-1, 4.82)
HR: ELI: M. Harrington (3). BLU: L. West 2 (2).
The Bluefield Orioles took advantage of the Elizabethton Twins bullpen Wednesday night, putting 10 runs on the board to go on to a 13-5 win.
Andrew Schmiesing
's single in the top of the 3rd combined with a
Michael Herrington
home run gave the E-Twins an early lead.
Twins starter
Bobby Lanigan
would give up 3 in the bottom of the fourth, putting the Orioles on top. He'd go on to work 5.1 innings, allowing 5 runs on 7 hits and a pair of walks while striking out 6.
Jose Alcala
would finish up the sixth inning, allowing 3 more runs on 2 hits and three walks while striking out 1.
The Twins would not find another run until the top of the 8th, when
Michael Harrington
walked, moved to 2nd on a
Rene Leveret
single and to 3rd on a
Danny Rams
ground out.
Angel Morales
then singled to plate Harrington.
Lee Martin
, working the final 2 on the mound for the E-Twins would give up 5 run, 4 earned, on four hits and a walk while striking out 3 over 2 innings.
The final two runs came in the top of the 9th, with
Nathan Hanson
doubling and
James Beresford
singling him in. Schmiesing then lined out and Romero would go down on strikes before a passed ball moved Beresford to 2nd. Harrington then singled Beresford in. Leveret would fly out though, cutting the rally short and ending the game.
Hanson was 2-for-3 with a walk and a run; Harrington and Morales were 2-for-4, Harrington with a pair of runs, a walk and 3 RBIs and Morales with 1 RBI. Schmiesing was 2-for-5 with a run.
Rams,
Nick Papasan
and Leveret each had singles, the first two being one-hit wonders and the Leveret taking a walk to go with his single.
The E-Twin now return to Joe O'Donald Field to face the Johnston City Cardinals on Thursday night with a 7:00 PM start.
Box
Log
Telegraph
Tuesday
E-Star