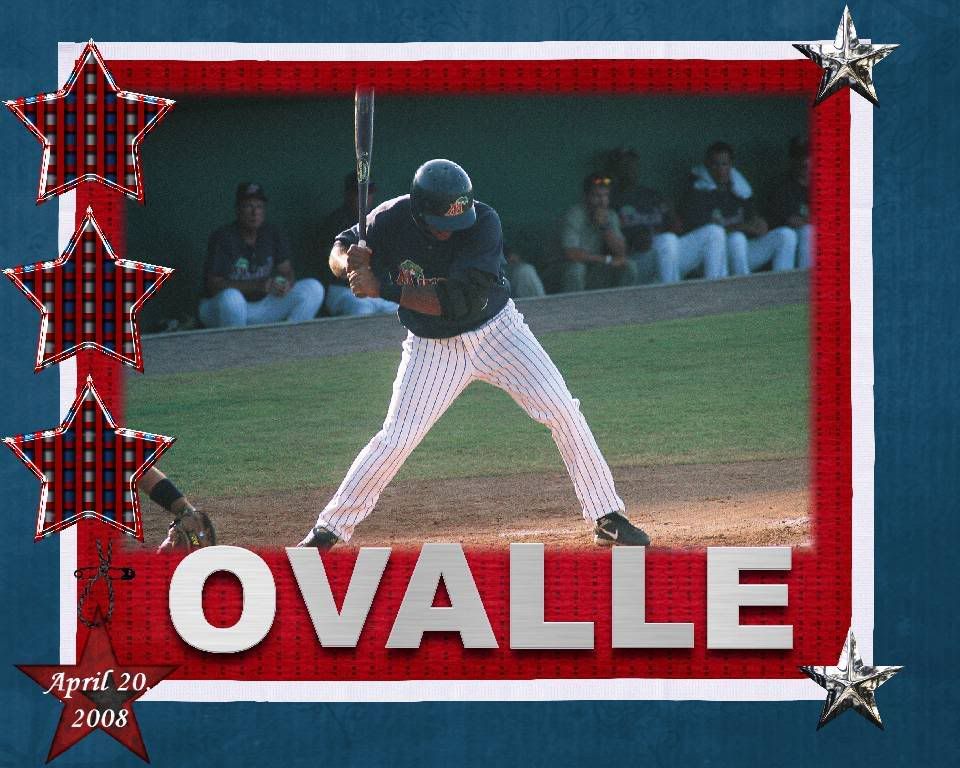 Sarasota 5 at Fort Myers 2
W: J. Fogg (1-0, 3.32); L: M. Fox (3-2, 4.04); SV: C. Vazquez (1)
HR: None.
I was trying to come up with something poetic to say about the fury of nature, when in fact there was no fury involved. The game got way after a rain delay of about an hour and the Fort Myers Miracle bats got off to a delayed start as well. Sadly they delayed until the ninth inning as the Miracle lost 5-2 to the Sarasota Reds.
Major leaguer
Josh Fog
made the best of his rehab, going 8.2 innings, allowing 2 hits on 12 runs and four strike out. I wish that I could say
Nick Punto
was as impressive. Instead I found myself wishing that it was
Yancarlos Ortiz
out there at short for the Miracle.
Matt Fox
tossed a pretty good game as well. But I had gone up for hot dog though and when I came back, boom! It was 2-0.
Jose Castro
and
Jake Kahaulelio
had both doubled, which brought in Castro. Fox then uncorked a wild pitch that moved the Windsor, California, native to 3rd. Heisey would take a single off Fox to score Kahaulelio. Yup, with the name like that, he's not from Hawaii.
Eddy Rodriguez
doubled in the top of the 7th. After Castro had popped out, a wild pitch moved Rodriguez to 3rd. Kahaulelio then singled out to left to score Rodriguez. Field Manger
Jeff Smith
then pulled Fox, bringing
Oswaldo Sosa
into the game. One of the things Ozzie is here to work on is his walks, so, of course, the first thing he does is walk
Chris Heisey
. As
Todd Frazier
went down on strikes, Kahaulelio and Heisey both stole.
Juan Francisco
then doubled off Sosa to drive them in.
There was a glimmer of hope when Solarte doubled in the 8th, but the Cincinnati pitching machine did not start tiring until the ninth.
Steve Singleton
hit a line drive to right and
Edward Ovalle
tripled to drive him in. Ovalle would score on
Garrett Olson
's ground out.
Danny Santiesteban
ground out as well, but Solarte would single.
Camilo Vazquez
came in for the final out, getting Punto to ground into a force out.
Punto was a very impressive 1-for-5 on the night, to become one of our one hit wonders, and hit an average of .250 over the last three games.
Whit Robbins
, Ovalle and Solarte were all 2-for-4 at the plate, Ovalle with a run and a run batted in. Portes was 3-for-4 but much like Robbins, did not get the hits at a time when they might be useful. Ramos was the other one hit wonder of the contest, going 1-for-4, while Singleton, who was also 1-for-4 had a run.
The Miracle now head out for a four game road trip against the Palm Beach Cardinals.
Jay Rainville
will make the 6:05 PM start, his first since re-joining the Miracle. The team returns to Fort Myers on Thursday to face the Brevard County Manatees (Milwaukee Brewers).
Box
Log
Miracle
NP: Singleton
NP: Ramos
NP: Promotion Commotion
NDN
I did get Punto's autograph and overall, during the last three games was pretty good in that regard. The only Red I didn't get was
Danny Guerrera
.
Alex Smit
told me Guerrera'd been reassigned to Daytona.
I also did not get Mr. Rainville's signature, and am hoping he'll stick with the team through the next homestand.
Rene Tosoni
and
Kyle Waldrop
were in the stands to watch the game as well. Tosoni has had a pin inserted in his foot and no longer has a brace on. He says he's still four weeks away from being able to being playing again.
It was rather unusual as we almost never see the rehabbers. They do their work down at the training facility, then go home and take the night off. I made a comment to that extent about Milt and pointed out that since they were drawing a salary, it wouldn't hurt them to come to the games and do some public relations work by signing autographs for the fans. That made him think for a bit. After that he went off to buy some launch a balls.
(Brett, you took off with my gold pen, I'd like it back please.)
Kudos to
Gary Sharp
who did actually turn the sound down for the game so we could talk over the music. This helped us in cajoling Mr. Punto into using the pen.
Beloit 11 at Peoria 5
W: S. Arias (3-3, 2.76); L: K. Kreier (2-2, 4.66)
HR: BEL: C. Parmelee (13). PEO: D. Johnston (9), L. Bautista (3).
I hear that
Ben Revere
is happy to be out of Florida because he doesn't like the weather here. Midwest flooding must be more to his taste. He also seems to think he's going to get promoted to the Miracle, which makes me wonder why, if he doesn't like the weather, he wants to come back.
Revere was not in last night's contest however, instead the story of the night was
Chris Parmelee
, who went 4-for-5 with 3 runs and 3 RBIs.
Chris Cates
and
Deibinson Romero
hit back-to-back singles. Parmalee singled as well, out to center to plate Cates.
Ozzie Lewis
' ground ball to left drove in Romero. After
Joe Benson
was called out on strikes,
Mario Mercedes
would mis-throw on a pick off attempt and Parmelee scurried home for the 3rd run.
Mark Dolenc
would double in the top of the 2nd, move on a sac bunt from
Estarlin De Los Santos
and come home on a Cates ground out. The top of the fourth would see
Allan de San Miguel
walk move to second on
Greg Yersich
's single and to 3rd on a Dolenc sac-bunt. De Lo's line drive single drove him in.
Brandon Guyer
would single off Beloit starter
Santos Arias
. One out later
Luis Bautista
took him deep going over the left field wall for this 3rd home run of the season.
Parmelee put his own ball over the right field fence in the top of the fifth as
Zach Ashwood
came into replace the oft-hit
Kevin Kreier
.
The top of the sixth saw Dolenc double then steal 2nd. Cates would bring him in on a sac-bunt.
Bautista walked for the Chiefs in the bottom of the stanza and
Cliff Anderson
doubled.
Dylan Johnson
would then go yard over the right field fence to bring in the pair, giving Peoria their five runs for the night.
Ozzie Lewis
singled in the seventh and moved to 2nd on Benson's sac-bunt.
Stephen Ventro
was then trotted out of the bullpen to try to stop the hemorrhaging, but instead went wild, with a pitch that is, moving Lewis to 3rd. After walking de San Miguel, a passed ball by Mercedes brought Lewis home. Yersich would reach on a throwing error which also plated the Aussie catcher.
Chris Siegfried
replace Vento on the mound for the top of the eighth, and saw Romero single, then move on another passed ball. Parmelee doubled him in. Lewis' single moved Parms to 3rd, and he'd score when
Joe Benson
hit into a double play.
Dolenc had a good game, going 3-for-4 at the plate with a pair of doubles and a pair of runs to get his average up to .217. Lewis was 3-for-5 with a run and a RBI, Romero was 2-for-5 with a pair of runs. De Lo was 1-for-5 with a RBI, while Yersich, also 1-for-5 was the one hit wonder. The teams finish up on Sunday with a 2:00 PM game. Snapper's right hander
Steve Hirschfield
(5-1, 2.06 ERA) will face off against the Chief's
Robert Hernandez
(0-0, 5.79 ERA).
Box
Log
Chiefs